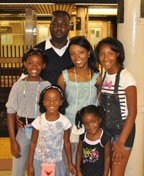 MARRERO, La. – CSX conductor Jonathan Batieste, 29, with a wife and four young daughters between the ages of three and 12, died unexpectedly Aug. 22 following a motorcycle accident.
Batieste, a member of UTU Local 1066 in New Orleans, signed on with CSX just 13 months ago. He was recovering from his injuries and was undergoing physical therapy when he developed a blood clot that claimed his life.
"This young family is in need of help," said Louisiana State Legislative Director Gary Devall.
Donations may be sent to the "Jonathan Batieste Donation Account" at Capital One Bank, 3800 General de Gaulle Drive, New Orleans, LA 70114.