Joseph Hansen, a conductor out of Local 60 (Newark, N.J.) who worked for New Jersey Transit (NJT), passed away recently to become the first reported active SMART Transportation Division member to succumb to COVID-19, the novel coronavirus.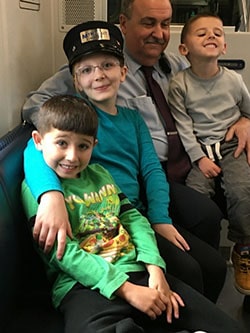 Hansen was 62 years old and had been a SMART-TD member since November 1999. He worked out of NJT's Raritan Yard.
"Brother Hansen's 20 years of service was exemplary. He was the consummate professional, a loving husband, father and grandfather," said General Chairperson Jerome Johnson (GCA-610), who is president of Local 60. "He will be greatly missed."
Brother Hansen is survived by his wife, Denise; a son, Brian, who is a mechanic at Raritan Yard; and his grandchildren.
SMART-TD offers sincere condolences to Brother Hansen's family and friends and to his brothers and sisters of Local 60, who continue to put their safety on the line as essential workers during the COVID-19 pandemic.
Read an article from Northjersey.com about Brother Hansen's passing.
Northjersey.com also reported that the carrier gave an update on the effects of COVID-19 on NJT's 12,000-person workforce:
87 NJ Transit employees have tested positive for coronavirus
Of those, 57 were operating buses, trains or cleaning stations
571 employees are in quarantine as a precaution or awaiting test results
159 employees have returned to work after being cleared
SMART-TD represents NJT's rail workforce.