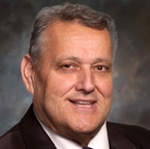 By Joe Nigro, 
SMART General President – 
By In the spirit of the holiday season, I want to focus on what we have to be thankful for as we leave 2014 behind.
For one, our First SMART General Convention will go down as the seminal moment when our two former organizations merged into a strong, united union built to improve upon our advancements of the past.
This has been a long time coming.
Already, local unions from coast to coast and everywhere in between are working together to solve the challenges that face us.
In New York, we showed what we can accomplish when we stand united. I was proud to see sheet metal workers, mechanics, and sign hangers join conductors and their fellow workers in standing together for what became a fair contract for members on the Long Island Rail Road.
We built on that success by moving forward with organizing and bargaining advances in places like Tennessee, Pennsylvania, New Mexico, Colorado, New Jersey, Michigan and California.
Already, leaders from the local level representing both the transportation and sheet metal industries are coming together to learn about how to launch strategic campaigns customized for every industry we represent.
Our goal for the coming year is growth. Through growth, we will be able to maximize our union's bargaining strength for the betterment of each and every member. It is in everybody's self-interest to help out in these efforts.
While workers on every Class I railroad must belong to a union, not every one of them is a member of SMART. Because of this, it is easier for the carriers to pit workers against each other due to those employees being in separate organizations.
Our ability to bargain is further hurt when short line carriers utilize the lower pay of their non-union workforce to undermine the standards we built.
That cannot be allowed to continue and we need to challenge these threats to the advances that those that came before us made.
We have a long trip ahead of us in the coming years. It will not always be easy, but that which is worth doing never is.
We now have the framework and the foundation to forge a united path forward thanks to our new constitution and the hard work and dedication put in by delegates from the transportation and sheet metal industries.
As we enter the holiday season and make plans for the New Year, I am humbled by the commitment of so many of our brothers and sisters across this union. We work tirelessly to build and keep our country moving forward.
The sky is the limit to what we can accomplish when every part of this union comes together to build a better future for every member.
On behalf of General Secretary-Treasurer Joe Sellers, the General Executive Council and myself, I wish you a safe and happy holiday season.