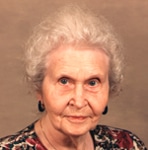 Josephine Mae Catlette Stem, 106, the mother of retired former National Legislative Director James Stem, died April 27. Stem said his mother was at peace and not in pain at the time of her death.
Mrs. Stem was born Oct. 18, 1908, in the Brassfield Parish of Granville County, North Carolina. After graduating from Wilton High School, she earned her teaching degree from East Carolina Teachers College. Following the Great Depression, she taught third grade students for eight years at Wilton School. She married James Stem Sr. in 1944.
She was a charter member of Temple Baptist Church in Raleigh, N.C., and a teacher in the four-year-olds' Sunday School program there for 40 years. In the 1960s, she taught kindergarten at Temple Baptist Church Day School. She joined the First Baptist Church in Raleigh in 1994, where she was an active participant in the Livingston Johnson Bible Class. After moving to Winston-Salem in 2001, Mrs. Stem was warmly embraced by the members of West Side Baptist Church and First Baptist Church.
Throughout her life she was devoted to her family and friends. She enjoyed watching Atlanta Braves baseball games and University of North Carolina Tar Heels basketball games. She was an active member of the Auxiliary of the UTU until entering a retirement home in 2001.
She was preceded in death by her husband, James Stem Sr.; her brothers, James L. Catlette and Garland L. Catlette and his wife, Carol; her sister, Mary Kathleen Catlette Nethery and her husband Marion; her granddaughter, Dr. Michelle Stem Cook; and her nephew and niece, James L. Catlette Jr. and Elaine Catlette Key.
Surviving her are her two children, Mary Nell Stem Harris and her husband Arnett, and James A. Stem, Jr. and his wife Bonnie, four grandchildren, eight great-grandchildren, and many other beloved family members and friends.
A memorial service will be conducted at 2 p.m. Saturday, May 2, led by Dr. Roger Nix in the sanctuary at First Baptist Church in Raleigh. After the service, the family will receive friends and loved ones in the church parlor.
Arrangements are by Bryan-Lee Funeral Home at 831 Wake Forest Rd. in Raleigh.
Memorials may be made to First Baptist Church, 99 N. Salisbury St., Raleigh, NC 27603, to First Baptist Church Television Ministry, 501 W. Fifth St., Winston-Salem, N.C. 27101, to Hospice Care Center, 101 Hospice Ln., Winston-Salem, NC 27103, or to a favorite charity of one's choice.