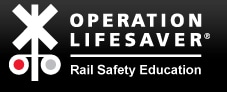 Washington – The Operation Lifesaver, Inc., (OLI) board of directors today (Sept. 23) announced that Joyce Rose will complete her tenure as OLI President later this year, after three years with the national nonprofit rail safety education organization.
OLI Board Chairman Bill Barringer said, "On behalf of Operation Lifesaver's board, I express sincere thanks to Joyce Rose for her strong leadership. Under her watch, OLI experienced financial growth from increased federal funding and new contributors; launched the high-profile, ongoing "See Tracks? Think Train!" public awareness campaign; streamlined the process for becoming an Operation Lifesaver authorized volunteer; and increased the organization's online and social media presence. Joyce leaves Operation Lifesaver with the organization well-positioned for future success."
Said Rose, "I know that Operation Lifesaver will continue to make progress in the years to come in its core mission – educating drivers and pedestrians to make safe choices near tracks and trains. While I have greatly enjoyed working with the amazing OL team over the last three years, I am excited to pursue new opportunities assisting the transit community with meeting new federal safety requirements."
Before joining Operation Lifesaver in December of 2012, Rose served as staff director for the Railroads Subcommittee of the House Transportation and Infrastructure Committee. She previously served as a professional staff member of the Highways and Transit Subcommittee. Before joining the House T&I Committee staff, Rose worked for the U.S. Senate Committee on Appropriations from 1988 to 2001 as the professional staffer responsible for Federal transit and rail funding issues, pipelines and hazardous materials, and transportation research.
Barringer noted that the Operation Lifesaver board of directors will conduct a search for Rose's successor.