Matt Hanson, alternate legislative representative and trustee for Local 171 (Aurora, Ill.), is continuing his bid to retain his seat on the Kane County Board.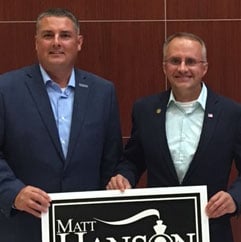 Hanson, an incumbent seeking a full term, is facing a Democratic primary challenge March 18 and continues to build momentum for a successful campaign with endorsements from the North Central Illinois Labor Council (NCILC) and the Fox Valley Building Trades (FVBT) along with several elected officials since entering the 2020 election cycle.
"I will continue to govern, drive discussion, and vote to support all employees of Kane County whether or not protected through collective bargaining," Hanson said in an email. "Votes can be cultivated and secured using a variety of means, all of which I look to utilize. I always "do the work" for myself and like-minded candidates when my assistance is requested."
During this effort, Hanson's been juggling time serving on the county board, his union officer responsibilities, and his full-time career as a locomotive engineer for BNSF and can use the support of his fellow union brothers and sisters both in Illinois and elsewhere.
He has a fund-raising event scheduled 5 to 7 p.m. Feb. 3 at Mike & Denise's Pizzeria, 1760 N. Farnsworth Ave., Aurora, Ill., 60505, and invites members to come out and support his efforts. Tickets are $25.
"Any help that can be lent is needed and immensely appreciated," said Hanson. "I am proud to tell everyone encountered on the campaign trail that I am a card-carrying union railroader that belongs to SMART-TD Local 171."
To contact Hanson and contribute to his campaign, email matt4kane@gmail.com or mail checks to Friends of Matt Hanson, P.O. Box 1101, Aurora, IL 60507.