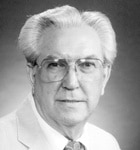 Former UTU International Vice President and Bus Department Director Kenneth R. Moore, 85, died Aug. 18. He was a member of Local 1563 at El Monte, Calif.
Born in Danville, Ark., Moore began his career in transportation as a bus operator for the Long Beach, Calif., Motor Bus Company in 1950. He joined Continental Trailways in 1951 and Los Angeles Transit Lines in 1953.
Originally a member of the Brotherhood of Railroad Trainmen Lodge 390, he served as the terminal griever from 1959 to 1962, lodge chairperson from 1962 to 1966, and general chairperson from 1965 to 1970. He was elected a BRT alternate vice president in 1964 and served in that capacity until filling a vacancy as International vice president Jan. 1, 1971. He was re-elected to that post at seven succeeding UTU quadrennial conventions.
"Ken was a lifelong supporter of UTU and attended countless political functions with former State Director Scott Olson and me. He was a champion of labor and stayed politically active up until his death. He will be greatly missed," said Arizona State Legislative Director Greg Hynes.
Moore was preceded in death by his wife of 53 years, Dorothy. He is survived by his daughter, Marily Hill (Richard); stepdaughter, Anita Hornlein (Robert); two stepsons, Russell Brabant and Larry Maddox, as well as nine grandchildren, 12 great-grandchildren and six great-great-grandchildren.
Visitation will be held Thursday, Aug. 22, from 2-4 p.m. at Valley of the Sun Mortuary, 10940 E. Chandler Heights Rd., Chandler, AZ 85248.
Funeral services will be held at the Praise and Worship Center, 2551 N. Arizona Ave., Chandler, AZ 85225, on Friday, Aug. 23, with a viewing at 10 a.m. and services at 11 a.m. A reception will follow the services.
In lieu of flowers, donations in his honor to either Family Comfort Hospice, 9150 E. Del Camino Dr., Scottsdale, AZ 85258, or to Neighbors Who Care, 10450 E. Riggs Rd., Suite 113, Sun Lakes, AZ 85248, are preferred.