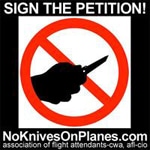 Airline passengers will soon be able to carry small knives, souvenir baseball bats, golf clubs and other sports equipment onto aircraft, and transportation workers represented by UTU-SMART and others are not happy about it.
The new Transportation Security Administration (TSA) policy permits folding knives with blades that are 2.36 inches or less in length and are less than a half-inch wide. The policy is aimed at allowing passengers to carry pen knives, corkscrews with small blades and other knives.
Passengers also will be allowed to bring onboard as part of their carry-on luggage novelty-sized baseball bats less than 24 inches long, toy plastic bats, billiard cues, ski poles, hockey sticks, lacrosse sticks and two golf clubs, the TSA said.
The policy goes into effect April 25.
The announcement drew an immediate outcry from UTU-SMART and other unions that represent flight attendants and other airline workers.
"UTU-SMART, along with all other airline unions and the Transportation Trades Department of the AFL-CIO have objected to this unilateral decision made independently by TSA," SMART Transportation Division National Legislative Director James Stem said. "We are exploring all options to overturn this sudden decision."
"The TSA's recent decision to allow knives, sports bats, sticks, and pool cues into the aircraft cabin is both self-serving and ill advised," Great Lakes Aviation Vice General Chairperson Diane King said. "It goes against the TSA's own mission statement, which states: 'TSA has established guiding principles to maintain the security of the traveling public and continuously set the standard for excellence in transportation security.'
"There is a widely held belief that all flight decks on commercial aircraft have had ballistic doors installed since 9/11. This is simply not true," King said.
"The vast majority of our fleet is comprised of Beechcraft 1900s, which have nothing more than a curtain separating the pilots from the passengers. Furthermore, the FAA does not require a flight attendant for these aircraft. With the pilots' attention necessarily focused forward on their instruments, radios, changing weather, the landscape, etc., they are unable to monitor passengers, especially during critical phases of flight.
"Without the benefit of a flight attendant to stand as a final defense between the passengers and the flight deck, these pilots are completely vulnerable to attack by an irate passenger, or a terrorist.
"We are unable to protect our passengers, the flight deck, or ourselves if a passenger wielding a golf club takes out our kneecaps, cuts our throats with a knife, punctures our eyeballs with a corkscrew, or inflicts a severe head injury with a baseball bat, pool cue, ski pole, or lacrosse stick," King said.
"The admitted 'convenience factor' for TSA agents does not, and absolutely should not, outweigh the safety concerns of passengers and crewmembers onboard an aircraft. This latest TSA decision does nothing to maintain the security of the traveling public; on the contrary, it severely compromises both crew and passenger safety," King said.
There's no excuse for reversal on the policy to ban knives from the aircraft cabin. Multi-layered security, including prohibition of items that could pose a threat, ensures U.S. aviation is the safest in the world. The ban on dangerous objects is an integral layer in aviation security.
Flight Attendants serve as the last line of defense in aviation security – responsible for ensuring the safety, health and security of the passengers in our care. Join us in keeping our aircraft cabin safe. Tell the TSA to keep knives out of the cabin.
Visit www.NoKnivesOnPlanes.org to sign a petition.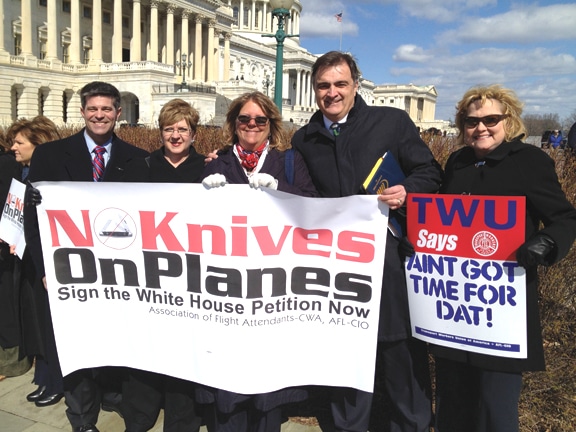 UTU-SMART Transportation Division Alternate National Legislative Director John Risch, right,
joins with others on Capitol Hill to protest plans to allow knives on aircraft.