It was in the movie, The Man Who Shot Liberty Valance, this memorable line was spoken: "When the legend becomes fact, print the legend."
Opening in movie theaters Nov. 12 is a movie combining fact and legend — the Hollywood version of a near-run railroad calamity on CSX in 2001.
Two UTU members — Terry Forson and Jess Knowlton (both members of UTU Local 1397, Columbus, Ohio) — served as technical consultants to 20th Century Fox. More about Forson and Knowlton shortly.
The movie, Unstoppable, starring Denzel Washington and Chris Pine (who played Capt. Kirk in last year's Star Trek movie), builds, according to Railway Age magazine Editor William Vantuono, on previous Hollywood blockbusters "depicting tidal waves, earthquakes, hurricanes, tornadoes, towering infernos, comets and asteroids hurtling toward Earth."
The plot summary:
A railroad frantically works to prevent an unmanned, half-mile-long freight train, carrying combustible liquids and poisonous gas, from wiping out a city.
A veteran locomotive engineer (Washington) and a young train conductor (Pine) chase the runaway train in a different locomotive in order to bring the runaway under control before it is too late. In one scene, the veteran engineer tells the rookie conductor, "This ain't training. In training, they give you an F. Out here, you get killed."
According to Vantuono, If you like "plenty of explosions, fire, spectacular crashes, wrecked police cars, near misses, overly dramatic television reporters, helicopters, gut-wrenching dialogue ('We're talking about a missile the size of the Chrysler Building'), innocent children (on a school trip, naturally), and guns," this is a movie for you.
Perhaps to delight further, the Hollywood perspective depicts carrier officials as more concerned with stock prices than public safety or employee well-being.
Hollywood wasn't enamored with the CSX locomotive color badge, either. The Unstoppable movie's locomotive reminds one immediately of the former Atchison, Topeka & Santa Fe's famous War Bonnet livery.
As for fact vs. legend, the movie is loosely based on a 2001 incident where an unmanned CSX consist — a locomotive and 47 freight cars, two containing hazmat — traveled more than 60 miles, at speeds approaching 50 mph, for two hours through northwest Ohio.
According to news reports at the time, the unidentified engineer of the runaway train had dismounted to line a switch. He had applied two locomotive brakes, but inadvertently grabbed the throttle lever instead of the third braking lever; and by the time he realized his error, he was already off the locomotive and it was moving too quickly for him to climb back aboard.
Chasing the seemingly unstoppable and unmanned CSX consist was the crew of a second train, which eventually coupled onto the runaway and slowed it to about 10 mph near Kenton, Ohio.
At that point, CSX trainmaster Jon Hosfeld ran alongside the runaway; and, putting himself in danger, climbed aboard, applied the brakes and shut down the locomotive.
As for the UTU members who served as technical consultants to the movie producer, Forson and Knowlton actually were the crewmembers who chased down the runaway CSX train. No, neither Forson nor Knowlton was the unidentified engineer who failed to set all three locomotive brakes on the runaway.
As for the hazmat carried by the runaway train, in reality it would not have blown up Metropolis. The hazmat actually was thousands of gallons of molten phenol acid, a toxic ingredient of paints and dyes that is harmful when inhaled, ingested or in contact with the skin.
Click HERE to view the interactive trailer.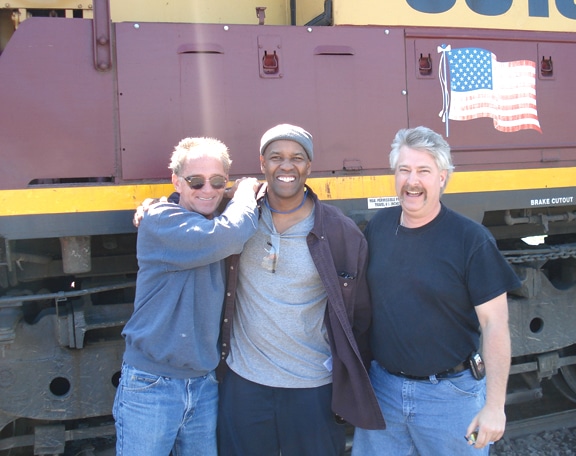 Jess Knowlton, Denzel Washington, Terry Forson