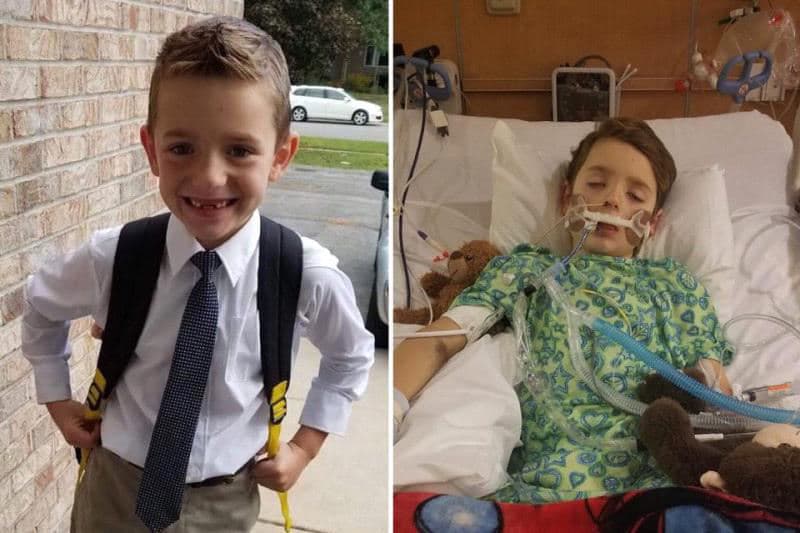 SMART Transportation Division Local 278 member Kyle Jones and his wife Samantha received devastating news Jan. 14, when their seven-year-old son Ayden was diagnosed with Acute Promyelocytic Leukemia (APML). This is an extremely rare cancer for someone as young as Ayden.
The cancer was found after Ayden had been taken to urgent care with symptoms of the flu. The urgent care thought he had pneumonia and suggested that Ayden be taken to a children's hospital in South Bend, Ind., where he was diagnosed with APML.
In order to get the best care possible, Ayden went to Riley Children's Hospital in Indianapolis where he started chemotherapy and was placed on a high risk treatment path for APML due to the high number of leukemia and white blood cells found in his system. The path, at its shortest – if everything goes to plan, will include 9 to 12 months of intensive chemotherapy and bone marrow testing.
The early stages of recovery are the most dangerous for Ayden. The cancer cells in his bone marrow have stopped the production of blood clotting agents and the cancer cells in his blood are sending signals to clot throughout his body. Because of this, Ayden is at a high-risk for strokes and does not have any way to stop bleeding. If Ayden can make it out of this window of risk for clotting and bleeding, APML has a 100 percent cure rate. Thus far, Ayden has been responding well to the treatments.
"As a father who has had to deal with both a serious medical issue with one of my children, and as a cancer survivor myself, I understand the mental, physical and financial battle that has been put in front of this family," said Jerry Gibson, SMART TD's Michigan state legislative director.
"I was fortunate enough to have so many friends, family and strangers step up and assist with donations and prayers. Knowing you have the support of others allows the family to focus on the important task at hand – getting their loved one healthy and home. Please consider donating to this cause so that Kyle and Samantha can get Ayden back home."
As you can imagine, this type of care and the need for his parents to be at Ayden's side pose a significant financial burden, but the generosity of others can help alleviate it. Please do what you can to help Ayden and his family in their time of need.
A GoFundMe account has been set up to help the Jones family with the financial burden caused by Ayden's illness. Click here to donate to the GoFundMe account.
Tshirts in support of Ayden (approved by Ayden himself) are also being sold and all proceeds go directly to the Jones family. Sizes range from YXS – 3XL and cost $25. Click here to buy a tshirt.
Click here for a printable flyer.