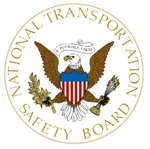 WASHINGTON (Nov. 14, 2017) — The National Transportation Safety Board (NTSB) determined the April 3, 2016, derailment of Amtrak train 89 near Chester, Pennsylvania, was caused by deficient safety management across many levels of Amtrak and the resultant lack of a clear, consistent and accepted vision for safety.
A backhoe operator and a track supervisor were killed, and 39 people were injured when Amtrak train 89, traveling on the Northeast Corridor from Philadelphia to Washington on track three, struck a backhoe at about 7:50 a.m. The train engineer saw equipment and people working on and near track three and initiated emergency braking that slowed the train from 106 mph to approximately 99 mph at the time of impact.
The NTSB also determined allowing a passenger train to travel at maximum authorized speed on unprotected track where workers were present, the absence of shunting devices, the foreman's failure to conduct a job briefing at the start of the shift, all coupled with the numerous inconsistent views of safety and safety management throughout Amtrak, led to the accident.
"Amtrak's safety culture is failing, and is primed to fail again, until and unless Amtrak changes the way it practices safety management," said NTSB Chairman Robert L. Sumwalt. "Investigators found a labor-management relationship so adversarial that safety programs became contentious at the bargaining table, with the unions ultimately refusing to participate."
The NTSB also noted the Federal Railroad Administration's failure to require redundant signal protection, such as shunting, for maintenance-of-way work crews contributed to this accident.
Post-accident toxicology determined that the backhoe operator tested positive for cocaine, and the track supervisor had tested positive for codeine and morphine. The locomotive engineer tested positive for marijuana. The NTSB determined that while drug use was not a factor in this accident, it was symptomatic of a weak safety culture at Amtrak.
As a result of this investigation, the NTSB issued 14 safety recommendations including nine to Amtrak.
The NTSB also made two safety recommendations to the Federal Railroad Administration, and three safety recommendations were issued to the Brotherhood of Maintenance of Way Employees Division, American Railway and Airway Supervisors Association, Brotherhood of Locomotive Engineers and Trainmen and Brotherhood of Railroad Signalmen.
The abstract of the NTSB's final report, that includes the findings, probable cause and safety recommendations is available online here. The final report will be publicly released in the next several days.
The webcast of the board meeting for this investigation is available for 90 days here.