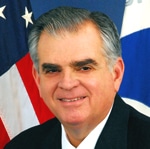 Two former leading U.S. transportation officials who left the Obama administration in recent months were named on Wednesday to new private-sector posts.
Ray LaHood, the former U.S. Secretary of Transportation, will join a Washington, D.C-based advocacy group, where he will push for Congress to fund improvements in the nation's roads, bridges, airports, rails and ports.
Read the complete story at Reuters.