As the expression goes, "There is strength in numbers." That being said, our union's about to get stronger.
Through the efforts of SMART-TD's Michigan State Legislative Director Don Roach and TD Organizer Nick Greficz (GO 687 in Detroit, Mich.), our union has organized the operating personnel of Lake State Railway Company (LSRC) in Saginaw, Mich.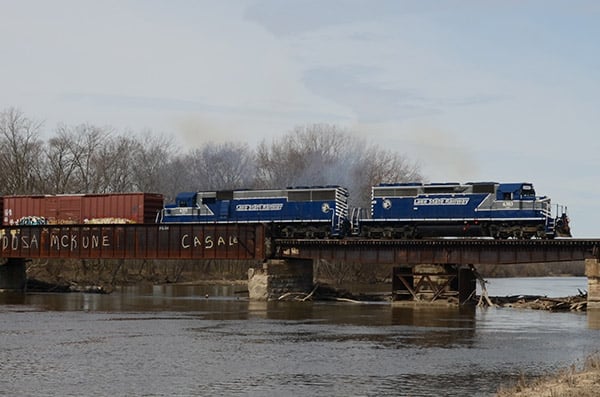 In an effort that began in 2020, brothers Roach and Greficz had their goal realized in July when our newest brothers and sisters voted to certify and become a SMART-TD local under GO 049.
At the time of the certification vote, there were 39 LSRC employees eligible to become members of the union; however, as a testament to our new members' work, LSRC has been expanding its customer base and has been hiring more operating crew. By the time their local is officially part of the union, they estimate that they will have membership in the mid-50s with plans on further expansion.
These new members service rail customers ranging from Wixom, Mich., as far north as Gaylord, Mich., and east to Port Huron. They serve a wide range of industries in their territory. The operation is based in Saginaw, the site of LSRC's largest yard and hub of operations. In addition to Saginaw, LSRC has yards in Flint, Wixom, Midland, Bay City, Pinconning, Tawas, Alpena, Grayling and Gaylord.
In speaking with SLD Roach, he wanted it to be known that SMART-TD is the only union representing the employees of this short line and will be representing trainmen in all crafts. He said, "It took a few years, but we finally got it done. Organizer Nick Greficz deserves much of the credit. He was the boots on the ground, and we couldn't have pulled this off without him."
SLD Roach began his career with the railroad working this line as an engineer for CSXT prior to the Class I leasing the track rights to LSRC. When LSRC took over this line and serviced his old territory as a non-union shop, he took it personally.
"It's infuriating when Class I railroads lease these tracks to non-union railroads. It makes it personal for me. To see our former members working without the benefits of a union contract is unacceptable. I want to thank the LSRC employees for reaching out to SMART and voicing their concerns." Roach said.
In the case of LSRC employees organizing into SMART-TD, Director Roach's personal victory has become a victory for our organization.