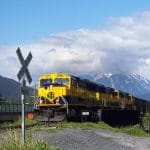 WASHINGTON – U.S. Senator Lisa Murkowski responded to the news that the Alaska Railroad Corporation (ARRC) became the first railroad in the nation permitted to transport liquified natural gas (LNG) by rail, saying:
"I am pleased the Federal Railroad Administration (FRA) recently approved the Alaska Railroad's request to move liquified natural gas via rail to Fairbanks. The Interior of Alaska is in need of an affordable energy source and natural gas by rail holds real promise."
Read more from KTVF.