A ride on a UTV in September nearly turned fatal for Shane Leach when he severed an artery in his arm and nearly bled to death in the desert.
While out with a friend, Leach's vehicle tipped on a turn. It rolled onto his arm, pinning it between the UTV and the ground.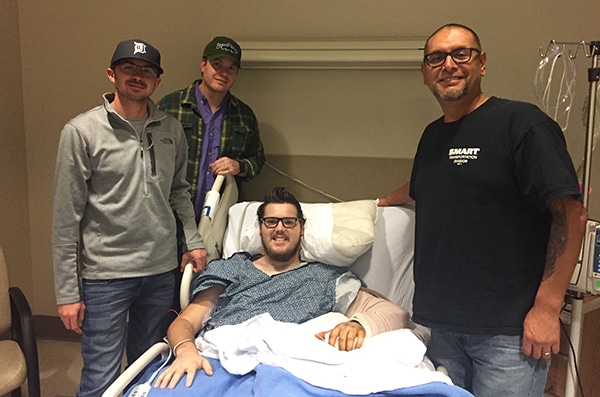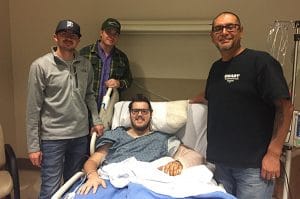 About a month in intensive care followed, as did about 15 surgeries in which doctors were able to reconstruct and eventually save his left arm.
"I was in surgery almost every other day just to work on my arm," the 21-year-old from Las Vegas said.
And Leach, a new hire as a conductor in April for Union Pacific, said that he was about two weeks short of receiving full union benefits when the accident happened.
"It put me in a spot where I had to just figure things out," he said.
But SMART Transportation Division Nevada State Legislative Director Jason Doering, Local 1117 President Wyatt Kelly, and Vince Ybarra, chairman of Local 1117, in Las Vegas, Nev., and others weren't going to let Leach figure it out alone. They visited Shane in the hospital before his November discharge and helped to lift his spirits.
"They've called and checked in on him," said Brenna Bristol Leach, Shane's mother. "He really wants to go back to work, he really enjoyed the culture. The outreach from the guys has solidified that."
Shane Leach said a recent drive past a local railyard reminded him how he can't wait to get back aboard.
"I just thought – I loved my job when I got it," he said. "It was really tough in the hospital to have that taken away. It just motivates me to do as much work as I can to get back.
"It really showed me how much I really enjoy being a railroader."
Bristol Leach said the doctors who cared for Shane in the hospital have said that he'll recover use of his arm, but a timeline has not been defined – there's still physical therapy and orthopedic exams for Leach to power through, which means more time away from work and more stress on his depleted savings.
"It could be six months, it could be less, it could be more," Bristol Leach said.
But the major surgeries and skin grafts have been successful for Shane, she said, and her son remains upbeat for an eventual return to the railroad alongside his future SMART TD brothers and sisters.
"It really makes me feel good that they haven't given up on me, and it motivates me to get through the therapy and get back out on the rails," Leach said.
A GoFundMe online fundraiser has been set up at https://www.gofundme.com/shanes-medical-fund-recovery as Shane continues to recover. Any help would be appreciated.