His hands are rough. His boots are dirty. He has the resume to prove it.
Vance Snider is a SMART Transportation Division member out of Local 1313 in Amarillo, Texas, a veteran of the U.S. Army, a father of two and a BNSF conductor.
He's also running for Congress to represent Texas' 13th District, an open seat with the announced retirement of Rep. Mac Thornberry at the conclusion of the 116th Congress.
"My hands are rough, my boots are dirty, and I'm not a career politician" is the quote that introduces his biography on his campaign website.
He has the background to prove that — working his way up from sweeping floors in his dad's parts shop in Texas and fighting for our country on foreign soil.



Snider, 30, served in Afghanistan after enlisting in the Army in December 2007 after his high school graduation. After completing his service, he hired on to the Texas Northwestern Railway in 2013 and later moved on to become a conductor for BNSF.
He's been a TD member since April 2015 and is running as a first-time candidate as a Republican to represent the 13th District, which is home to hundreds of SMART-TD members and retirees and their families. He will need their support to win in the crowded 15-candidate primary that takes place March 3, and he plans to fight for our members and the people in the district if elected.
It's a challenge to be sure. The 13th is a vast district that has more ground to cover than 13 U.S. states and one of the most Republican. The winner of the Republican primary is practically a shoo-in to win in November and move on to D.C. — Thornberry won his last re-election bid with 81 percent of the vote.
And Snider is doing his best to break the typical red-blue stereotype. He's a registered Republican because his values align most with the pro-life and pro-Second Amendment stance of the party. But when out talking to prospective voters, he said that sometimes people who identify as Republican get hung up on the fact that he's a proud union member.
"Republicans are typically associated with big business," Snider said. "They forget about the little people who made them the millions of dollars."
So he's trying to change that by infusing some youth into the party and to break some of the typical set-in-stone party preconceptions by running for the House.
The 2018 election and the hyperpartisanship in D.C. is what inspired him to run – he's tired of seeing people staying in Congress for decades but then ignoring important issues such as railroad safety.
"I want to go forth and create a revolution – bring regular people to the House and Senate. Get rid of the incumbents," Snider said. "It's about taking action and doing something about it.
"I got tired of the political BS going between the two parties. That's what really annoyed me."
Since officially becoming a candidate on the ballot in early October and even before then, Snider has been campaigning on his own terms. He's found that some of the 14 other Republicans competing for the chance to appear on the November 2020 ballot have been following his lead.
"I'm actually out there hitting the pavement – I was one of the first ones to put the name on the ballot and put out yard signs," he said. "They're all copying my campaign. I've been hand-delivering yard signs – the campaign seems to be going really well. I ain't scared to get up at 6 in the morning and drive across the country, so putting a few miles on my truck doesn't bother me."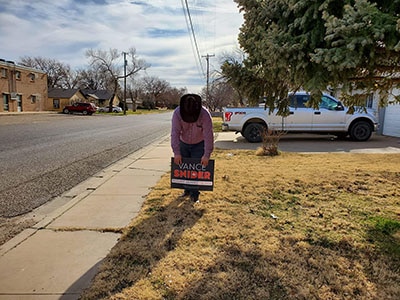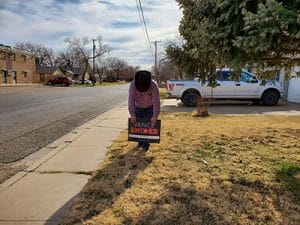 He doesn't usually put on a suit and tie on his visits — he just goes out as he normally dresses from his Texas upbringing, cowboy hat on his head, and a message that he is going to represent people from all over the district, not just the people in its two major cities of Amarillo and Wichita. It means a lot of mileage on his Ford F-250 (he estimates he's put 8,000 miles on it criss-crossing the district) and dirtier boots, but it shows his commitment to his beliefs.
"Politicians need to start working for the people," he said. "They need to elect a like-minded individual who thinks about the people in the district first, then the rest of the country. I want to start a revolution – show I'm a normal Joe Blow guy like you — and can get out and do something."
After Thornberry, who's held the seat in the 13th District for 25 years, announced his retirement, Snider fully committed the run and he's had 100% support from his wife, Christy, and the rest of his family.
His platform includes a commitment to being pro-life and defending Second Amendment rights. He also counts rail safety as an issue in his campaign, which sets him apart from others in his party and has led to the backing of his campaign by SMART TD PAC and others associated with rail labor.
The number of co-sponsors show that current incumbent Republicans have been slow to come around in supporting the two-person freight crew legislation (H.R. 1748 in the House and S. 1979 in the Senate). Thornberry has not signed on to the Safe Freight Act, and so far only 10 GOP reps have signed on as co-sponsors compared with 124 Democrats.
But Snider sees hope that rail safety and having two on the crew will eventually be recognized as a non-partisan issue that goes beyond red or blue.
"We need to get Republicans aboard," he said. "I've had national support from all over the country – I've got donations from Democrats and Republicans. It's about being working class, a working person – making sure we're all taken care of."
"We need to give the honest truth – make the public aware of it. A lot of them think we still have five people on the train," he said.
The public also does not recognize that there are safety and environmental factors to railroad accidents that would be worsened by going from two to one person in the cab, he said, pointing out that a Jan. 1 derailment into the Kootenai River in Idaho could have easily resulted in a fatality had there not been two people aboard to assist one another to survive in their BNSF locomotive that was partially submerged during the accident.
"It's about informing the public. It's about safety. And public awareness — that's what it comes down to," he said.
Moreover, the work schedule of a railroader does not help matters when it comes to rail safety, and having two aboard is an important check, even with Positive Train Control.
"Whenever you're working an extra board, you're fatigued," he said. "There's been issues where a signal drops from clear to red—there's more going on out there than people think. When you have those instances when you have to have someone out there, two sets of eyes are better than one.
"There have been times when guys have missed a signal, and you have to speak up."
There are a number of ways rail workers and union members can speak up – one of them is by running for public office, as Snider is.
"It took me two weeks to get through the red tape. If I can do it, you can do it too," he said. "Once you get through the red tape, find a good campaign consultant and an election lawyer who can tell you what can and can't be done – those are the two key things. Then put your nose to the grindstone and start campaigning."
A second way that isn't as time intensive, but helps just the same is by donating to the TD PAC.
"I would encourage people to donate to PAC. You really can help by donating to the PAC fund, no matter what the level," he said. "It really helps out and allows candidates like me to go forward. It is bipartisan and goes to both Republicans and Democrats. This money doesn't come from union dues."
Snider is looking to change things for people in his congressional district, his fellow union members and in Washington, D.C. To find out more about him and how you can help our union brother in his campaign, visit www.vancesniderforcongress.com search Vance Snider for U.S. Congress on Facebook or email vancesniderforcongress@gmail.com.
For more information about how to contribute to SMART TD PAC, email TDPAC@smart-union.org or visit https://www.smart-union.org/td/washington/tdpac/