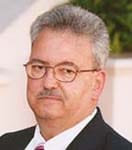 Retired former United Transportation Union Insurance Association Field Supervisor Thomas R. Anziano Jr., 73, of Local 1373 at Philadelphia, died Mar. 26 after an extended battle with cancer.
Anziano began his railroad career with CSX Transportation and worked as a conductor and yard foreman. He was a member of the UTU since 1972 and held several offices in his local including chairperson, legislative representative and delegate before working as a field supervisor for the UTUIA, a position from which he retired in 2005. He was also a member of the UTU Alumni Association. He was a veteran of the United States Air Force.
"Tom was always known as a kind, generous man who was loved and admired by everyone who knew him. Tom always put his family, friends and especially the UTU membership ahead of himself," UTUIA Field Supervisor Art Rayner (Local 1374 at New Castle, Pa.) said. "I will always be forever grateful and indebted to Tom for all he had done for me after I replaced him as a UTUIA field supervisor. I will truly miss him."
Anziano is survived by his wife, Barbara, and numerous family members.
A viewing is scheduled for Monday, March 30, at 8 a.m. at Cavanagh Family Funeral Homes, Inc., at 301 Chester Pike, in Norwood, Pa., with funeral mass to follow at 11 a.m. at St. Gabriel Church, Norwood, Pa. In lieu of flowers, donations can be made to Taylor Hospice Residence at P.O. Box 147, Ridley Park, PA 19078.