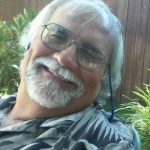 Local 1570 member and former General Chairperson Norman J. Lucas, 67, died suddenly June 19, 2017. A lifelong resident of Sacramento, Calif.,  he leaves behind his loving wife of 35 years, Sheila Lucas as well as two children, two grandchildren and extended family.
Lucas hired out as a brakeman in 1971 on the Sacramento Northern Railroad and soon became involved in labor-management relations. He held a variety of positions in Local 1798 eventually being elected to the position of general chairperson.
During his career as a general chairperson he represented brakemen, conductors and switchmen and represented those members through three separate mergers, Sacramento Northern and Tidewater Southern RR with Western Pacific RR, Western Pacific with Union Pacific and Union Pacific with Southern Pacific. In between all of that, he also was the general chairperson for Central California Traction RR, Modesto and Empire Traction RR, Stockton Terminal and Eastern and Alameda Belt Line RR.
Lucas was also a local delegate, local president and local legislative representative. After the merger between the UPRR and SPTCo, Lucas left the general committee to work as a switchman in Sacramento in the very same territory that he first started working on when he hired out on Sacramento Northern so long ago, eventually "pulling the pin" to retire.
Lucas was deeply involved in the California State Railroad Museum since 1984, and was one of the first volunteers to operate on the museum's railroad, the Sacramento Southern RR. Lucas rose to become trainmaster and thereafter assistant general manager of the Sacramento Southern. He later taught GCOR and rail safety courses at Sacramento City College for students interested in railroad careers. 
He was a lifelong Ham Radio Operator which the U.S. Army discovered when he was drafted and thus he was yanked out of basic training and spent two years at Ft. Ord teaching radio classes. Lucas had a multitude of hobbies from dressing up as a pirate for Renaissance Fairs where he would juggle burning batons while sporting his black powder pistol, to constructing several remote control model boats, ever tinkering with his and friends' ham radios, campouts in the fifth wheel trailer, always helping family and friends with a variety of projects, and doting over his grandchildren.
Lucas was a hard worker and never put anything off until tomorrow that he could do today. He was blessed with many friends and will be missed by all. His wit, humor and compassion for others will never be forgotten. He stood out as a one of a kind colorful character in an industry known for its characters.
A memorial mass will be held June 30, 2017, at 11 a.m. at the Sacred Heart Church, 1040 39th St., Sacramento, CA 95816. The family requests that memorial contributions be made in lieu of flowers to the Prostate Cancer Foundation or the Sacramento Food Bank.
Click here to leave condolences for the Lucas family.