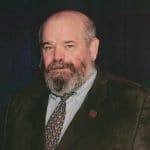 Bruce Robert Wigent, 73, of Prescott, Wis., died Wednesday, May 25 at United Hospital.
A member of Local 1709 in Pontiac, Mich., Wigent hired out as a switchman on the Grand Trunk Western Railroad in December 1964. He was first elected as a local officer in 1970 and then served as general chairperson of GO 377. Wigent was elected as a UTU International Vice President at the 1987 UTU quadrennial convention. He was re-elected to the position at the 1991, 1995, 1999 and 2003 conventions. Wigent retired from the position in 2007.
As a vice president, he was instrumental in contract negotiations with SEPTA and also led a strike on the Soo Line in 1994. Wigent wholeheartedly believed in the power of unions and the right of the worker to organize, as evidenced in this 2009 video Wigent made supporting the Employee Free Choice Act.
A time of remembrance and Masonic Service is being held at 11:00 a.m., Wednesday, May 31 at the Old Ptacek's Store Event Center, 1449 Orrin Road, Prescott, WI 54021. A visitation will be held one hour prior to services. Interment will be at Pine Glen Cemetery in Prescott.
Click here to leave condolences for the family.