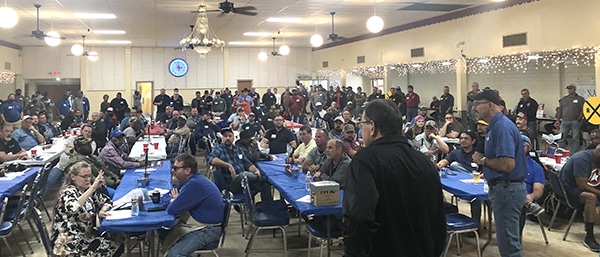 SMART Transportation Division President Jeremy Ferguson and Brotherhood of Locomotive Engineers and Trainmen President Dennis Pierce stood shoulder-to-shoulder as they answered direct questions from a standing-room-only crowd Oct. 18 at the annual Solidarity Rally for Rail Labor in Houston, Texas.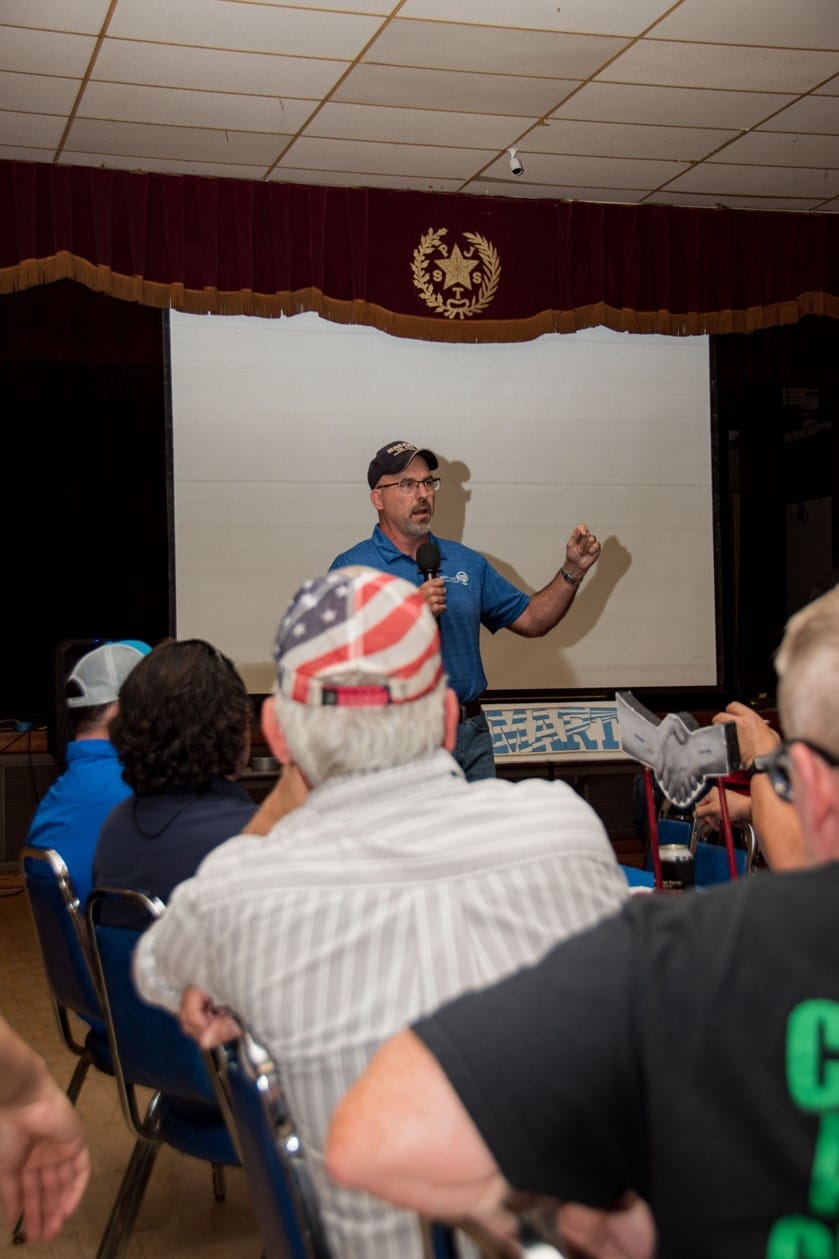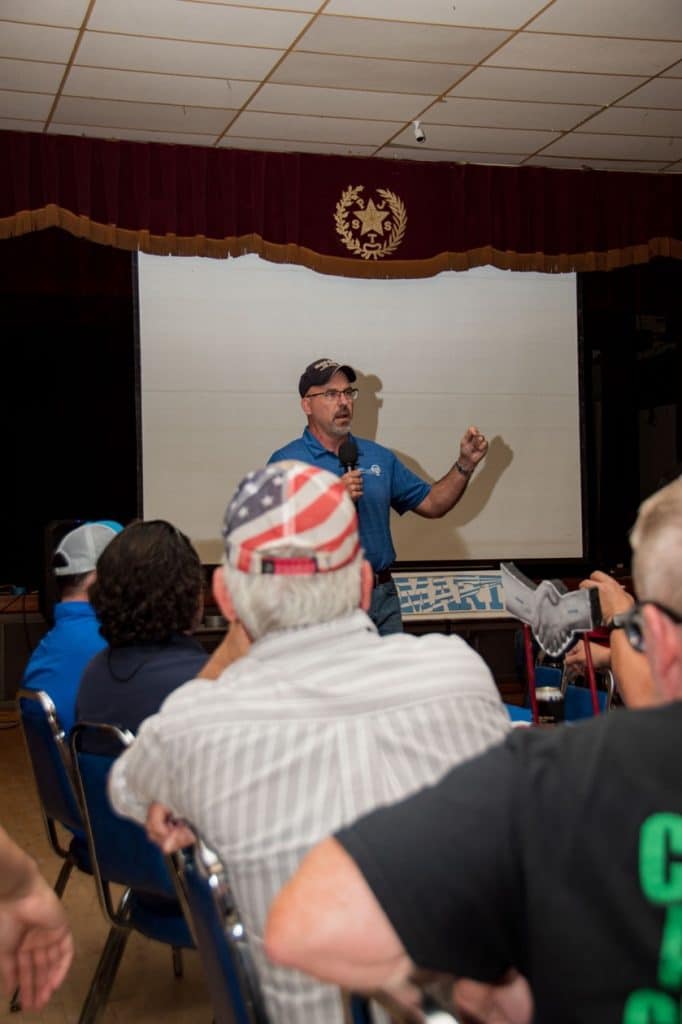 Hundreds of members and officers from SMART-TD, BLET and the Brotherhood of Maintenance of Way Employes Division (BMWED) — the nation's three largest freight rail labor unions — gathered to address hot-button issues in the industry, including the tentative National Rail Agreement (TA), to be voted upon soon by TD members.
"It was a great opportunity again to collaborate with BLET President Pierce, to get the facts out there at a face-to-face event about what's going on in our industry," President Ferguson said. "SMART-TD, BLET and other unions went through more than two and a half years of negotiations. There's a lot to unpack about where the industry is right now, and it was good for us to have a factual presentation about the PEB and how the tentative agreement was constructed.
"This was a very lively event, and one where we were able to get right down to an honest discussion about our members' upcoming ratification process and the decisions that lie ahead," he said. "Years ago, I don't know if the degree of solidarity among these different unions would have existed. It's open dialogue like this that's a healthy way to combat some of the untruths that's been floating out there regarding the tentative agreement. Both President Pierce and I are absolutely committed to working together as we continue to move forward, in solidarity."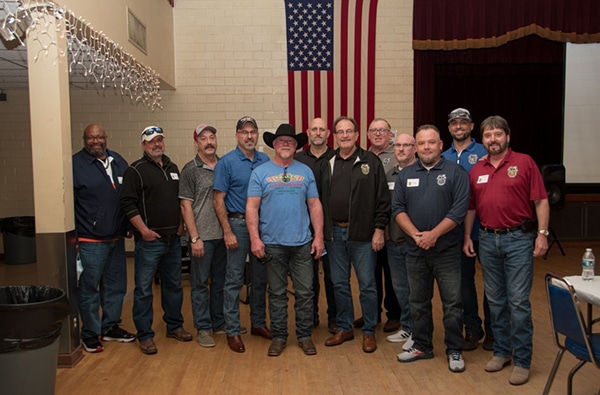 Along with President Ferguson, SMART General President Joseph Sellers and other officers enjoyed the hospitality of the Houston rally's organizers. Special recognition goes out to General Chairperson Roy Davis and GCA Secretary Buddy Piland (GO 577) for putting the event together. As always, Local 1892 out of Houston was heavily involved in the hometown event, including Vice Local Chairperson Keith Green (LCA-577), Local Secretary & Treasurer Robert Maldonado, Legislative Representative Butch Boggess and retiree Dan Holak. General Chairperson Chris Alston (GCA-803) out of Local 1686, GCA Secretary Buddy Piland (GCA-577) out of Local 1205 and Darvin Scott of Local 524 also put in hard work at getting things rolling at the headquarters of SPJST Lodge 88.
Representatives from the SMART-TD Auxiliary, AFL-CIO, UTUIA, Railroad Retirement Board and NARVRE as well as United Healthcare, Highmark Blue Cross Blue Shield and a number of SMART-TD Designated Legal Counsel attended as well.
Local 1892's Maldonado estimated that there were anywhere from 250 to 300 people in attendance, giving it the air of a "mini-regional" meeting, even after a two-year hiatus because of the COVID pandemic.
"GC Davis was telling me that 30 to 40 general chairpersons from throughout the country were in attendance and are looking forward to this event next year already," Maldonado said. "Quite a few BLET GCs from the Texas/Gulf Coast area were in attendance as well. This rally is a multi-craft and multi-railroad (UP/BNSF/KCS/PORT TERMINAL RR) and from what I've been told, the biggest and best one held throughout the country."
Maldonado said nine SMART locals participated as well as four BLET lodges and BMWED Lodge 1058.
"A big thank-you goes to the Houston-area Designated Legal Counsel Marc Zito, Sara Youngdahl and Clint McGuire for their continued support and sponsorship of this huge event. I don't want to forget to thank SMART-TD Auxiliary 281 for their help with the decorations and SMART-TD Texas State Legislative director Kamron Saunders for sponsorship and support as well," he said.
"I was told that this year's rally was the best one yet and that having Presidents Ferguson and Pierce attend was a home run," Maldonado said. "So we will start prepping for the 2023 Solidarity Rally next year. Everything is BIGGER in TEXAS."
Next on President Ferguson's schedule is a discussion at the Tacoma Regional Training Seminar occurring this week.