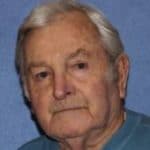 Retired General Chairperson Carlton Leon Graves, 87, died Tuesday, June 27 at the Franklin County Rehab Center in St. Albans, Vt.
Before hiring out on the railroad, Graves served in the Vermont National Guard. He also owned and operated his own dairy farm while employed by the Central Vermont Railway. He hired out in 1952 as a fireman on steam engines and retired as an engineer on Amtrak. Graves was a 50-year member of Local 256 of the former United Transportation Union (now SMART Transportation Division). He held office as general chairperson for many years.
Graves was a member of the First Baptist Church of St. Albans, where he served on the Board of Deacons and as Chairman of the Board of Trustees. He was also a member of the Fairfield Historical Society and served as a Lister and tax collector for the town of Fairfield, Vt. He was also know for his collection of antique tractors.
Graves is survived by his wife, Joyce; children, Leon (Amy) Graves, Lisa (Kerry) Griswold, Reverend Larry (Kathy) Graves, and Jeffrey (Carla) Graves; as well as 10 grandchildren and 13 great-grandchildren; brother, Alvin Graves and many nieces and nephews.
Graves was preceded in death by his parents Guy and Louise (Gould) Graves; sons, Stephen and David; one brother and three sisters.
Family and friends will be received by the family Friday, June 30 from 4 p.m. to 7 p.m. at the Heald Funeral Home, 87 South Main St., St. Albans, VT 05478. A funeral service will be held Saturday, July 1 at 1 p.m. at the First Baptist Church of St. Albans, 29 Congress St., St. Albans, VT 05478. Interment will follow at the St. Albans Bay Cemetery.
The family requests that donations be made in Graves' memory to the Franklin County Home Health Agency, 3 Home Health Circle, St. Albans, VT 05478 or to the First Baptist Church of St. Albans, 29 Congress St., St. Albans, VT 05478, in lieu of flowers.
Click here to leave condolences for the family.