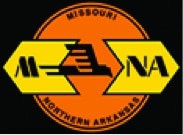 SMART Transportation Division-represented Maintenance of Way (MOW) employees of the Missouri & Northern Arkansas Railroad (a Genesee Wyoming property) have ratified a five-year contract.
General Chairperson Steve Simpson and 1st Vice General Chairperson Scott Chelette assisted by Vice President Doyle Turner in the negotiations and ratification of the agreement for G0 927. Local 303 Chairperson Ryan Tabor and Vice Local Chairperson Justin Nozar played a large role in the preparation of the Section 6 notice, providing valuable information regarding the members' wants and needs on the property.
The new agreement provides a signing bonus as well as a 14 percent raise over five years, a guarantee of 11 paid holidays and additional vacation days for all members.