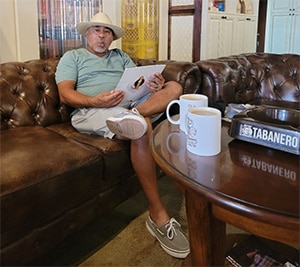 Brother Tony Carbajal, a member of Local 807 (Tucson, Ariz.), passed away Oct. 27, 2021, from COVID-19 at the age of 51.
He joined the union in 2004 and worked as a conductor for Union Pacific for more than 17 years.
"Tony was well-liked and respected by his co-workers in Tucson," said Chris Cheely, legislative secretary of the Arizona State Legislative Board and Local 807's legislative representative.
A talented golfer and softball player, one of Brother Carbajal's many hobbies was collecting cigars.
He is survived by the love of his life, Patricia; sons Eric, Gregory and Andrew and grandchildren Stephany and Bubba.
An online fundraiser has been established to assist his family in their time of loss.
A Celebration of Life and Rosary will be held noon on Sunday, November 7, 2021, at the Willcox Elks Lodge with a visitation beginning at 11 a.m. Private cremation will follow.