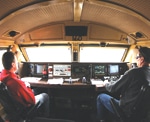 In the final week of legislative session, the Nebraska legislature officially recommended that railroad locomotives should have a two-person crew. 
According to the resolution — LR 338 — safety risks posed by shipments of such materials as ethanol, Bakkan crude oil and chlorine could be reduced by requiring a train crew of at least two individuals. 
The resolution was sponsored by Sen. Al Davis of Hyannis. The legislature adopted it by a 36-4 vote on May 28.
Read more from the North Platte Bulletin.