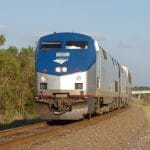 The Associated Press reports that the Federal Railroad Administration (FRA) has ordered Amtrak to retrain employees on basic safety rules after an Amtrak train slammed into a backhoe last week, killing two maintenance-of-way (MOW) employees and injuring dozens of passengers.
Loram Maintenance of Way spokesman Tom DeJoseph told reporters that the MOW workers on the tracks were unaware that one of the tracks was active and in service at the time of the accident.
Amtrak's CEO Joe Boardman has stated that he will immediately comply with FRA's directive.
Click here to read more from the Associated Press.