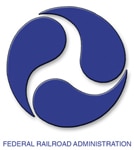 WASHINGTON – The FRA has has strengthened its positive train control (PTC) team, naming Mark Hartong as senior scientific technical adviser for railroad electronic systems within the FRA's Office of Safety.
Hartong's primary responsibility, said the agency, "will be to ensure that electronic technology is applied in a manner that will support the safety and security of freight and passenger transportation on the national railroad system."
In announcing the appointment, the FRA said Hartong has "in-depth understanding of the other critical systems, including the locomotive electronics, communications systems and back office dispatch systems that must interface with PTC."
Hartong earned a Ph.D. in information technology from George Mason University and also earned two masters degrees in software engineering and computer science. Prior to joining the FRA in 2003, he worked with Lockheed-Martin Corporation in the Undersea Surveillance Division as senior engineer for all combat and communications systems for nuclear attack submarines as well as the Trident class ballistic missile submarines.
Hartong served for 14 years in the U.S. Navy, achieving the rank of lieutenant commander.