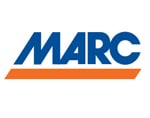 The SMART Transportation Division's CSX B&O General Committee (GO 049) has reached agreement with Bombardier Transit Services on a new contract for employees who will operate the Maryland to Washington commuter service known as MARC.
A new agreement is required due to the selection of Bombardier to operate the service after CSX announced it would not renew its current contract with the agency. 
The new agreement will provide wages and working conditions very similar to those enjoyed by our members who currently operate the service under the CSX collective bargaining agreement. Bombardier will accept applications for employment from CSX employees, with first priority given to those who are currently operating the service, followed by those who are qualified but not currently assigned to the service, and finally to all CSX employees on the Northern Mid Atlantic seniority roster.
Bombardier will send invitation letters to the employees who are currently assigned or qualified to operate the service. All others who are interested in applying for employment should contact Bombardier directly.
A hiring pool will be created in the event that applications exceed the number of positions available at startup. CSX employees who accept employment with Bombardier will be placed on the new seniority roster in the same relative order as on the CSX roster. The terms and conditions for a leave of absence from CSX are still being negotiated.
The negotiating team was led by General Chairperson Steve Mavity, with the assistance of Assistant President/GS&T John Previsich, and included Vice Chairpersons Jeremy Ferguson and Jamie Modesitt.
"The team did an excellent job of securing National Agreement wages and working conditions for employees of the new operator," said Previsich, who added, "this will protect current employees who choose to work for the new operator and, in addition, provide industry-standard wages and benefits for all future employees of the service."