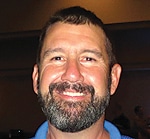 Armed with polling data obtained by SMART?Transportation Division?political consultant Dean Mitchell of DFM?Research, Colorado State Legislative Director Carl Smith and Assistant Legislative Director Charlie Skidmore Sept. 14 presented community leaders from Colorado, Kansas and New Mexico, convened in Pueblo, with data showing large support for funding of Amtrak's Southwest Chief service.
"With the knowledge that state and local politicians from Kansas, Colorado and New Mexico would be attending this event, Kansas State Legislative Director Ty Dragoo and myself had discussions with Dean Mitchell at the Anaheim regional meeting about doing a survey to show the politicians from our respective states the support the public has for Amtrak, even in the most conservative districts," Smith said.
The surveys were conducted in Colorado's 4th District and Kansas' 1st and 2nd Districts, home to traditionally conservative voters between September 3 and September 10. About 800 adults responded to the survey, 400 in Colorado and 200 in each of the Kansas districts polled.
The survey found that people had a favorable view of Amtrak and high speed rail, with 44 percent of people polled stating that passenger service should increase and 40 percent stating that it should remain the same. Only four percent of those polled stated that the service should be eliminated, while 12 percent were unsure of what should happen.
Seventy-one percent of those interviewed said they would support additional service in the cities of Denver and Kansas City.
Forty-five percent of those polled said that their state governments should provide some funding for Amtrak and 49 percent were in favor of keeping the current levels of government funding. Of the 45 percent that said their state should contribute to the funding of Amtrak, 83 percent stated that they supported their states providing up to one third of one percent of the state transportation budget to keep daily Amtrak service.
"The survey was well worth the expense and will be a valuable tool for the state directors of Kansas, Colorado and New Mexico to present to state legislatures and governors when discussing funding for Southwest Chief service,"?Smith said.
Smith also presented the findings to attendees at the Labor Initiative of the Colorado Democratic Party event held Sept. 18.
Click here to view all results from the survey.