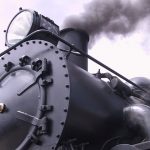 CLEVELAND – Buried under the rust, the decades of peeling paint jobs, the thousands of miles, the dirt and the gunk is a golden era. 
It was a time when today's industrial wastelands employed most of America, and the railroad was the country's lifeline. 
"Look, it's like you just walked into the 1950s," said Steve Korpus Jr., as he pulled on the brake lever of a hulking locomotive and pointed out at a crumbling part of a roundhouse that has seen better days. "This is what America used to be like."
Yes, those were different days. But the dream and the romance with trains live on at the Midwest Railway Preservation Society.
Read more from cleveland.com.