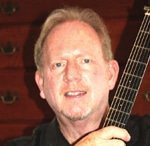 For conductor and Norfolk Southern GO 680 Vice General Chairperson Robert C. "Bubba" Chandler III, the rhythm of the rails is in his bones.
Long before he began riding the rails, the rhythm of the music was in his soul. A self-taught six-string guitar picker for more than 35 years, Chandler is an accomplished professional musician and singer. His latest release, Another Evening with the Music of John Denver, is his unique and heartfelt tribute to one of his greatest musical influences, the late John Denver.
A member of Transportation Division Local 363 at Roanoke, Va., Chandler was born near Birmingham, Ala., and his southern musical influences run deep.
He recalls listening to his parents' records, primarily Grand Ole Opry artists such as Patsy Cline, Hank Williams and the Carter Family. This exposure awakened his interest in bluegrass, country and folk styles, ultimately leading to his earnest study of the two Johns: John Prine and John Denver.
After high school, he moved to Kirksville, Mo. "It was there I was introduced to John Prine's music and decided to get a guitar and learn a few chords. After seeing that I did better with the ladies with a guitar in my hands, it kind of stuck," Chandler said.
His musical interests broadened to include southern rock artists such as the Allman Brothers and Lynyrd Skynyrd.
"Denver's music is melodic. It is about the beauty in country living, love, hope and joy. There is nothing down about it," he said.
On his John Denver tribute album, the vibe is laid back and the arrangements are true to the originals. True to Denver's music, there is nothing down about Chandler's playing.
Chandler has performed and recorded with the highly acclaimed bluegrass group Lost and Found (Allen Mills, Gene Parker, Roger Handy and the late Dempsey Young). When Handy quit the band, Chandler filled in from 1979 to 1983.
During his time with Lost and Found, he toured Europe, had a public television show and released two albums that helped produce some of the staples of bluegrass music today. Although he personally has yet to perform at The Grand Ole Opry, his band mates from Lost and Found have.
"Since leaving bluegrass, I have drifted back to my folk and Southern rock roots," he said.
Chandler, who currently resides in Virginia, prefers to play guitars made by Martin or by Breedlove. His music is now available on iTunes, CDBaby, Amazon and Rhapsody. For more information on Chandler, visit his website at www.bubbachandler.com.