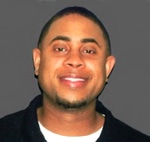 A funeral service will be held at 12 p.m., Saturday, Aug. 23, at Turrentine-Jackson-Morrow Chapel in Allen, Texas, for SMART Transportation Division member Roderick A. Hayes, 31, who was killed in a Union Pacific train collision Aug. 17.
Interment will follow at Ridgeview Memorial Park.
The family will receive friends during a visitation from 6 p.m. to 8 p.m. Friday evening, Aug. 22, at the chapel.
Turrentine-Jackson-Morrow Chapel is located at 2525 Central Expressway North in Allen.
Hayes was a member of SMART Transportation Division 656 at North Little Rock, Ark.
He grew up in Chicago and attended East-West University and Chicago State University. He was an avid runner and enjoyed cars.
He is survived by his wife, Sheneé; children Quentin, Rashaun Jones, Roderick Jr. and Yahara; parents Sybil and George; brother Stephon Hayes (Monica), and sister, Linda. He was preceded in death by his sister, Vonda Farmer.