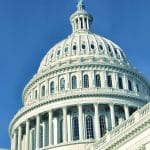 WASHINGTON – A two-year blueprint for transportation spending has emerged from the Senate, but House action still is required before a bill is ready for President Obama's signature into law.
Notwithstanding the headlines, the Senate's passage of the two-year S. 1813, "Moving Ahead for Progress in the 21st Century" (MAP 21), is but one congressional action necessary before Amtrak, bus, transit, high-speed rail and commuter airlines will see any new federal dollars flow their way.
The focus now shifts to the House of Representatives, which previously failed in an effort to pass a multi-year transportation spending authorization bill. There was speculation that the House would simply let the Senate act and then vote the Senate bill. That now may not be the case, and the entire matter of a multi-year transportation authorization bill continues to be enveloped in a fog.
Here's what's important:
The Senate bill delivers flexible spending options to transit systems, meaning they can use funds otherwise and earlier earmarked for new equipment instead to maintain service and bring furloughed workers back to the job. Recall that conservatives in the House opposed such flexibility. The Senate approval of that provision will make it more difficult for House conservatives to succeed on that issue. (One might hope House conservatives will view reality differently now — especially given that 85 percent of transit systems have been forced to cut service or furlough workers in the face of record ridership as gasoline prices soar In many cases, new buses sit idle because their are no funds to employ the drivers).
Additionally, MAP 21, as approved by the Senate:
* Continues the use of a portion of the highway-fuels tax for transit subsidies — another provision that House conservatives oppose.
* Instructs the U.S. Department of Transportation to develop a long-range national plan for further development of high-speed rail. House conservatives oppose additional spending on high-speed rail.
* Includes provisions to strengthen Amtrak and improve Amtrak's Northeast Corridor linking Washington, D.C., Baltimore, Philadelphia, New York, and Boston. House conservatives want to privatize Amtrak; and presidential hopeful Mitt Romney said this week he would seek to end all federal support for Amtrak.
* Authorizes additional federal dollars for transit passenger safety and security efforts, including additional transit-worker training.
* Rejects privatization initiatives that would open transit system employment to non-union operators intent on cutting wages and benefits.
* Strengthens "Buy America" requirements for new transit equipment and projects.