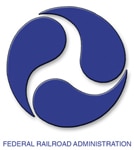 WASHINGTON – The U.S. Department of Transportation's Federal Railroad Administration (FRA) Nov. 25 issued a safety advisory to the rail industry to better protect rail employees working on active tracks, or right-of-ways, under the supervision of a dispatcher.
"Clear communication is critical to keeping employees out of harm's way," said U.S. Transportation Secretary Anthony Foxx. "I want railway workers to return home safely to their families after their shift and it is the responsibility of the railroads and their employees to keep the work environment as safe as possible."
Safety Advisory 2014-02 Roadway Worker Authority Limits, highlights the need for railroads to ensure that appropriate safety redundancies are in place in the event an employee fails to comply with existing rules and procedures. The advisory describes several related incidents and stresses the importance of clear communication and the need for railroads to monitor their employees for compliance. This Safety Advisory satisfies one National Transportation Safety Board (NTSB) safety recommendation related to dispatchers and partially addresses another related to redundant signal protection.
There are three safety measures in the advisory designed to reduce incidents that FRA expects railroads to take action on immediately:
Increase monitoring of their employees for compliance with existing applicable rules and procedures.
Examine train dispatching systems, rules, and procedures to ensure that appropriate safety redundancies are in place.
If a railroad determines that appropriate safety redundancies are not in place, adopt electronic technology—such as the Enhanced Employee Protection System, Hi-Rail Limits Compliance System, and the Train Approach Warning System—that would provide appropriate safety redundancies.
Until such technologies are in place, railroads should stress importance of dispatchers being advised of roadway workers' whereabouts and work plans; forbid student dispatchers from removing blocking devises until confirmed by a supervisor; and that, prior to passing any absolute signal, a roadway worker should verify the limits of his or her authority.
FRA believes positive train control, a system for monitoring and controlling train movements to enhance safety, would have prevented the incidents described in the Safety Advisory.
However, where Positive Train Control is not in effect, FRA recommends that railroads adopt one or more electronic technologies that may serve to fill the technology gap and safeguard roadway workers.