Samuel "Sam" J. Marino, 77, passed away at his home September 4, 2023, after a long illness.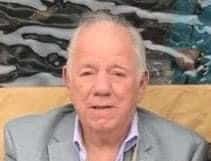 He hired out with the B&O Railroad (now CSX) in December 1966 and he applied and was approved for membership in the United Transportation Union predecessor Brotherhood of Railroad Trainmen on July 22, 1967, as a member of Lodge 955.
After the merger of the four predecessor unions in 1969, Marino continued his membership in the UTU and became a member of New Castle, Pa. Local 1374.
Throughout his years of service as a stalwart union member and officer, he worked as a brakeman, flagman and conductor. He served the UTU (now SMART-TD) as a local chairperson for over 30 years and also as secretary and treasurer for over 20 years.
He also served as delegate and represented his local at many conventions. He served the UTU International as a special organizing representative for several years. He also served as a field supervisor for the UTUIA for a short time.
"Sam worked tirelessly to represent the members of Local 1374 and assisted other newly-elected UTU local officers to educate them to represent their members," said former Local Chairperson Art Rayner (also of Local 1374). "Sam was known for keeping the railroad's feet to the fire when it came to agreement issues or representing Local 1374 members."
Upon his retirement in February 2010, Marino joined the Alumni Association and remained an active member. After retiring he continued to work for the UTU/SMART-TD membership by becoming an accident investigator for Designated Legal Counsel Matt Darby.
Marino will be missed by his family, friends and members of Local 1374.
Family will receive friends from 1 to 3 p.m. Sunday, Sept. 10, 2023, at the Ed & Don DeCarbo Funeral Home & Crematory, 941 S. Mill St., New Castle, PA 16101
A memorial service will begin at 3 p.m. Sunday, Sept. 10, at the funeral home. Rev. Richard Nero will officiate.
Burial will be in Madonna Cemetery.
The SMART Transportation Division offers its condolences to Brother Marino's family, friends and his union brothers and sisters of Local 1374.