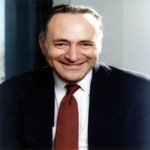 U.S. Senator Charles E. Schumer announced legislation that would help protect local communities that experience dangerous oil tanker cars barreling through their backyards every day by providing an incentive for companies to phase out older, dangerous tanker cars sooner rather than later.
Schumer has long fought to get these tanker cars that carry volatile crude, which are prone to explosion in a derailment, off the rails and out of communities as soon as possible. Schumer explained that the Hazardous Materials Rail Transportation Safety Improvement Act of 2015, which Senator Schumer introduced along with Senators Wyden, Feinstein, and Merkley, would reduce risks to communities near railroad tracks by speeding up the phase-out of older tank cars and encouraging companies to replace them with newer, safer cars.
This legislation would establish a $175 fee on the oldest and most dangerous tank cars used to ship crude oil and would use the revenue from that fee to provide grants to communities for emergency preparedness, first responders, and additional inspectors. In addition, it would make available a tax credit for companies that upgrade their tank cars to the highest required safety standard within three years.
Read more from Politicalnews.me.