Coworkers and union siblings of Local 18 (Wisconsin) member Jason Fellenz have long admired his dedication and artistry as a craftsman; since entering the trade in 2002, Fellenz has steadily climbed the ranks at JF Ahern Company, where he's now shop foreman. But in 2022, the spotlight on his skill as a sheet metal worker shined brighter than ever when Thorogood, the employee-owned Wisconsin boot company, showcased a replica boot that Fellenz designed and fabricated out of 16-gauge black iron.
"I absolutely have a passion for fabrication and metal work," Fellenz said in an interview with Thorogood. "I am always interested in bettering my fabrication skills and testing my abilities. … Being a Wisconsin native, home of Thorogood, and wearing their boots for almost 20 years, I had the idea one day to make a boot that I can display; a boot that represents the foundation of the working class."
Fellenz started his sheet metal career out of high school, working for a small residential HVAC company. "Quickly, I found out that I enjoyed the challenge of measuring up new jobs and going back to the shop to fabricate the metal," he said — however, he didn't enjoy the service work. So when his dad read about a large union mechanical contractor (Ahern) looking for sheet metal apprentices, he applied without hesitation. From there, he transitioned from pre-apprentice, to apprentice, to foreman, to shop foreman — sticking with Ahern throughout and developing a passion for mentorship along the way. He was already overseeing 13 colleagues as a fourth-year apprentice, and he became a foreman after only six months in the field.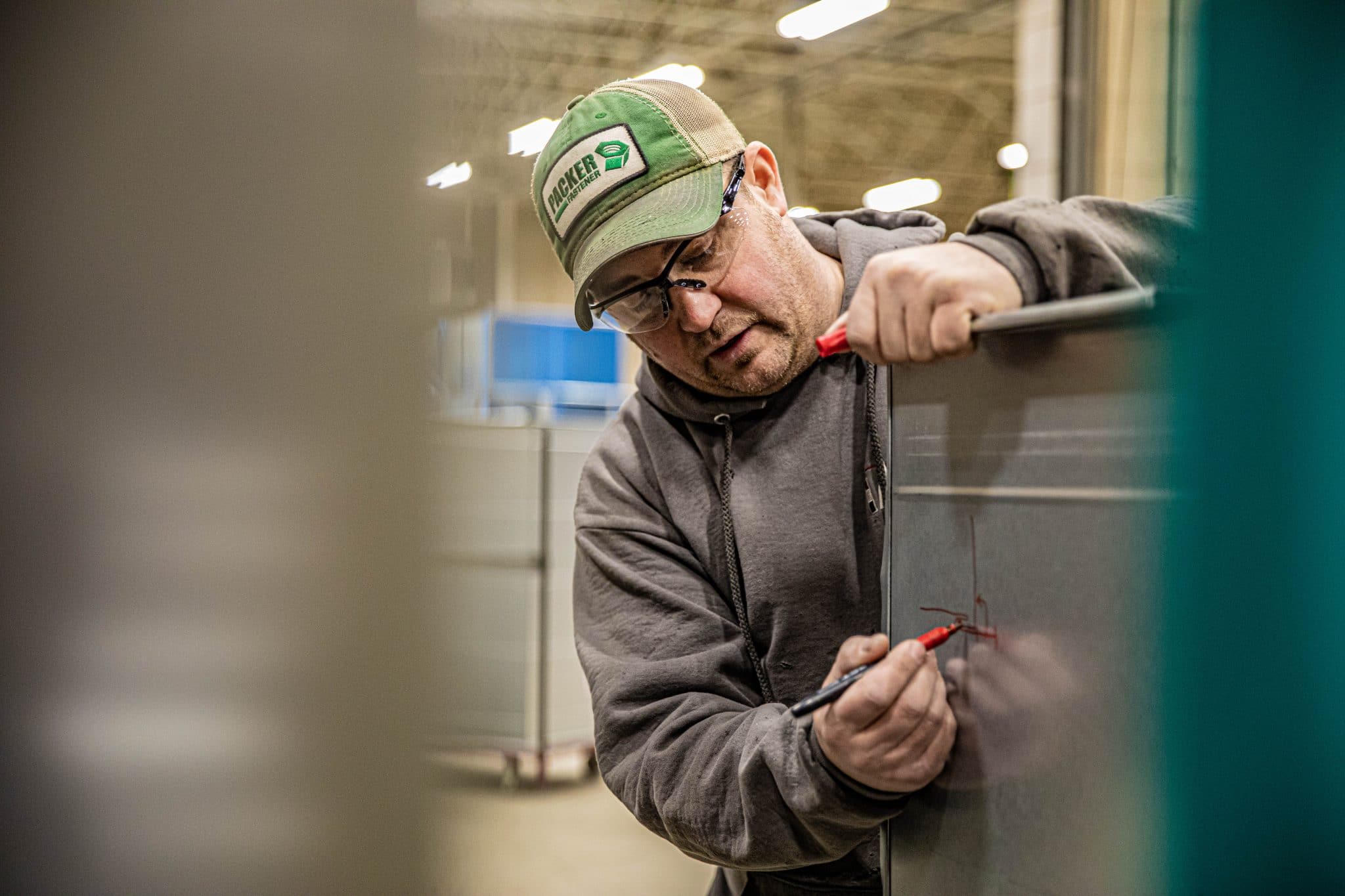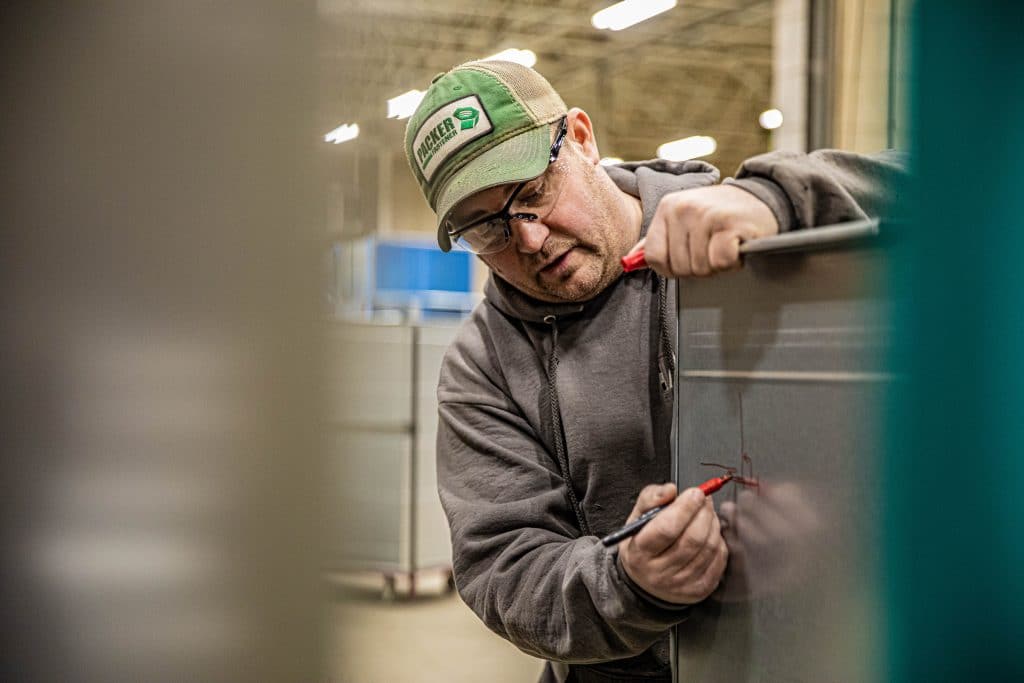 "Making it fun while teaching and mentoring the future apprentices was always a thing of mine," he told Thorogood, adding that he moved into the shop foreman role in order to work on more jobs and create a legacy of helping younger workers.
Fellenz's affinity for teaching makes him a natural fit for the union. A constant advocate for the trade, he believes the enormous variety of crafts and skills in the unionized sheet metal industry make it a great career path for a huge range of young workers — not to mention the training and compensation SMART members gain through collective bargaining.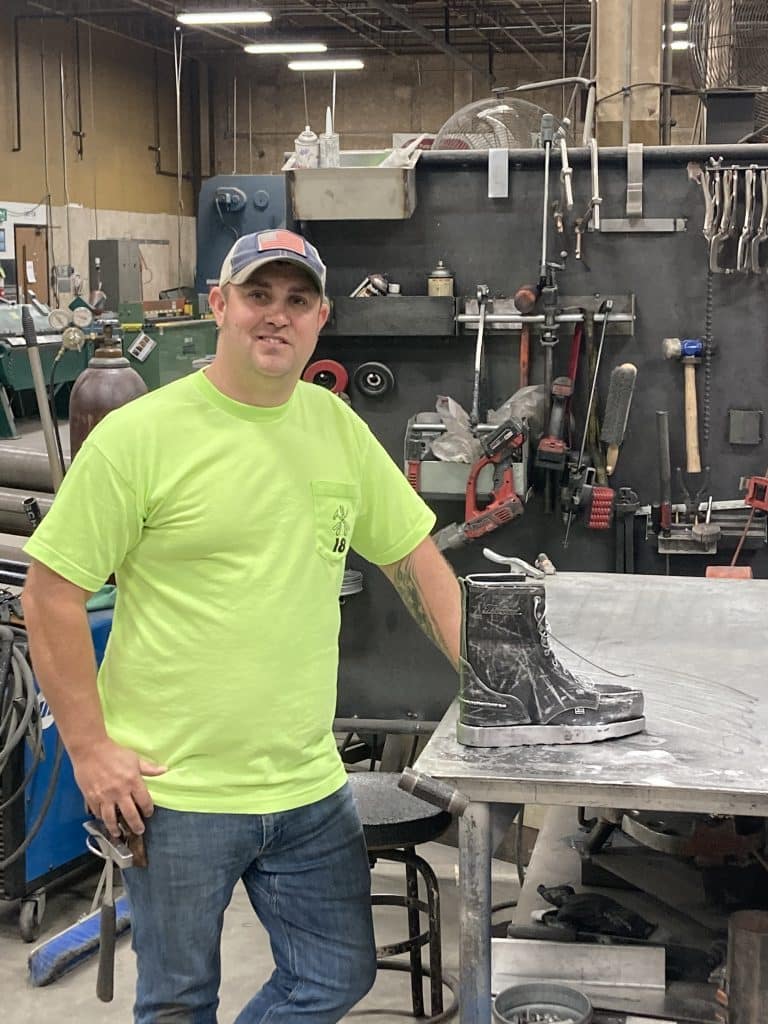 "Being compensated for the knowledge and training put forth is why I'm able to earn a family-supporting wage package that includes retirement and health benefits," he explained. "SMART has helped realize those benefits to the employers by offering skilled workers on demand. Being able to learn a craft that I can carry anywhere in the world is beneficial to my family's growth and change."
"I'm always interested in bettering my fabrication skills and testing my abilities," he said in an interview for Ahern's website. "You start from raw material and construct an object through tons of different processes with your own hands. Whether it's a piece of art or a bracket of some sort, it took layout and several steps to accomplish."
Fellenz used AutoCAD to design his replica of the boot, spending six hours in his home studio drafting a model based on his own shoe. After that, he dedicated another two weeks of fabrication and welding, crafting a stunning iron representation of working-class grit. The result, Fellenz told Ahern, is one of his favorite projects yet.
"When all is said and done, the product will outlast a lifetime and create ideas for the future tradesmen," he declared.