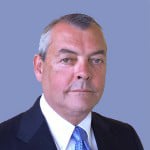 SAN DIEGO, Calif. – John Previsch was elected president of the International Association of Sheet Metal, Air, Rail and Transportation Workers' Transportation Division June 30, shortly after the opening of the union's First Transportation Division Convention at the Hilton San Diego Bayfront Hotel.
Previsich, who had been elevated to the position of SMART Transportation Division President Oct. 1, 2013, was challenged for the office by members Mark B. Burrows, Scott Cole and Gary Robison. He received 434 votes of the 485 ballots cast.
Current Alternate National Legislative Director John J. Risch III was elected the Transportation Division's National Legislative Director and will assume the office Oct. 1. National Legislative Director James A. Stem announced his intention to retire Sept. 30 and did not seek re-election. Risch was opposed by the Transportation Division's Utah State Legislative Director F. Jay Seegmiller of Local 166 at Salt Lake City. Risch won the election after receiving 285 votes of the 485 valid votes cast.
Incumbent Transportation Division Vice Presidents David B. Wier, John E. Lesniewski, John R. England, Doyle K. Turner and Jeremy R. Ferguson were returned to office by acclamation.
Due to the elimination of the position of SMART Transportation Division assistant president in 2013, Article 21B, Section 35, of the SMART Constitution provides for a successor to the president of the Transportation Division in the event a vacancy occurs between conventions. To provide for such a contingency, delegates elected Lesniewski to that position by acclamation.
Election results for two additional vice president positions were as follows:
Vice President Troy L. Johnson defeated Union Pacific GO 577 General Committee of Adjustment Secretary Charles "Buddy" Piland of Local 1205 at Kingsville, Texas, 270-210.
Santa Monica Municipal Bus Lines GO SMB General Chairperson Adhi S. Reddy defeated incumbent Vice President – Bus Bonnie Morr, 256-228.
In the election for the office of Transportation Division Alternate National Legislative Director, Arizona State Legislative Director Gregory K. Hynes defeated Seegmiller, Louisiana State Legislative Director David S. Duplechain and Virginia State Legislative Director Patrick A. Corp, 274-142-47-22.
July 1 elections:
Federal Railroad Administrator Joe Szabo addressed the delegation on the second day of the First SMART Transportation Division Convention. His remarks can be found here.
At the conclusion of Szabo's speech, the following elections were held:
Alternate Vice President Bus – East Calvin Studivant was re-elected by acclamation.
Guillermo Rosales of Local 1607 defeated Bonnie Morr, 276-210, for the position of Alternate Vice President Bus – West.
Among seven candidates for six alternate vice president positions, incumbents R.W. "Red" Dare, Danny L. Young, Brent C. Leonard, Mark H. Cook, Chadrick J. Adams and Anthony Simon were returned to office. Candidate Robert J. Keeley received the fewest votes.
Board of Appeals members Dale B. Barnett Jr., Tessa R. Burkle, Dirk A. Sampson, Alvy Hughes and candidate David W. Patenaude were elected by acclamation.
Executive Board members Stephen T. Dawson, Steven C. Mavity, Michael N. Anderson, Robert Resendez Jr. and Phillip J. Craig were elected by acclamation.
John D. Whitaker III was elected to the office of Alternate to the Executive Board by acclamation.
A member of SMART Transportation Division Local 31 at San Jose, Calif., Previsich began his transportation career with Southern Pacific Transportation Company, where he commenced work as a train-service operations employee in San Francisco. He later transferred to engine service and achieved certification as both a railroad conductor and locomotive engineer.
Previsich started doing work as a local union officer in the mid-1980s. Thereafter, he moved into a system-wide position as a general chairperson in the early 1990s, followed by his election to UTU International vice president in 2007. He was re-elected in 2011, elevated to the position of assistant president in 2012 and assumed the responsibilities of the general secretary and treasurer position on Jan. 1, 2013.
Having a special interest in transportation-industry safety issues, Previsich is the SMART Transportation Division representative on the Federal Railroad Administration's Rail Safety Advisory Committee (RSAC) and has served on numerous subcommittees associated with RSAC. In addition, he is a cabinet-level appointee to the National Freight Advisory Committee, a group that reports directly to the secretary of transportation on MAP-21, a program charged with assisting in the development of administration policy on a national freight plan for the 21st century.
During the course of his career, Previsich has advocated on behalf of his members in mergers and consolidations in the rail and airline industries, 13(c) transactions, divestitures, national and local contract negotiations and numerous arbitrations and mediations, securing and defending collective bargaining agreements on properties large and small.