After serving two terms on the Sedalia, Mo., City Council, retired Union Pacific conductor Stephen J. Galliher was elected the city's mayor in April.
Galliher, 65, a member of SMART Transportation Division Local 933 at Jefferson City, Mo., was sworn into office at a city council meeting April 21.
He received 68.45 percent of the vote in the town of about 22,000 residents.
"Back before I was on council, I had a couple of buddies that kept telling me, 'you need to run, you need to run,' so to get them off my back, I said OK," Galliher said. "Once I got in (council), I really enjoyed it and I still enjoy it. That's why I decided to run for mayor. It's a part-time job, but it's been full-time for me."
Asked what has been the most rewarding aspect of his political career, Galliher directed the conversation to his constituents.
"More than any one thing, getting a phone call and being able to help one of your constituents, that gives me the most satisfaction. That's the best thing about being on council and being mayor, being able to help folks when they need it."
Galliher said he's a Democrat, but his politics run mainly down the middle of the road. "We're not too partisan here. You know, if our big government could work like some small cities, we could actually get something done. We have the best city employees and staff anywhere. They're happy, and that's why our city is growing."
During his political tenure, the city has had a $30-million dollar sewer project, built a new fire station, purchased a new fire truck and repaired a library that was damaged by shifting due to drought conditions. Galliher said he's proud of all of those things.
Married to his wife, Sherry, for 40 years, the couple has two children and four grandchildren. Asked what Sherry thought of his political involvement, Galliher said, "She told me, 'you do what you want to do.'"
His daughter still lives in Sedalia and her sentiments are the same. "She doesn't mind. She knows I like it, so she's behind me, too. I have a good, supportive family."
He also has the support of SMART Transportation Division Missouri State Legislative Director Ken Menges. "Steve has worked hard to see that all city employees are paid a fair wage and has worked to protect the rights of the employees who work for the city," Menges said.
Galliher hired out with Missouri Pacific in 1971 and retired from UP Feb. 1, 2010.
He was happy to hear from the SMART Transportation Division News and looks forward to receiving a copy of the newspaper. "Once UTU, always UTU," he said.
To keep up on Galliher and Sedalia, visit the city's website at http://ci.sedalia.mo.us.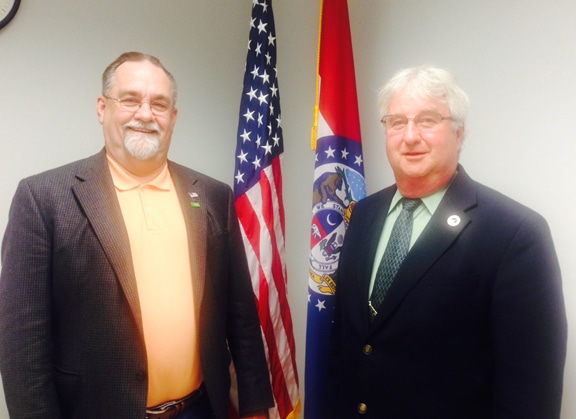 Missouri State Legislative Director Ken Menges, right, meets with the new mayor of Sedalia, Mo., retired conductor Stephen J. Galliher of Local 933 at Jefferson City, Mo.