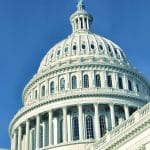 The U.S. House passed a six-year surface transportation reauthorization and reform bill that calls for more than $300 billion in federal funding for highway, transit and rail programs. If approved by the full Congress and signed by President Obama, the bill would become the first long-term transportation law passed since 2005.
The Surface Transportation Reauthorization and Reform Act of 2015 (the STRR Act) was approved by a vote of 363 to 64. It was introduced by the Transportation and Infrastructure Committee Chairman Bill Shuster (R – Pa.), Transportation and Infrastructure Committee Ranking Member Peter DeFazio (D – Ore.), Highways and Transit Subcommittee Chairman Sam Graves (R – Mo.), and Highways and Transit Subcommittee Ranking Member Eleanor Holmes Norton (D – D.C.).
"The STRR Act provides strong reforms and policies to help us improve America's transportation system, and now we can get to work on resolving the differences with the Senate bill and carry a final measure over the goal line," Shuster said in a press release.
Read more from Progressive Railroading.