The daughter of General Chairperson Richard Finley (GCA-RCL), Tori Brianna White, passed away at the untimely age of 28 on Feb. 26, leaving a huge void in the lives of Brother Finley, her mother, Stephanie L. Brown, and members of SMART Transportation Division Local 1558 in Bergenfield, N.J., in mourning.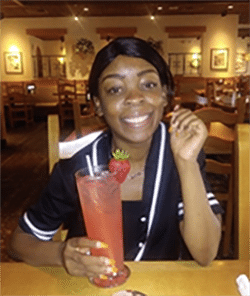 GC Finley says Tori helped local members with run and vacation picks on many occasions and that, despite contending with illness and health issues for years, his daughter had lived a very full and happy life.
"Tori will be missed by all. Remembering Tori will always bring a smile to your face and warmth in your heart," the family wrote in her obituary. "As God's angel, she will watch over all of us."
Tori was the youngest blessing born to Stephanie Brown and Harry White in Sacramento, Calif., on May 13, 1994. Her favorite pursuits included taking after her mom in a great enjoyment of karaoke. She was a huge fan of celebrity chef Bobby Flay and enjoyed watching both cooking and crime/suspense shows on television.
Brother Finley and Tori made it a point to spent time together, sit down and watch "The Masked Singer" as appointment viewing every week.
Tori is survived by her mother, Stephanie L. Brown; Brother Finley, who helped raise her since the age of 8; three grandparents; two brothers; four sisters; numerous nieces and nephews; dozens of cousins and so many friends. Tori also is survived by her pride, joy and life companion Lola, her Chihuahua, and Camron, the love of her life. Tori was looking forward to getting better and being with Camron.
She was preceded in death by her biological father, Harry White, who passed just three days prior to Tori; grandmother Betty Greer (Brown), grandfather Murray Finley, aunt Lanette M Alexander (Brown); and uncle Sam Taylor.
An online fundraiser has been established to assist the family.