Attendees to the Washington State Labor Council Convention in Wenatchee, Wash., July 22-24, unanimously endorsed a resolution supporting legislation for two-person rail crews on train operations throughout the state, SMART Transportation Division Washington Legislative Director Herb Krohn reports.
The council also passed a resolution calling for additional legislative efforts related to railroad workplaces and public safety.
Krohn said the SMART Transportation Division had its largest delegation from the organization in attendance at the convention in about 50 years.
"We were also instrumental in advancing a resolution in support of limiting project development studies to 18 months to advance the proposed export terminals in Washington State," Krohn said.
The two-person crew resolution "steadfastly opposes any actions to permit one-person train crew operations on Class I railroads operating in our state and elsewhere."
The WSLC resolution also "supports and fervently urges the Washington State Legislature to enact proposed legislation prohibiting one-person train crew operations (H.B. 2718/S.B. 6473), which are already operating in our state on short-line railroads to the detriment of public safety; supports and advocates that members of our congressional delegation cosponsor and work to pass H.R. 3040, which would require all trains operating in the United States to be staffed with a crew of no fewer than two persons; and hereby determines that the enactment of legislation to prohibit one-person train crews shall be a priority in its 2015 legislative agenda."
The resolution on railroad workplace and public safety endorsed the following legislative efforts:
H.B. 1620 and S.B. 5720, bills seeking adoption of state regulatory authority of railroad crew transportation services and any subcontractor company utilized by the railroads to provide such services;
H.B. 1621 and S.B. 5721, seeking adoption of state regulatory authority, equivalent to the Federal Hours of Service Laws that now cover railroad operating craft personnel, for Class I railroad yardmasters working in the state of Washington;
H.B. 1845 and S.B. 5722, seeking adoption of a process to consolidate all of the state of Washington's railroad public and workplace safety and regulatory functions possible under a single agency, the WUTC; and providing this agency with the maximum regulatory authority over railroads permissible under federal law, as well as providing adequate funding, which includes additional inspectors with federalized rail enforcement authority;
The resolution also recognizes that crude shipments by rail pose a real and potentially deadly threat to both rail workers and the public and strongly urges the Washington State Legislature to work in close cooperation with rail labor organizations to critically examine all aspects of crude-by-rail operations.
The WSLC urged the Washington State Legislature, as well as all Washington State agencies having such authority, to develop a coordinated, consolidated, expanded, and effective rail regulatory and enforcement program for the purpose of ensuring increased protection of both railroad workers and the public.
The council announced that the resolution of these critical railroad public and employee safety issues shall be a priority in the 2015 WSLC legislative agenda.
To read the two-person crew resolution, click here.
To read the railroad workplace and public safety resolution, click here.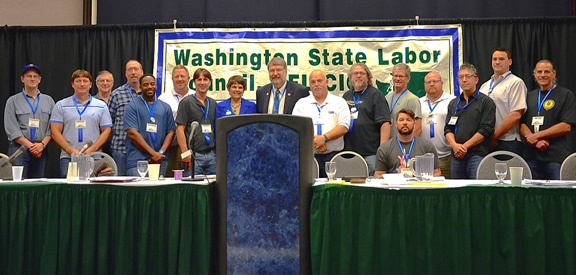 Pictured, from left, are SMART-TD Washington State Legislative Board Secretary Jourdan Marshall (117), Local Legislative Rep. Shane Sadler (1238), International Longshore and Warehouse Union Lobbyist Gordon Baxter, Washington State Legislative Board Vice Chairperson Clyde Rosa (1637), Local Legislative Rep. Tracey Council (845), Local Legislative Rep. Darren Volland (426), Washington State Legislative Board Assistant Director Steve Mazulo (855), Washington State Labor Council Secretary-Treasurer Lynne Dodson, Washington State Labor Council President Jeff Johnson, Washington State Legislative Board Chairperson Gary Howell (977), Krohn (1348), member Dan Kalich (426), member Kevin Drury (117, seated), member Steve Dansereau (1505), member Taro Suyematsu (1348), Local Legislative Rep. Dwayne Hawkins (1713) and Brotherhood of Locomotive Engineers and Trainmen Lobbyist Mike Elliott. (Not pictured was member Jared Dunagan of Local 845.)