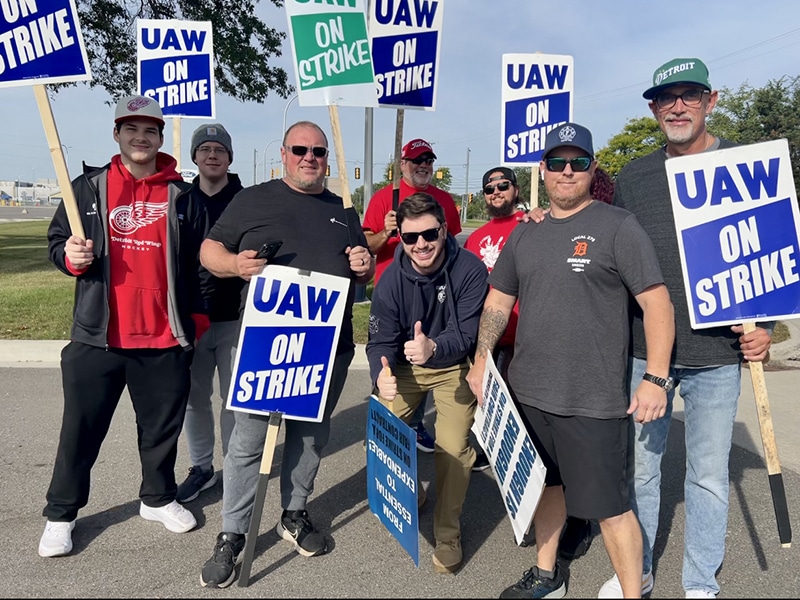 Members of SMART-TD Local 278 (Jackson, Mich.) and General Committee GO 687 hit the picket line in Detroit, heart of the auto industry on Sept. 20. Our members were on the line supporting the proud men and women of United Auto Workers (UAW) Local 900 outside of Ford's Michigan Assembly Plant, better known as MAP.
The SMART Transportation Division is proud to see our members publicly joining the fight in this historic movement known as the UAW "Stand Up" strike.
TD members showed up on the strike's first day, then again four days later on Day 5 to deliver bottled water and to show support, Local 278 Legislative Representative Tom Dillon said.
"A common conversation I had with most UAW workers both days was that this fight wasn't just for them It was for all of us… all of us working middle class people trying to live a great life. A life that our parents enjoyed through the fruits of their labor," he said.
"Yet here we are today, and the folks that build these cars and trucks can't even afford to buy one, let alone our children. It's invigorating to be out there supporting this fight to say the least and I'm hoping to get out there again with our union brothers and sisters  to show more support." 
Thank you to all our members throughout the country that are doing the same.
Please get in touch with SMART News at TD-DL-News@smart-union.org and let us know what your local is doing to help their cause!