SMART-TD Local 653 (Chicago) is proud to announce the recognition of Legislative Representative Orlando Rojas as the winner of the 2022 Charlie Hayes Award for his work in the greater Chicago labor community.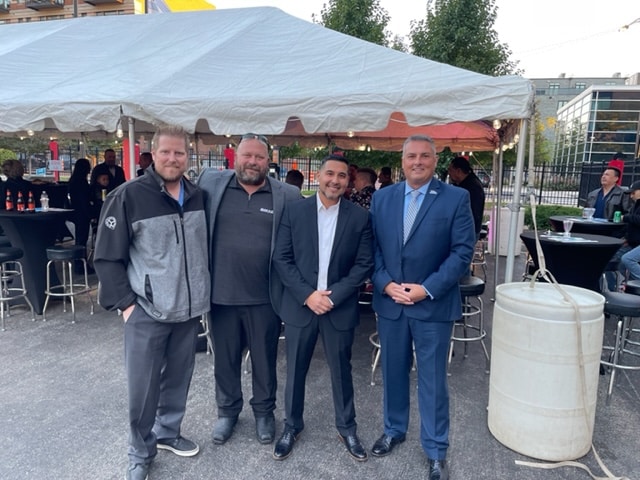 This award is given by an organization known as Chicago Jobs With Justice (JWJ), which has a mission of training and developing activists in the community by building a permanent coalition of organizations to support ongoing worker outreach and workplace oversight.
The award Brother Rojas received is named after Hayes, a late congressman who served the state's 1st District. Congressman Hayes was a labor leader in Chicago from 1938 to 1983. In addition to the 45 years he dedicated himself to organized labor, Congressman Hayes was also a leader in the civil rights movement, working alongside Rev. Martin Luther King Jr. to register voters in the South and was arrested in the 1980's anti-apartheid demonstrations that were instrumental in the freeing of Nelson Mandela.
"I'm very happy for him and his family for the recognition," said SMART-TD Illinois State Legislative Director Bob Guy, who was responsible for Rojas's successful nomination. "Orlando epitomizes the essential work our commuter members performed during the pandemic and was gracious when accepting the award, in recognizing his fellow members in both passenger and freight service for the dedicated work they do during these still-challenging times."
Brother Rojas is a conductor in passenger service for Metra, which provides commuter rail services in Chicago and the surrounding area. A member of SMART-TD for over 18 years, he has served in leadership roles in Local 653 for 15 of them, and both his interest in labor and in railroading have roots in his family history.
In the 1960s, his family immigrated to the United States from Mexico, and his grandfather settled in California. While in California, Rojas' family worked in agriculture and were members of the movement led by Cesar Chavez and Dolores Huerta that organized farm workers. His family was on the front lines of United Farm Workers Union (UFW) and were part of the famous series of work actions known as the Salad Bowl Strike.
Following that movement, Brother Rojas' family moved to the Chicago area. His father worked for the B&O railroad as a maintenance of way employee and was a member of the Brotherhood of Maintenance of Way Employes union.
When asked to comment on his achievement, brother Rojas had a reaction that typifies the selflessness that he was recognized for:
"I want to use this moment to recognize the accomplishments and work of all the unsung heroes in labor today," he said. "There are so many men and women in our community carrying the torch of past leaders like Charlie Hayes. This community is standing on the shoulders of a wonderful history of the labor movement, and I want to acknowledge and thank everyone involved in building on their accomplishments."
Rojas also mentioned that he intended to nominate SLD Guy for the award when he found out that Bob had beaten him to the punch and had already nominated him.
Brother Rojas' hard work and dedication to his job, family, union and community are a testament to his rich family history and is a point of pride for his family here at the SMART Transportation Division.
SMART-TD joins the Chicago Jobs With Justice campaign in congratulating Brother Rojas. We would also like to join them in thanking brothers Rojas and Guy for all they do.