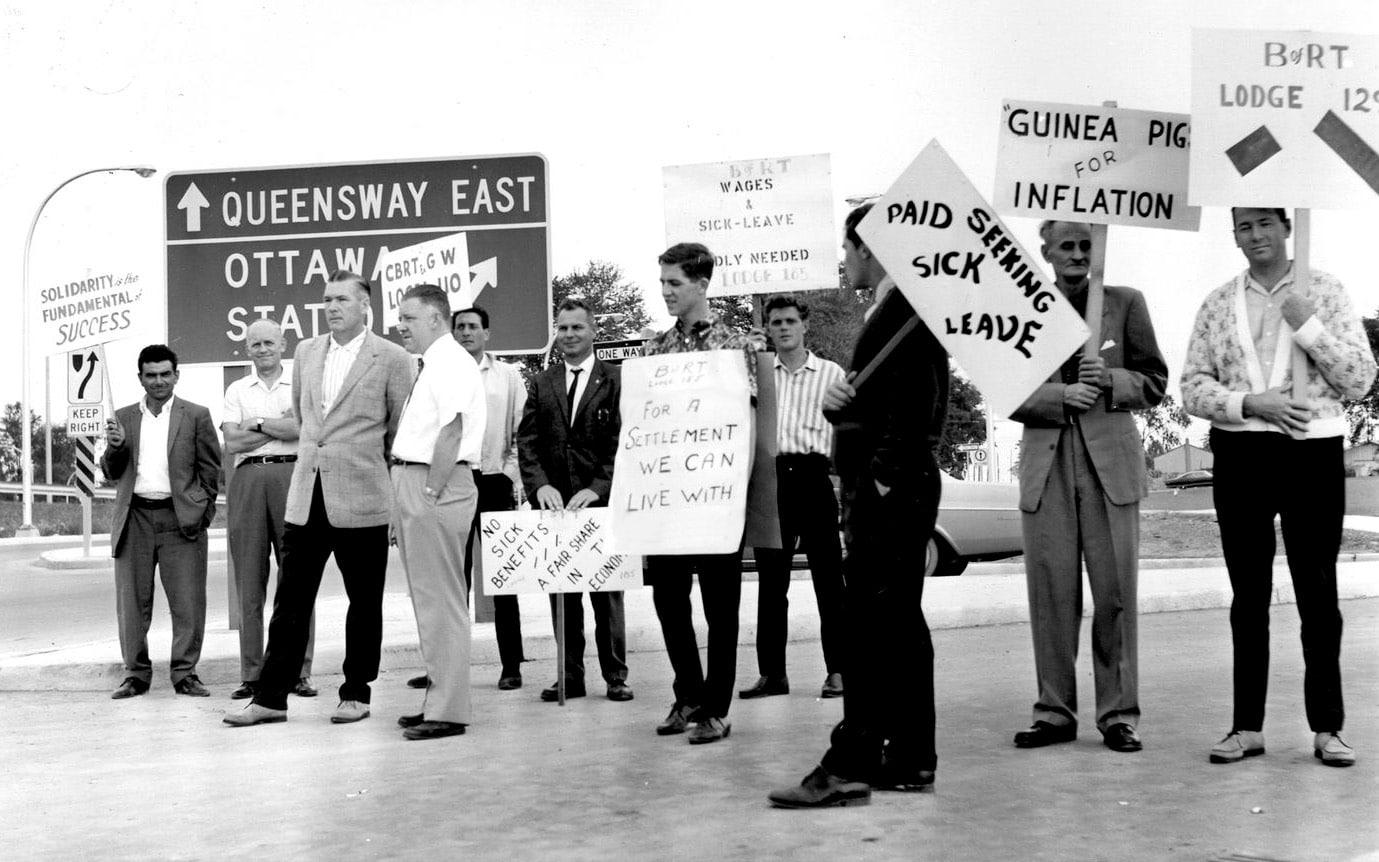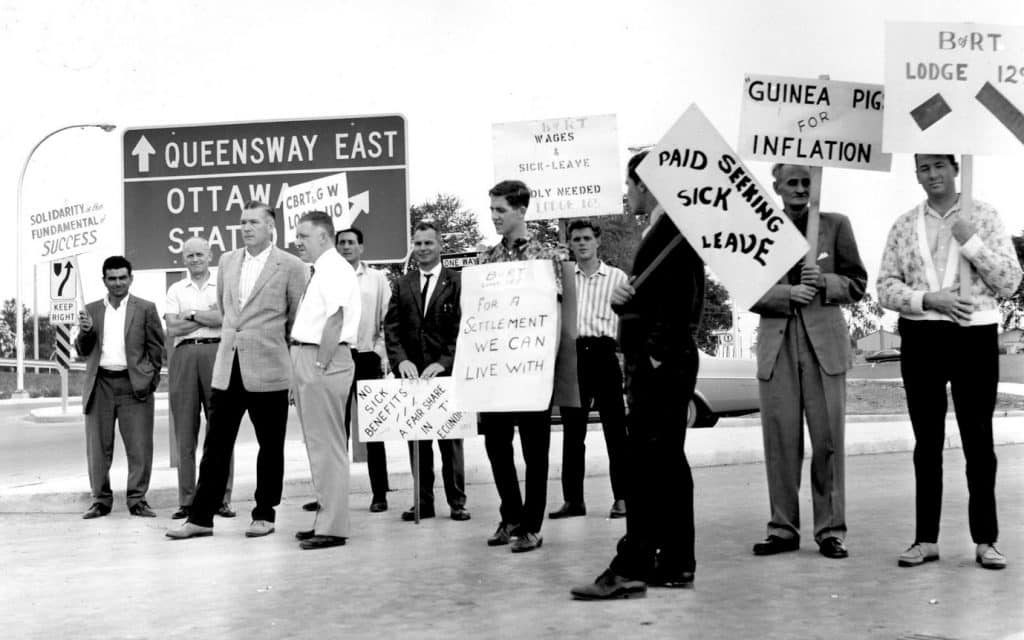 Paid sick leave has been the goal of railroaders for decades. It is not only the quality-of-life issue that defines our industry, but also a validation of the dignity of our profession. As you can tell from the photograph attached to this article, we are not the first generation of railroaders who have felt strongly about this topic. For a railroad to function safely, carriers know providing sick days is essential, yet the executives opt to pay themselves huge bonuses and engage in profitable stock buybacks with the money it would take to provide it. Instead of being accommodating to the labor forces toward their basic human needs, management tends to extend their appreciation to those who do the work by handing out hats and trinkets on occasion. To pour salt in the wounds, they have also tightened their attendance policies to unreasonable expectations over the years to force employees, out of duress, to go to work when sick.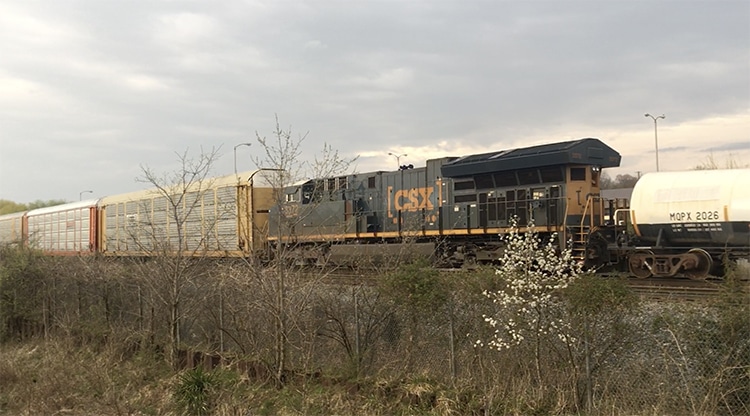 On April 3, however, the tentative agreement reached between SMART-TD General Committee GO-049 and CSX is a tremendous step forward for T&E personnel on the CSX Northern Mid-Atlantic District. The tentative agreement synopsis is as follows:
Provides five paid sick with option to convert two personal days to paid sick days.
Unused sick days are converted to cash at the end of the year with the option to defer those payments into a 401(k)
Incorporates the current 2023 CSX Revised Attendance Policy (the most lenient policy at CSX in decades) as a component of the CBA and only subject amendments under the provisions of the Railway Labor Act.
Provides improved work/rest initiatives with the formation of a Joint Labor/Management Committee to implement "Smart Rest" options, which could provide for up to 24 hours off between tours of duty.
Settles a long outstanding issue on displacement and utilization of employees in displaced status
Permits train service employees, when practicable, to drive themselves or their own crew within defined terminal switching limits under limited conditions.
"We thank CSX CEO Joseph Hinrichs and Executive Vice President Jamie Boychuk for exhibiting flexibility and working with our union in a collaborative manner in reaching this tentative agreement," SMART Transportation Division President Jeremy Ferguson said. "This serves as a vital first step to giving T&E personnel the paid sick time they deserve, and I am hopeful this accommodation will be soon be extended to the employees working under the jurisdiction of the other General Committees at CSX as well."
As noted in past SMART-TD articles and mainstream media concerning the national rail contract negotiations, labor made it clear to the hedge fund managers who run our country's rail corporations that we are no longer willing to accept hollow attempts to make us feel like valued members of their Fortune 500 companies. SMART-TD leadership, along with the other 11 rail labor organizations, stated clearly that it was time to address the ridiculous gaps in our work/life balance.
By no means was 2022 the first time that railroad workers have pointed out the lack of sick days as a problem. For years we've been told that it doesn't fit the railroad business model as they sell service to their shippers which requires a 24/7/365 operation to meet demands. The unique dependency on crew availability to keep railroads running has been used to justify carriers' on-call work cycles and inordinately long workdays, leading to the inability for railroaders to be present for family events and holidays. The irony to the operational necessity is that railroads have reduced their labor head-count year-over-year to increase profits and simply force those left to work more and not allow them to take time off, even when sick.
In 2023, the world's media has a newfound awareness of the struggles of the railroad work force along with the dangerous working conditions. With wall-to-wall news coverage of derailments and communities waking up to the evils of Precision Scheduled Railroading (PSR), carriers find themselves in the position of needing to prove to the American people that they are not monsters and that their industry is capable of responsibly self-regulating as they have since the 1800s. Through the hard work and persistence of SMART-TD and your activism, railroads have begun to recognize the humanity of their workforce.
In the past two weeks, SMART-TD has seen Norfolk Southern and Union Pacific begin withdrawing their Section 6 notices pursuing single-employee crews. NS has even gone as far as to implement a new plan that, among other things, reduces the length of their trains (for now) to 10,000 feet.
Many interesting questions come from the idea of conductors driving their crews. One is whether CSX will be able to require conductors to pick up other crews while in the company vehicles. The answer to that is a definitive no. If this TA is ratified, the conductor will only be responsible for transporting the members of his/her crew to perform duties associated with that conductor's train or duties. In short, the conductor position will not be used as additional cab drivers to be dispatched throughout CSX's yards. According to GO-049 General Chairperson Rick Lee, this proposed change has received positive feedback as our members will be in charge of their safe transport within terminals, thus not left up to a low-cost taxi vendors or disgruntled railroad managers forced to haul crews in addition to their management duties.
Perhaps the most important question from this development is this: If it is, in fact, possible to run a Class I railroad when employees have the "luxury" of being allotted sick days, why has this basic human dignity been held from us by management for so long? If we are doing away with the premise that railroads can't function if their transportation employees aren't duty bound to answer the bell every time they are called to work, then why aren't all railroaders afforded the same treatment across all crafts and carriers?
Progress in the railroad industry has always been incremental, but the fact is that professionals in every other industry, with much more standard schedules and far more time off work, get paid sick leave. Rail workers need and deserve the same.
The new tentative agreement obtained by GO-049 has blazed a trail, poking a hole in the premise that operating crews can't get sick time. It is precedent-setting that for the first time in the existence of American railroading that paid sick time will be afforded to transportation employees at a Class I railroad. This is a fact that we all need to take a moment to celebrate. But we also need to look at this development as a call to action to achieve paid sick leave for all of us, not just half the crew base in a slice of the country for 1/7th of the Class I carriers.
With matters as important as this one, it is pivotal to get the details correct. If President Ferguson, his administration, or GC Lee's team was willing to settle for less than what our members deserved on the paid sick leave front, the opportunity was there. But what was important for our brothers and sisters in this historic decision was that we needed to get as much for the members as possible since the negotiation would set a precedent and needed to fit the work lifestyle of our T&E membership. It is hard to overstate the service GC Lee, Vice President Jamie Modesitt, and all others at GO-049 have done for conductors of all carriers with this negotiation. If this agreement is approved, it'll be a standard-bearing precedent. We must continue the push to be fairly compensated for the essential work we do. Pending the ratification vote, this needs to be the new standard for agreements going forward.
SMART-TD is deeply grateful for GC Lee's leadership as they have not only made us proud but have also honored the work of the railroaders in the picture featured along with this article and all those men and women upon whose shoulders this union is lifted.