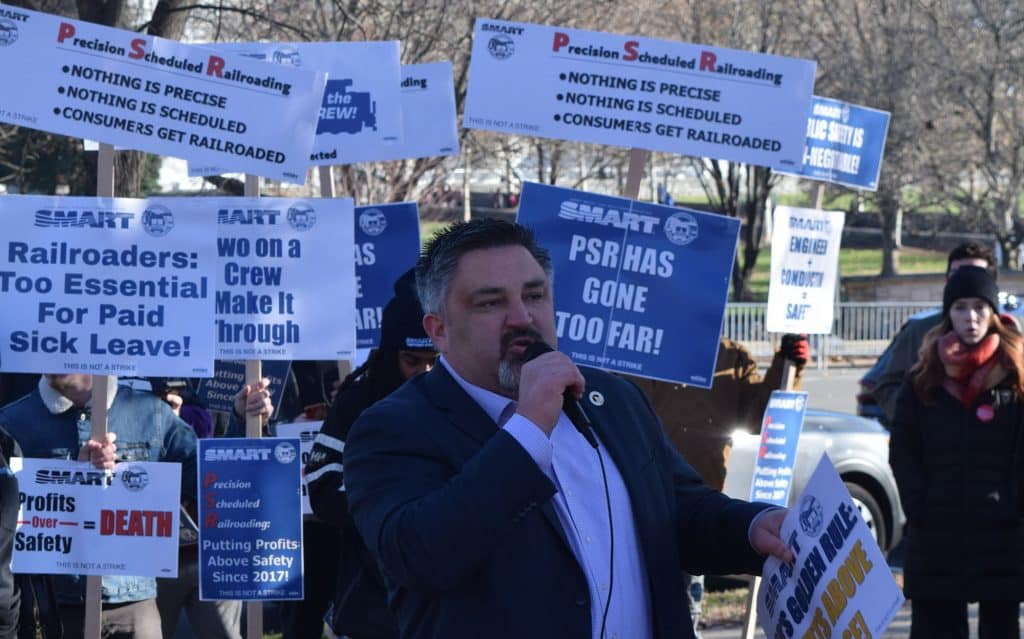 WASHINGTON – SMART Transportation Division organized rallies in multiple locations Dec. 13 to bring attention to rail-related issues, including maintaining the current safe level of a minimum two-person crew in the cabs of locomotives, paid sick leave for workers and an end to the carriers' Precision Scheduled Railroading (PSR) scheme.
A solidarity rally took place at Capitol Hill days after the Dec. 2 federal imposition of a national rail contract on the SMART-TD and three other unions, drawing support from the AFL-CIO's Transportation Trades Department, multiple unions from inside and apart from the rail industry, a bipartisan contingent of U.S. representatives and senators and others.
"Every single day in this nation, a life is saved because of the actions of a two-person crew. When a train whistle is blown and a kid gets out of the way – that is a life that is saved in a moment. But you never hear about it because the railroads are not required to report it," SMART-TD Alternate National Legislative Director Jared Cassity told the crowd of supporters at Capitol Hill. "PSR is a deadly animal to this entire nation. Public safety is under threat because of cuts for profit that the railroads are trying to make. They want to keep cutting. They want to keep taking crew members off trains — they're going to do whatever they can do to keep making another dollar. We have got to put an end to it, but the only way we do that is that we all fight together and keep going.
"Keep talking to your brothers and sisters. Let them know that the fight continues — the only way that we win this battle is if everybody is out, everybody is fighting and everybody is loud and everybody is doing their part to make sure our job, our union, our solidarity is being fought for. You've got to be the leader at home. You've got to let your people know that the time is here, the time is now. We're all in this fight together.
"When we leave here today, do not go home and think that you did your part. You have not done enough yet. We have not done enough yet. No one has done enough yet," Cassity said. "We will get strong. We will get louder. We have got to continue."
The rally at the Capitol was one of a series that took place in multiple states, including Colorado, Illinois, Iowa, Massachusetts, Michigan, Minnesota, Nevada, New Mexico, Ohio, Utah and Wyoming.
"These reforms aren't going to happen on their own. We're going to keep pushing to make them happen so we can deliver for railroad workers. At a minimum, every single railroad worker deserves paid sick leave and the guarantee of a two-person crew. These reforms will create a safer and better freight system for everyone," said TTD President Greg Regan, who introduced a number of the speakers from Congress.
While Congress stopped a nationwide rail strike by imposing a contract on workers earlier this month, the devastating workplace conditions perpetuated by major rail corporations continue to prevail.
More than a dozen members of Congress addressed the rally, including: U.S. Reps. Donald Payne (D-N.J., Dist.10), Andy Levin (D-Mich., Dist. 9), Brian Fitzpatrick (R-Pa., Dist. 1), Don Bacon (R-Neb., Dist. 2), Jamaal Bowman (D-N.Y., Dist. 16), Jesús "Chuy" Garcia (D-Ill., Dist. 4), Alexandria Ocasio-Cortez (D-N.Y., Dist. 14), John Garamendi (D-Calif., Dist. 3), Bonnie Watson Coleman (D-N.J., Dist. 12), Pramila Jayapal (D-Wash., Dist. 7), Cori Bush (D-Mo., Dist. 1), Jimmy Gomez (D-Calif., Dist. 34), Rashida Tlaib (D-Mich., Dist. 13) and Ilhan Omar (D-Minn., Dist. 5) and U.S. Sens. Bernie Sanders (I-Vermont), Elizabeth Warren (D-Mass.), and Bob Casey (D-Pa.).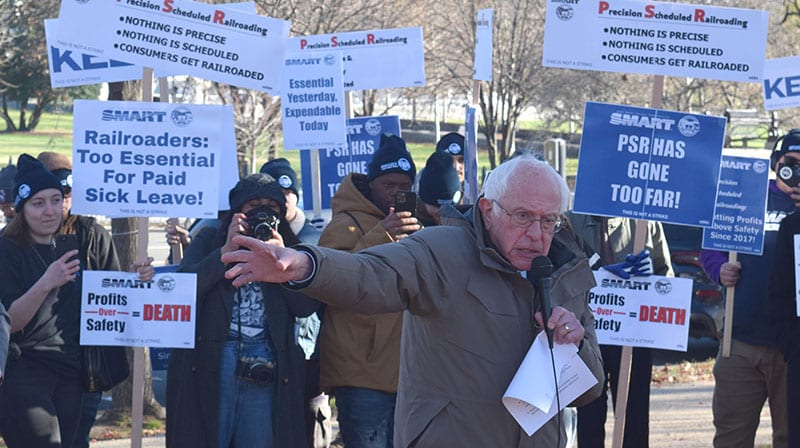 "What you have shown the country is how outrageous this level of corporate greed is and how we have it in the rail industry and in other industries across this country," said Sanders. "Tell the people that own this country that we are going to put an end to their greed."
Sanders railed at the carriers' refusal to meet workers' demands for paid sick leave in the industry during the contract negotiations that concluded with the federal government imposing a contract on a majority of rail workers.
"The truth of the matter is, that if we had any justice in this country, we wouldn't have to make that demand because this country would do what virtually every other major country on Earth does and guarantee paid family and medical leave."
He also told workers that PSR will be in Congress's crosshairs:
"You guys now have to do more with less. That's their ideology — how do we work people to the bone so we can make $20 million a year? And that is why we have to put an end to Precision Scheduled Railroading," Sanders said. "We're going to bring not only the rail unions together, we're going to bring the workers together to bring the justice that is long overdue."
The D.C. rally was streamed live by the Rails, Tails and Trails podcast.
The rallies coincided with a hearing led by the Surface Transportation Board to examine Union Pacific's service performance failures that have harmed the supply chain and preceded the public hearing before the Federal Railroad Administration regarding the Notice of Proposed Rulemaking (NPRM) regarding two-person freight crews.
---
Colorado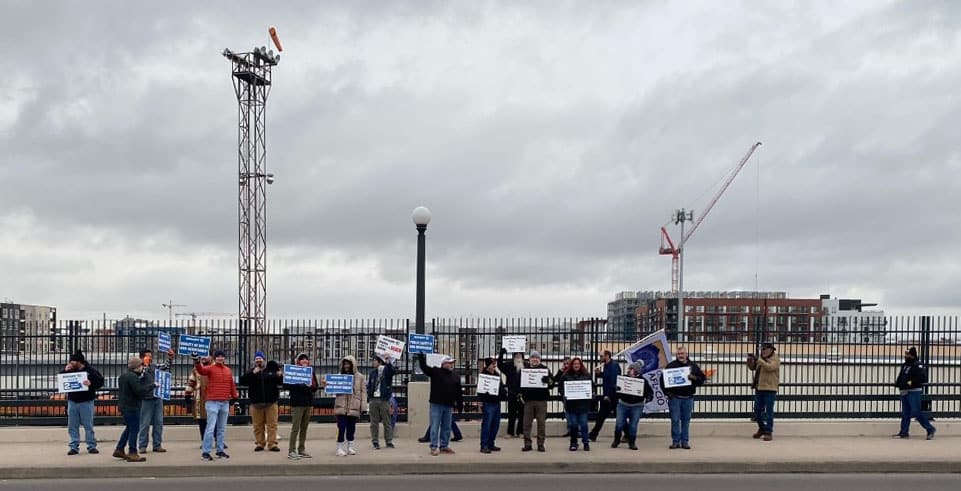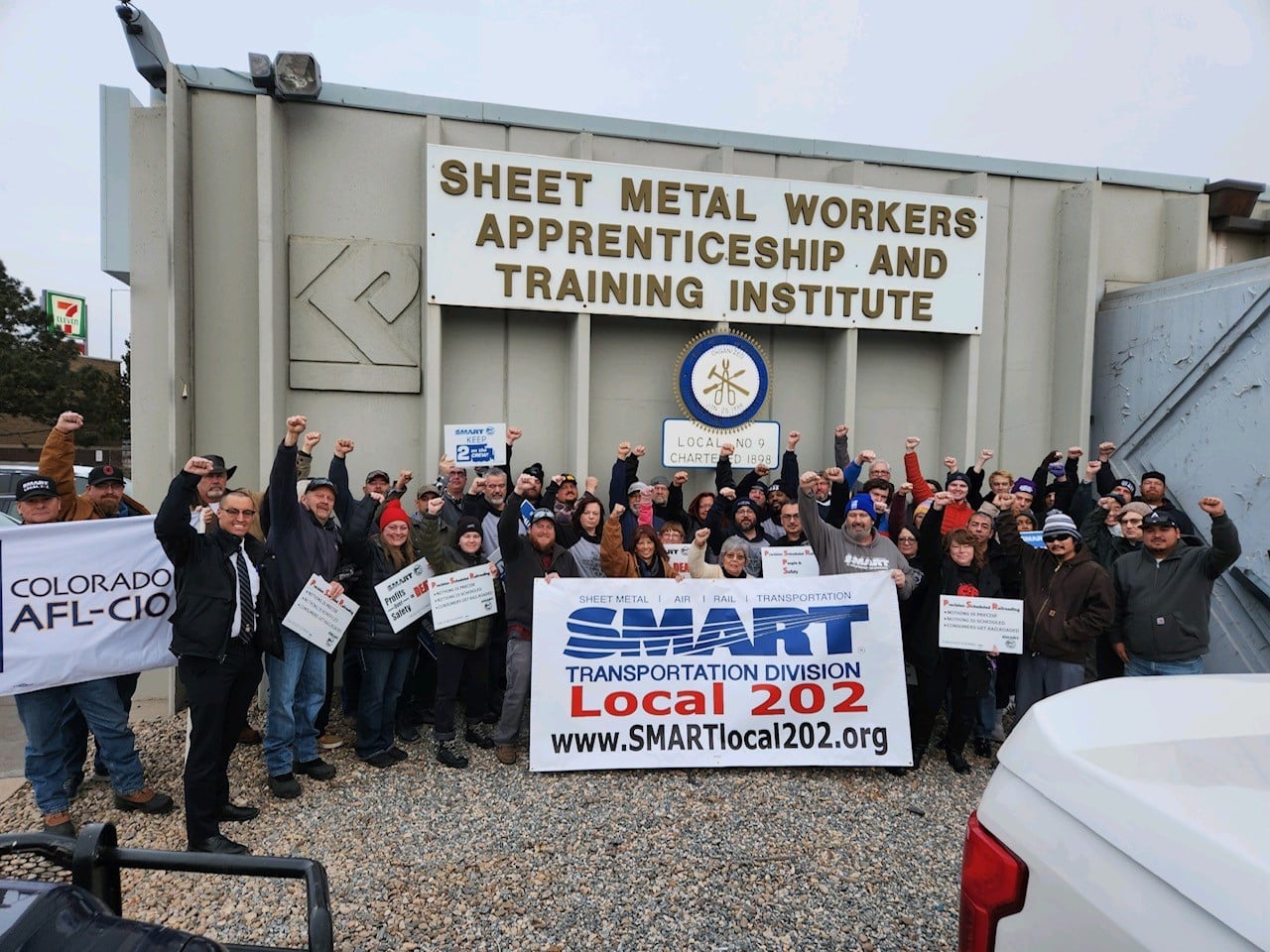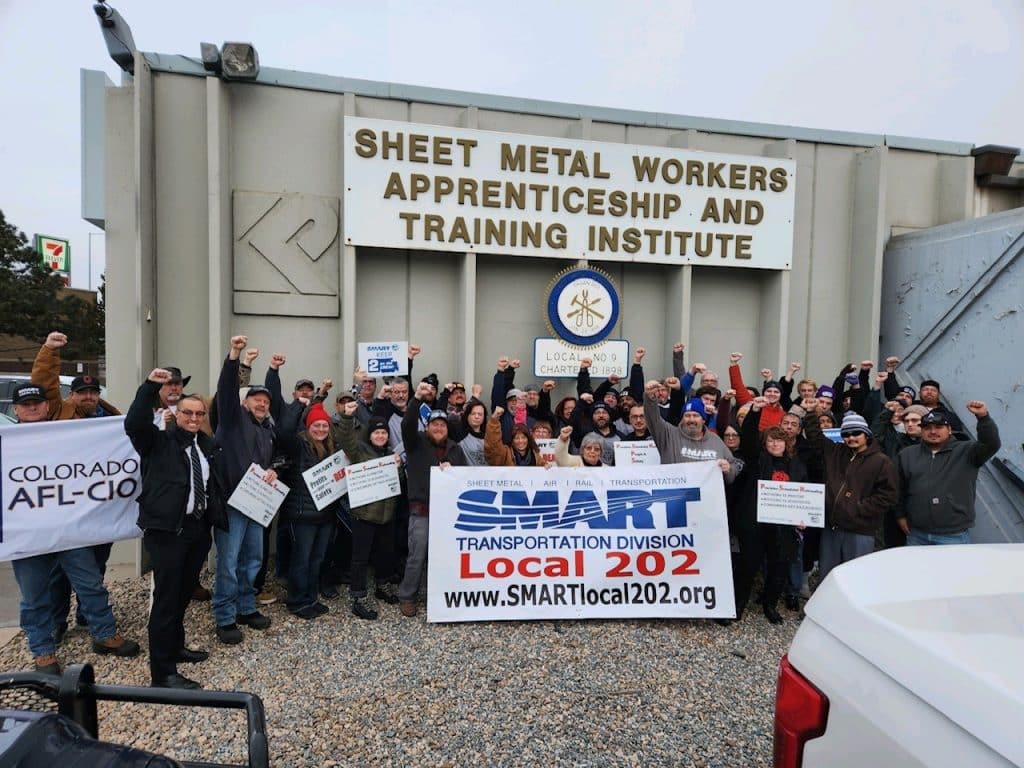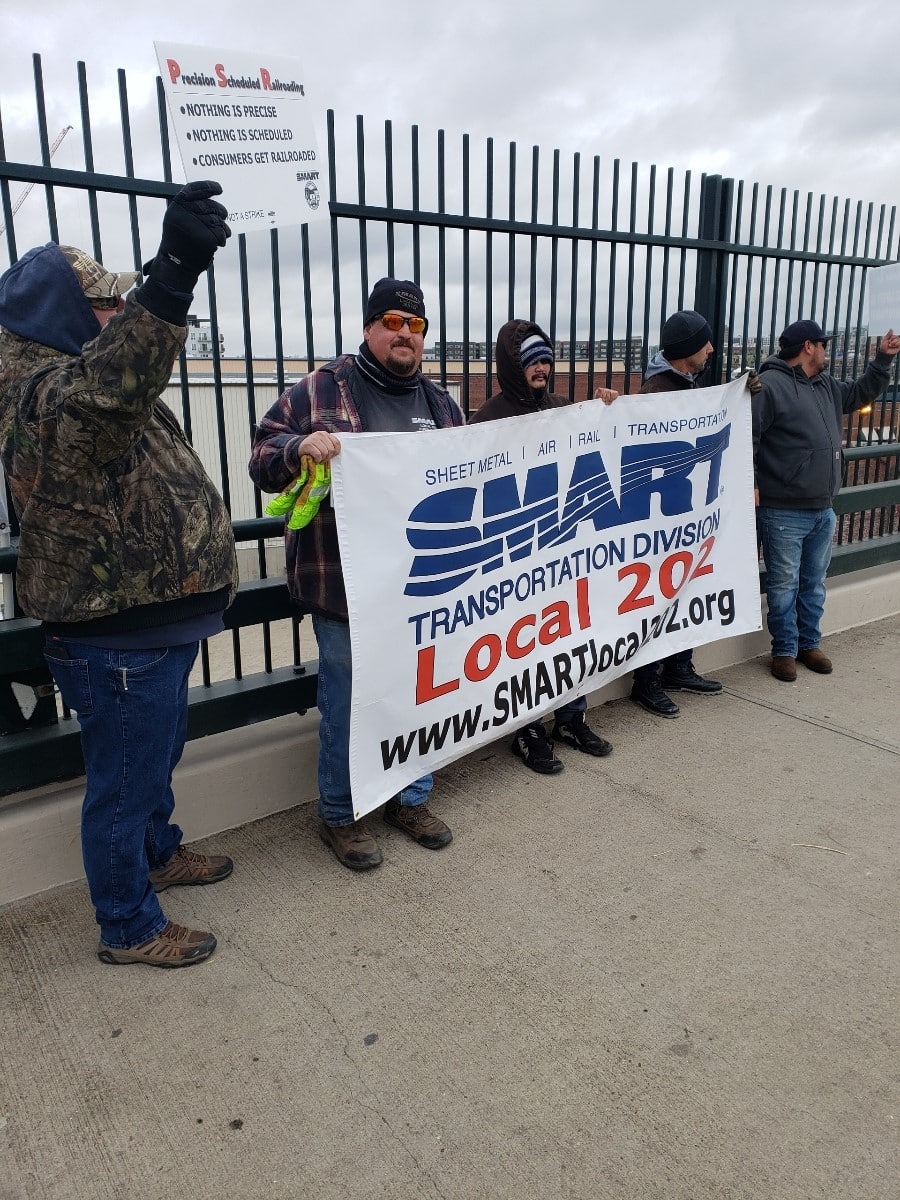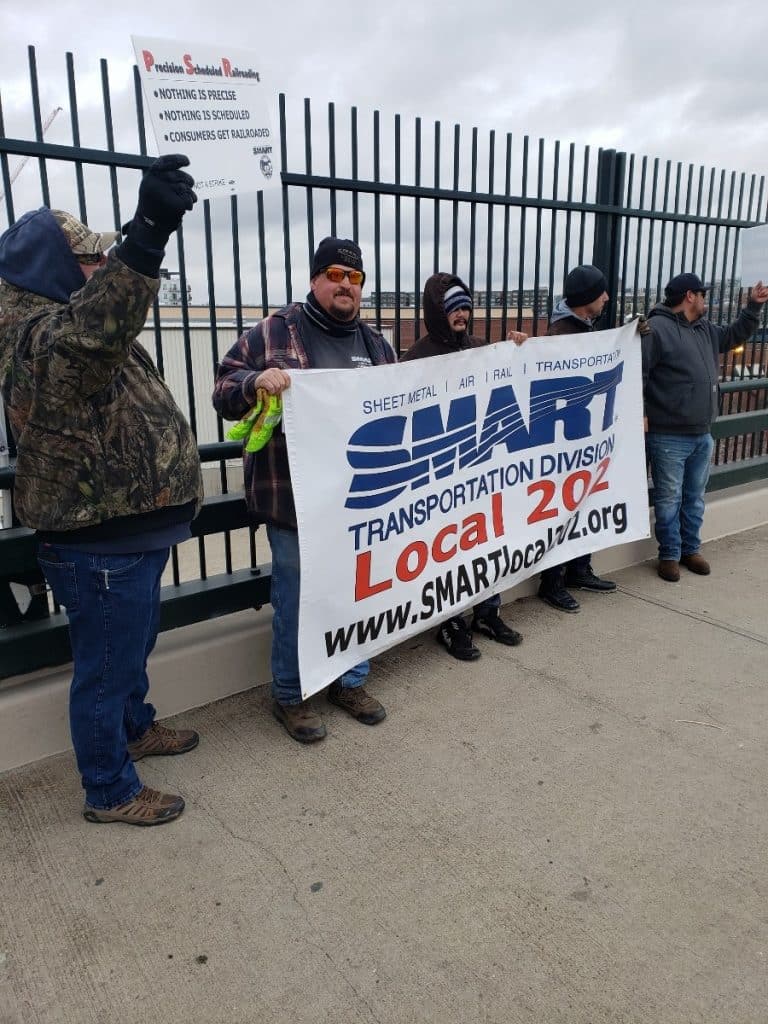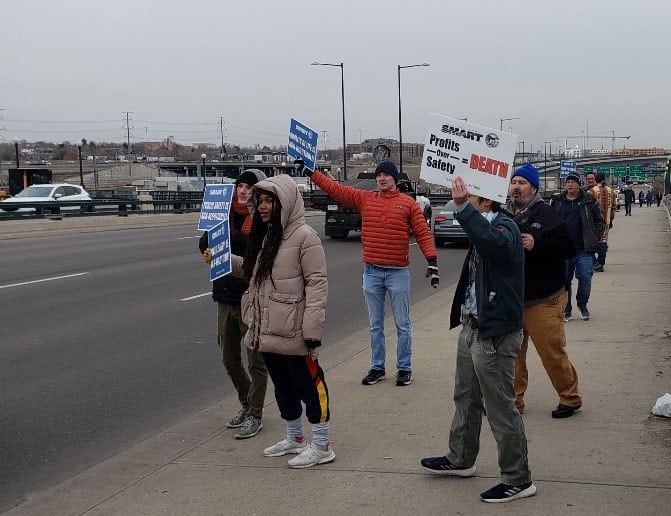 ---
Illinois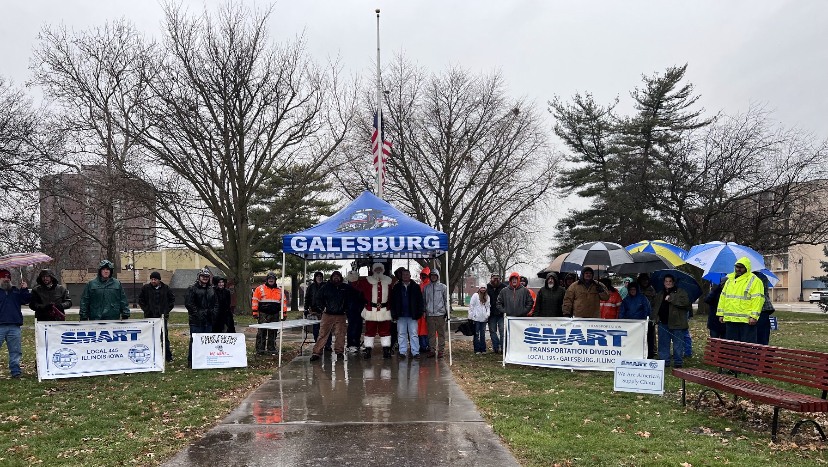 TSPR coverage of the event
WQAD
---
Michigan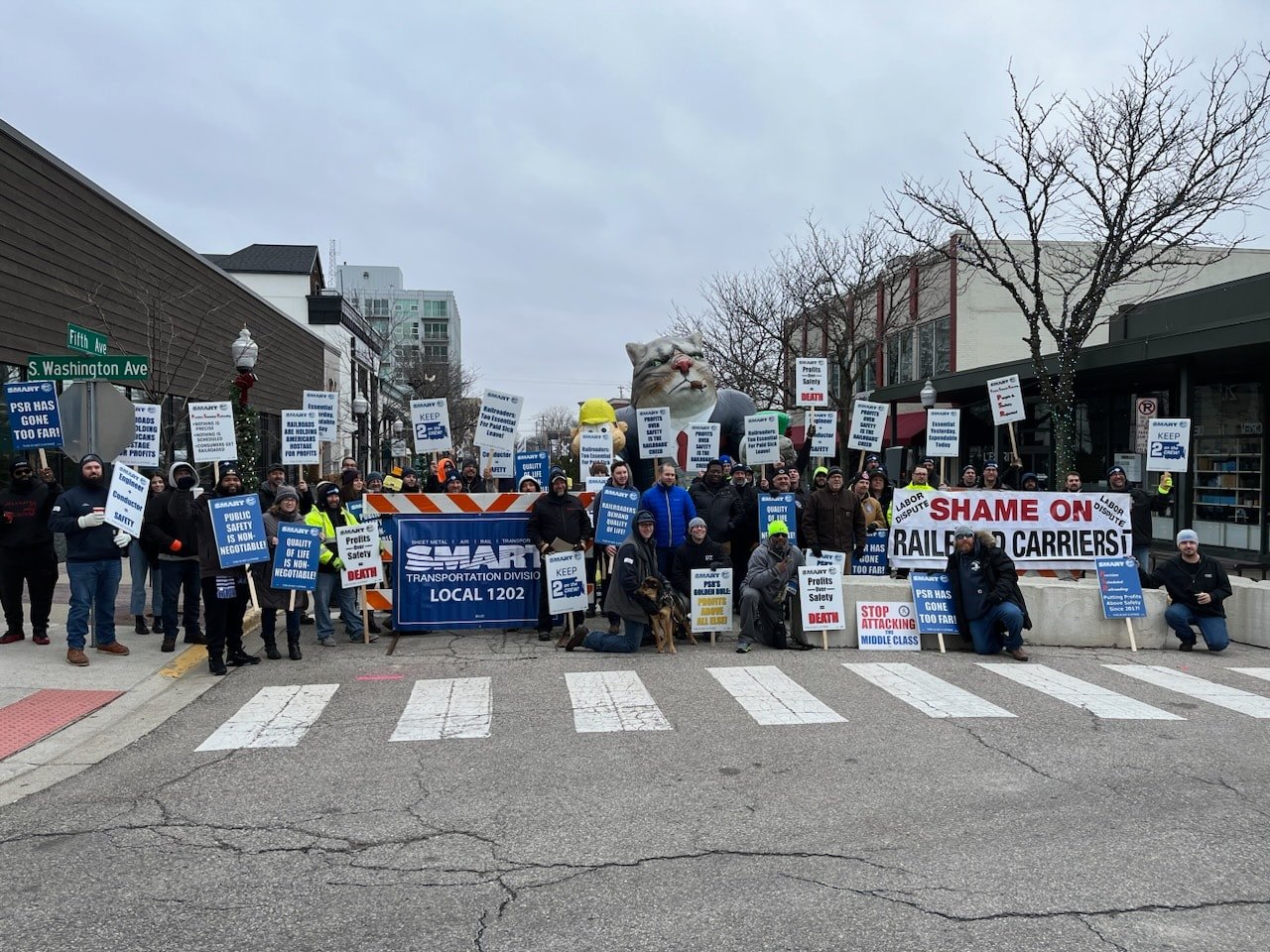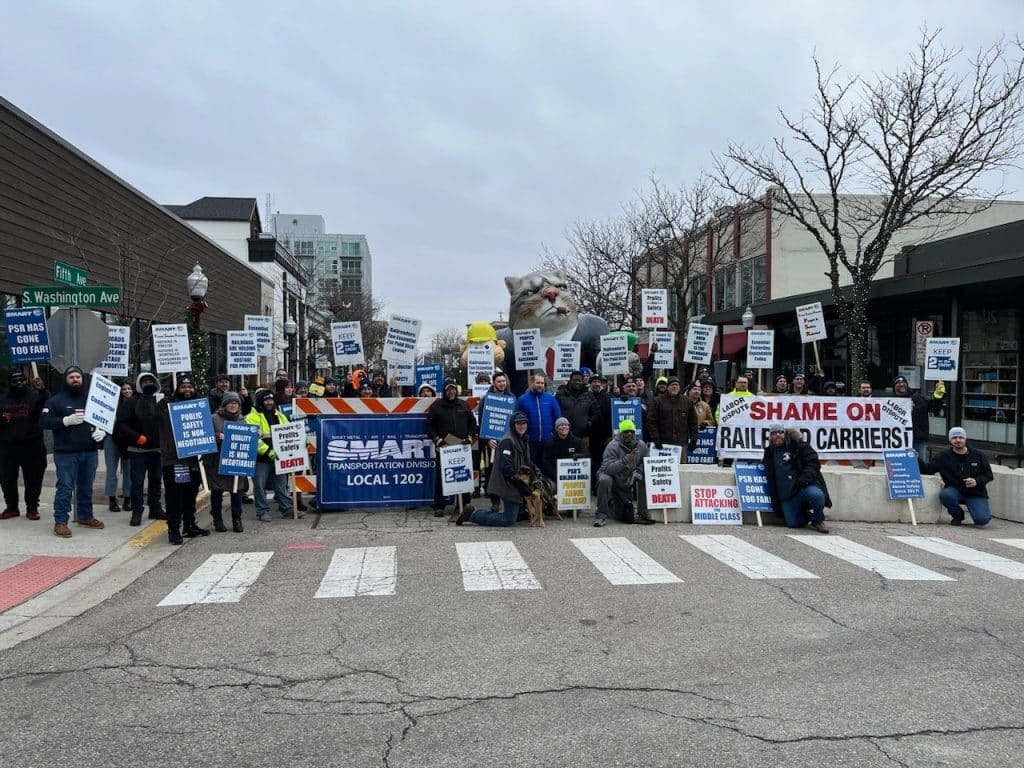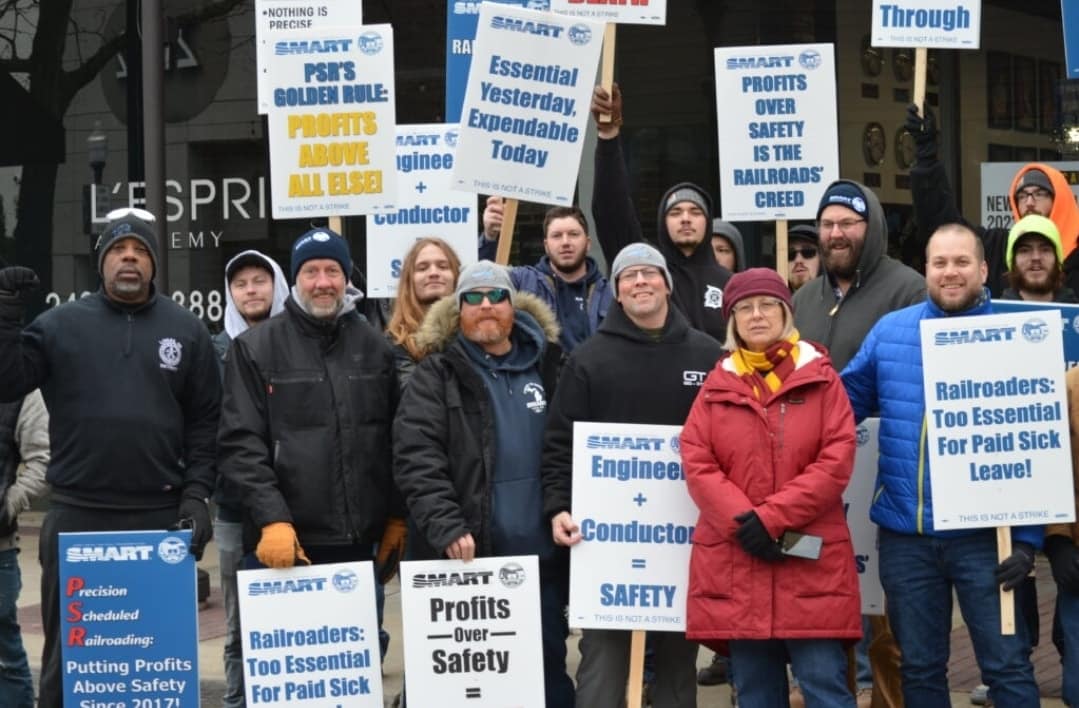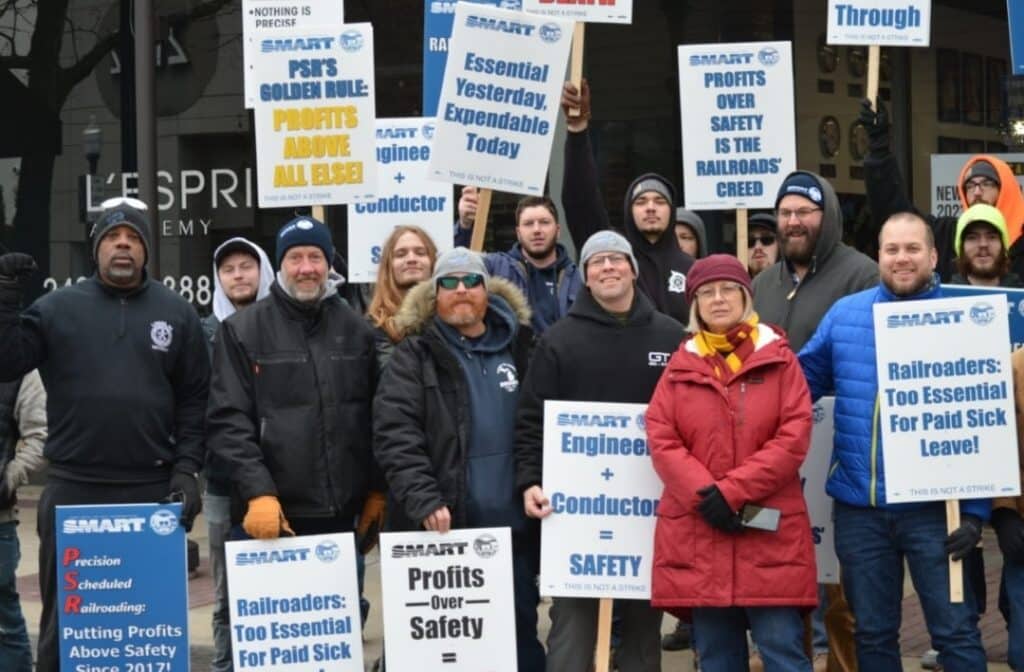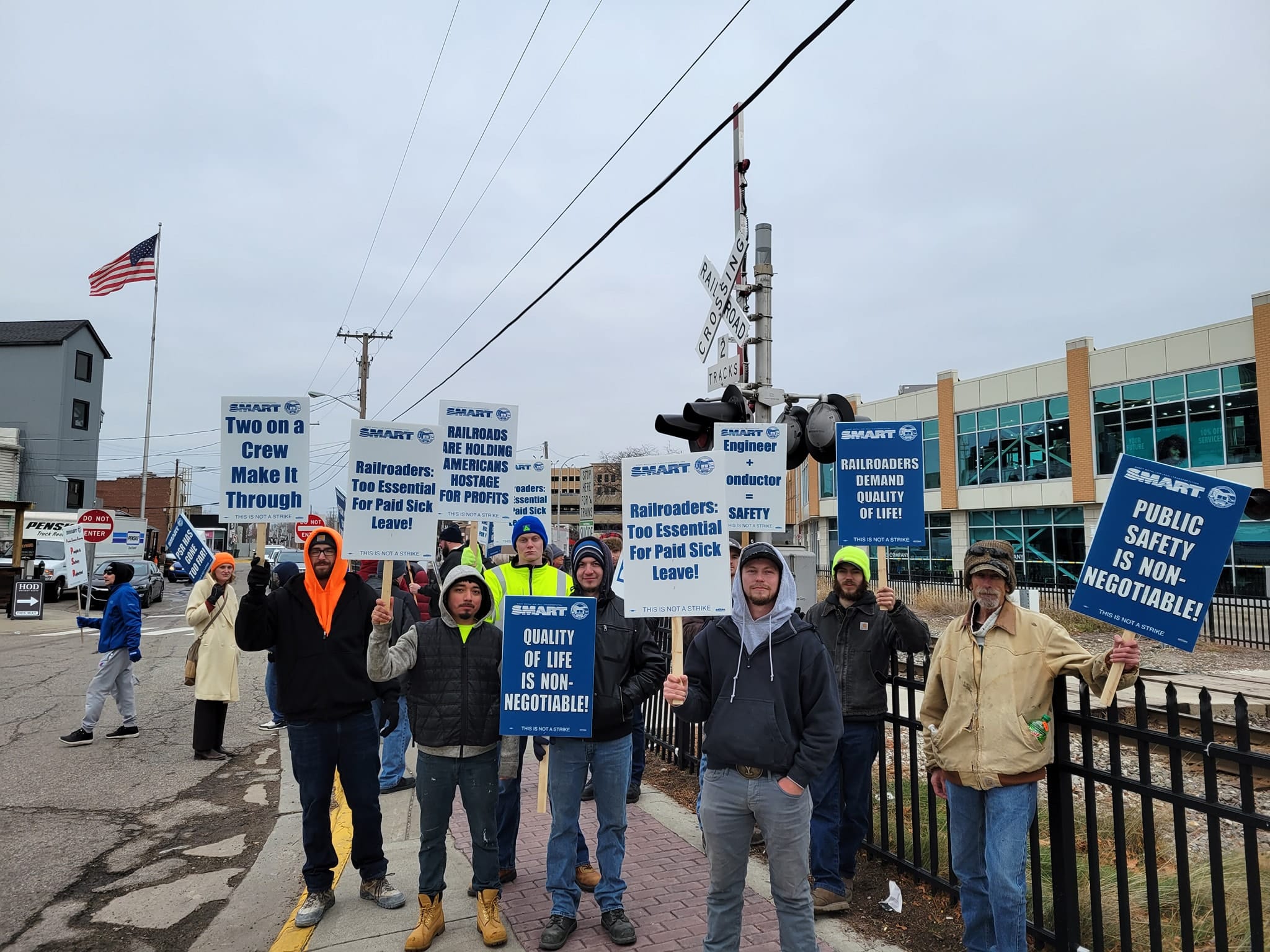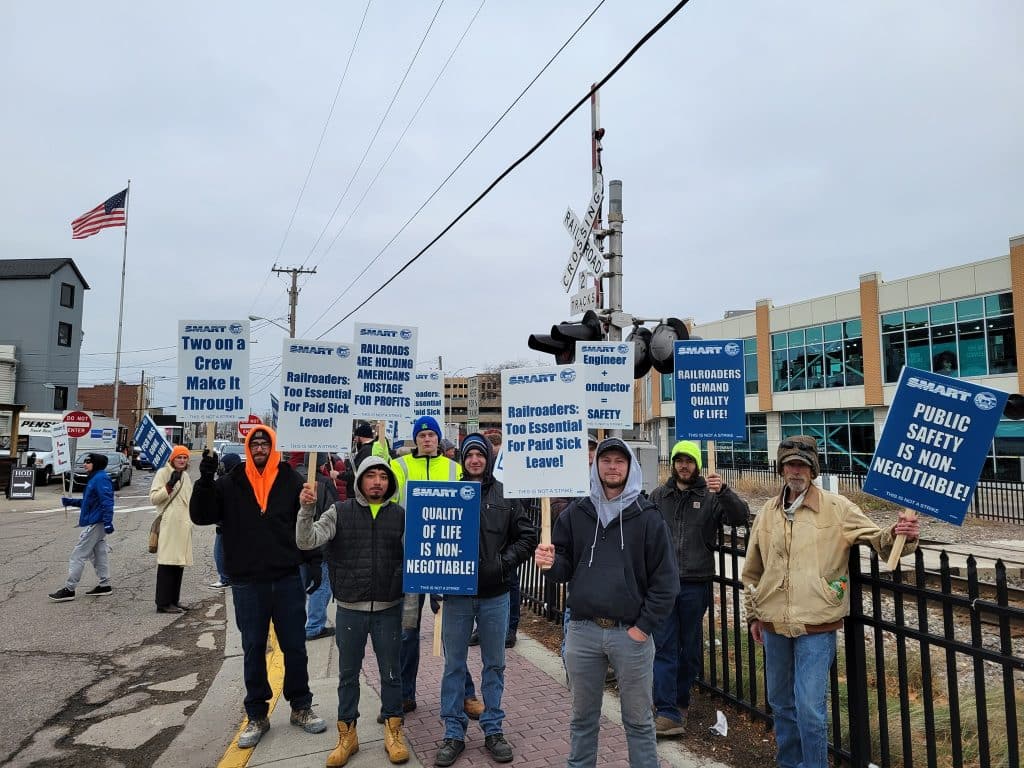 ---
Minnesota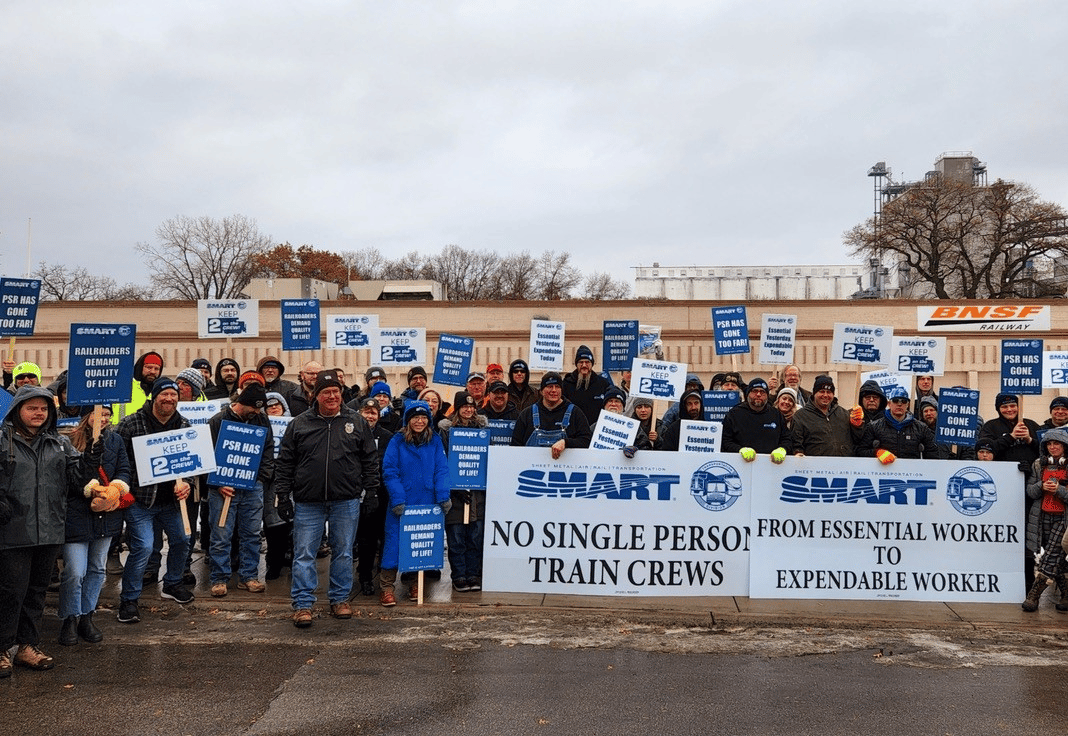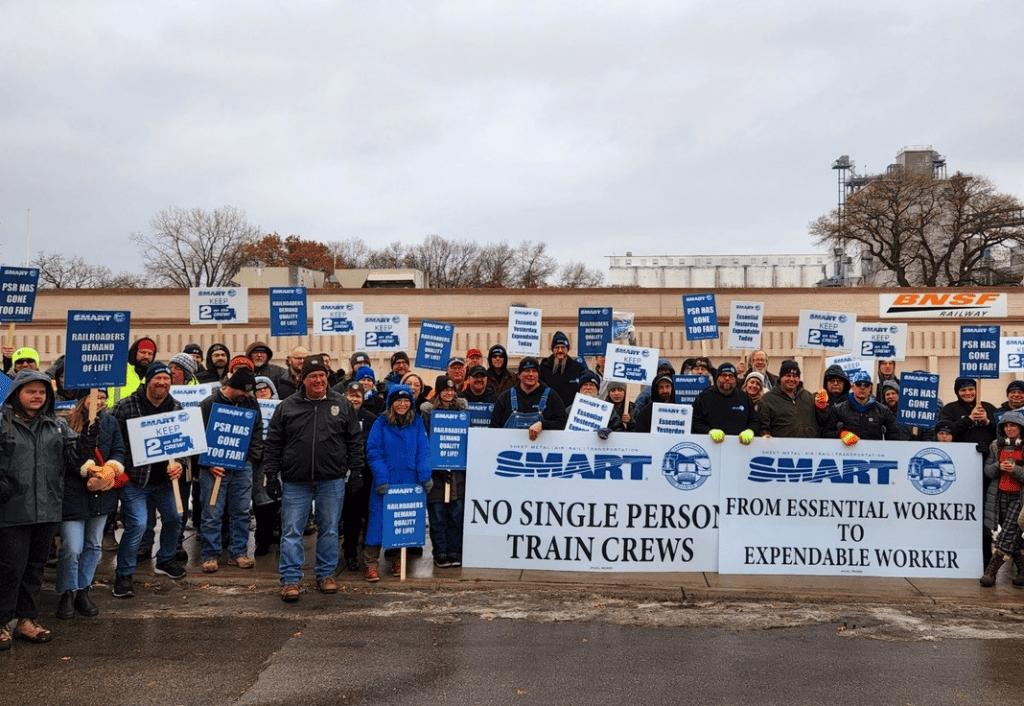 ---
Nevada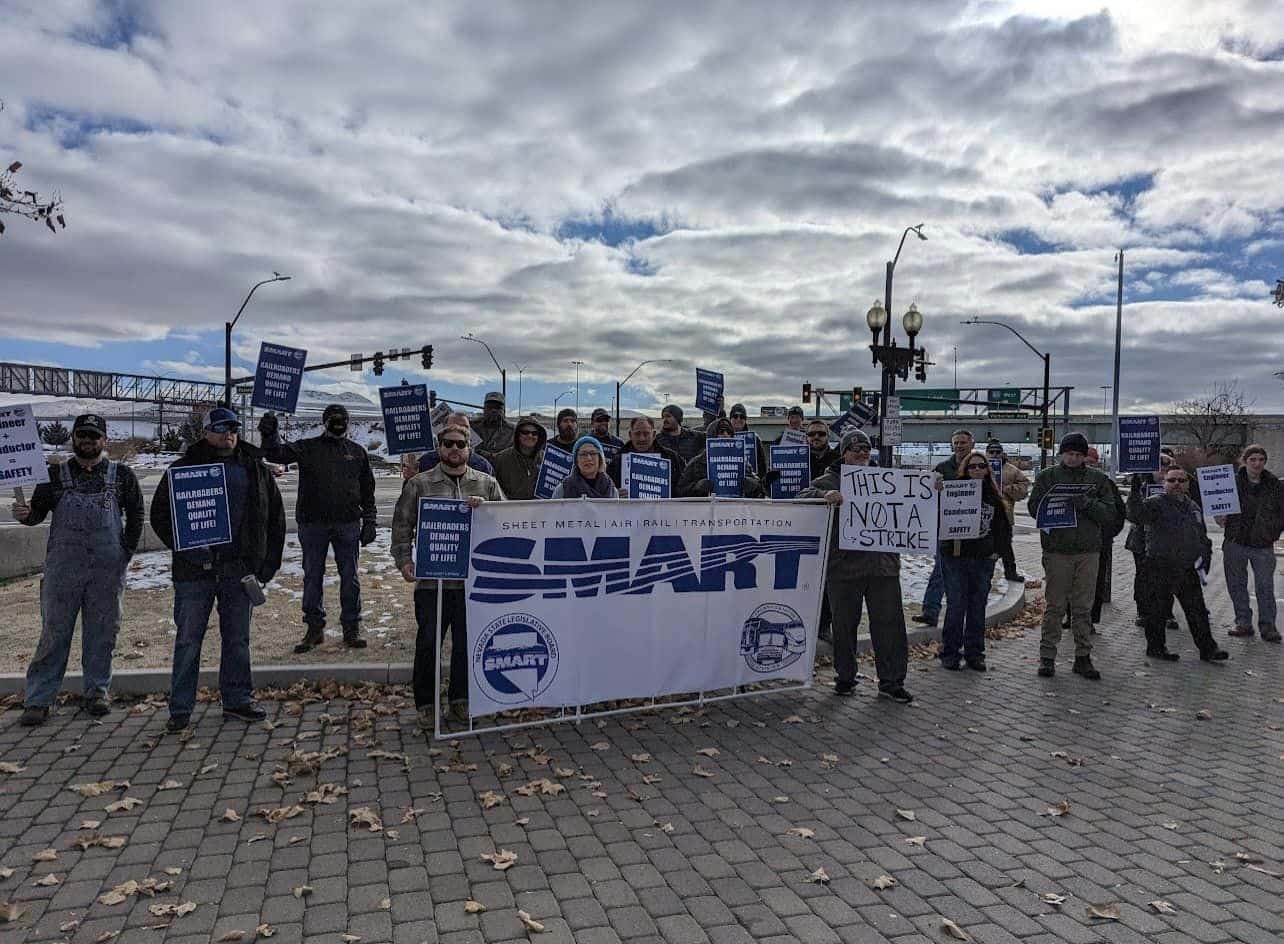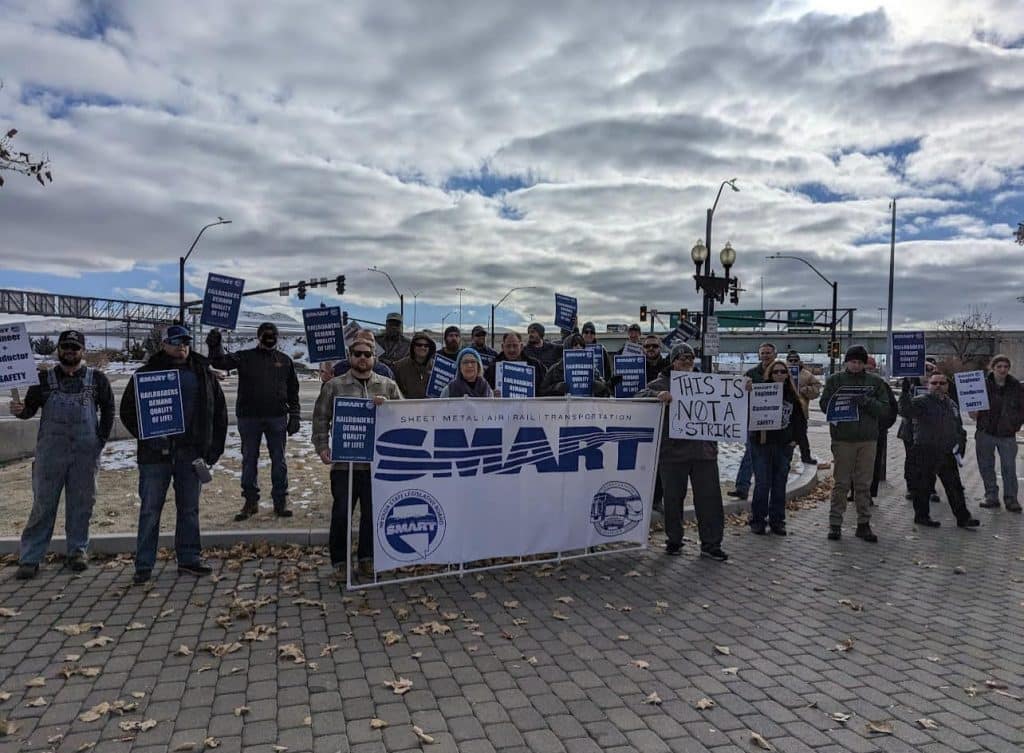 ---
New Mexico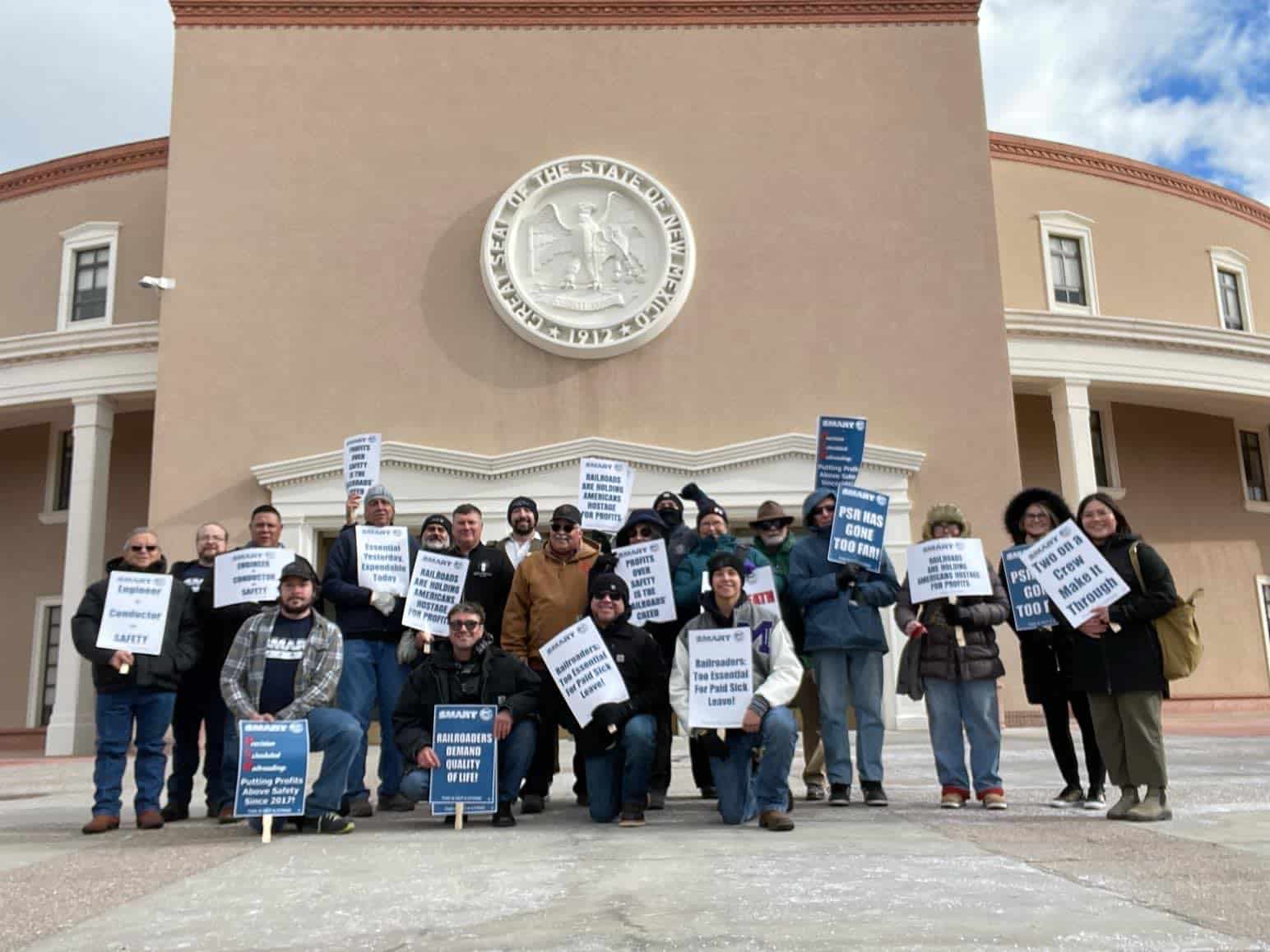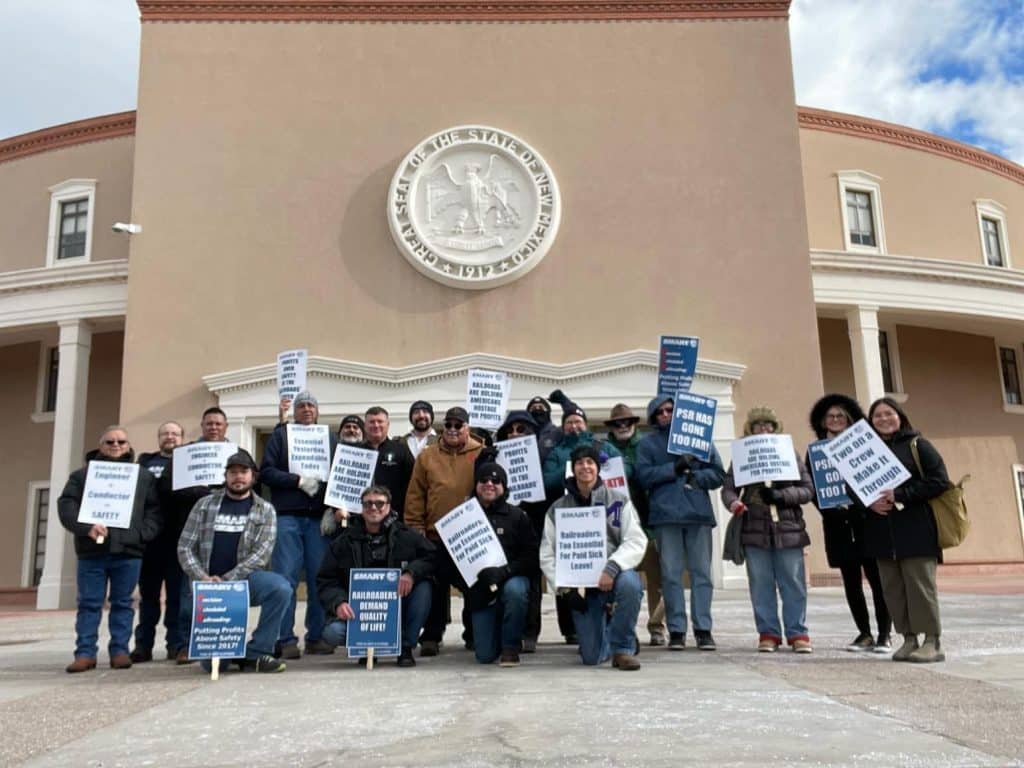 ---
Ohio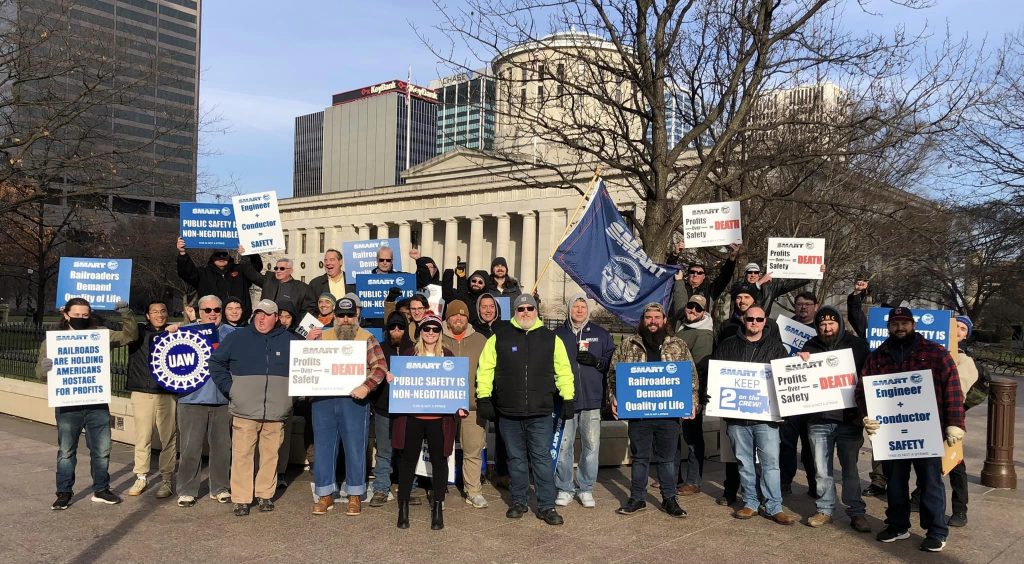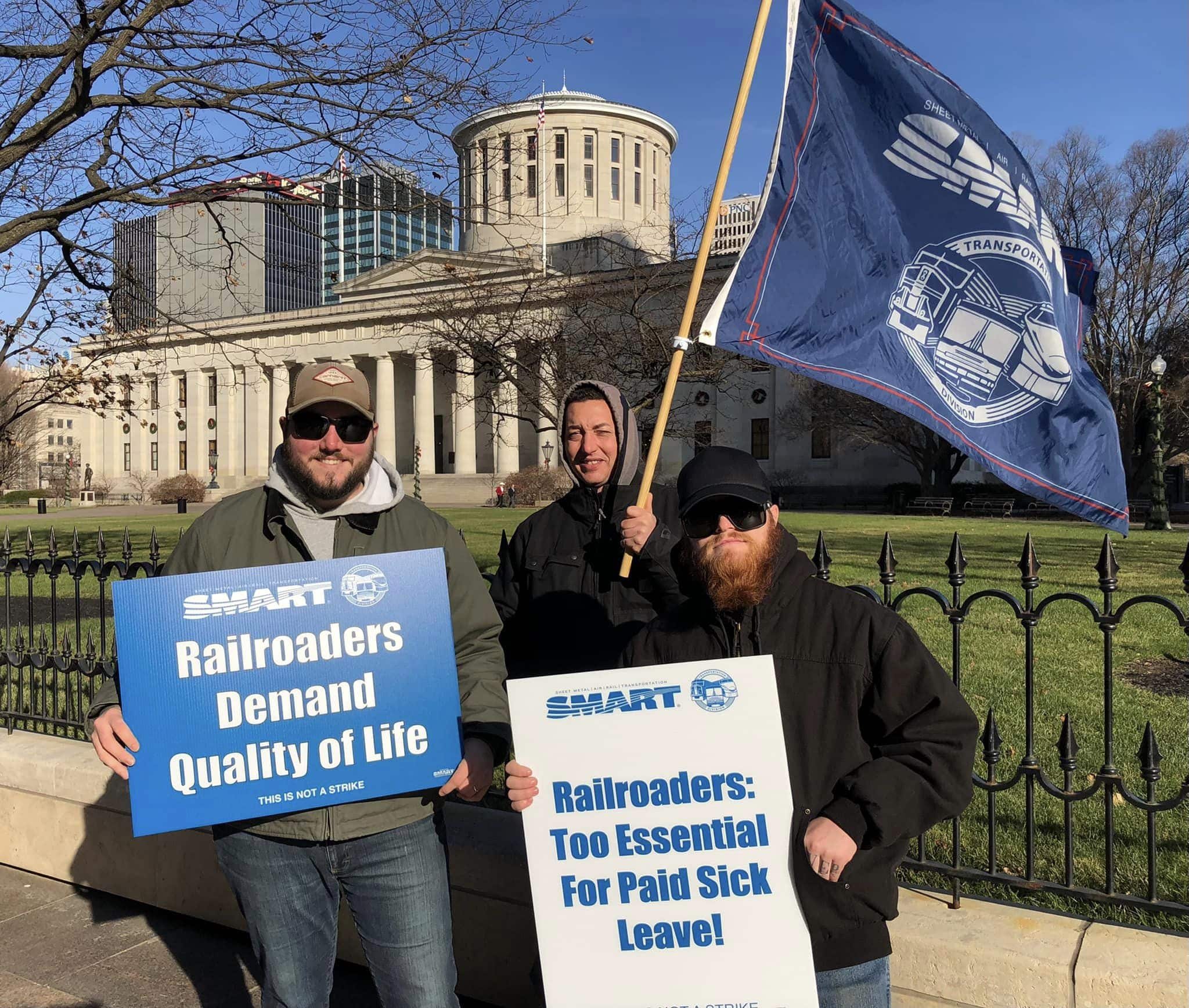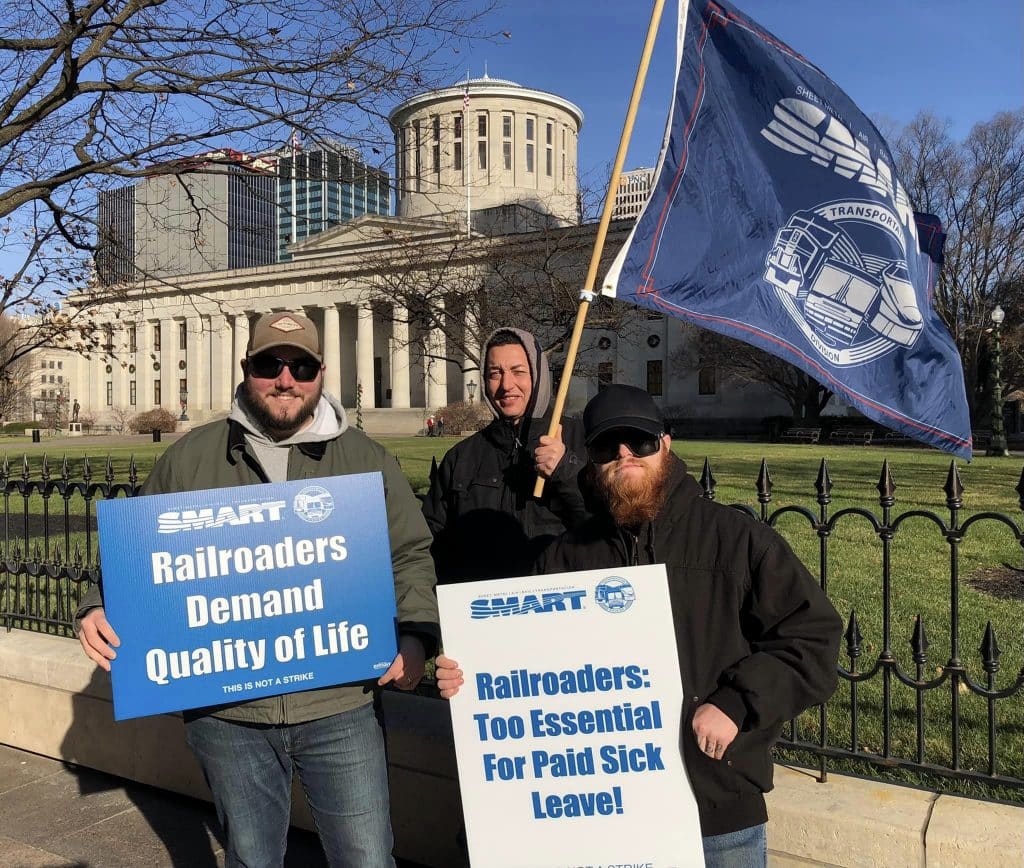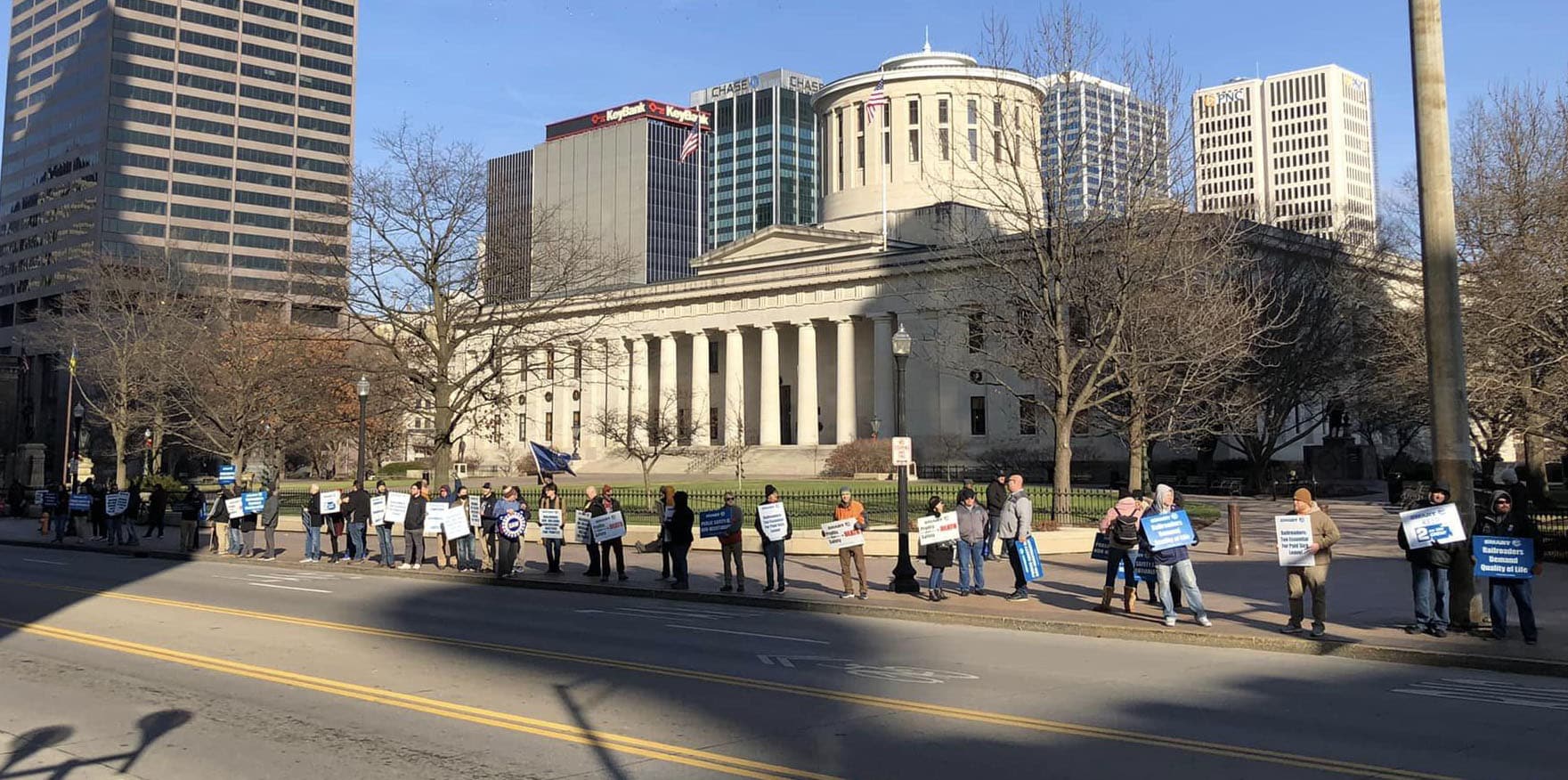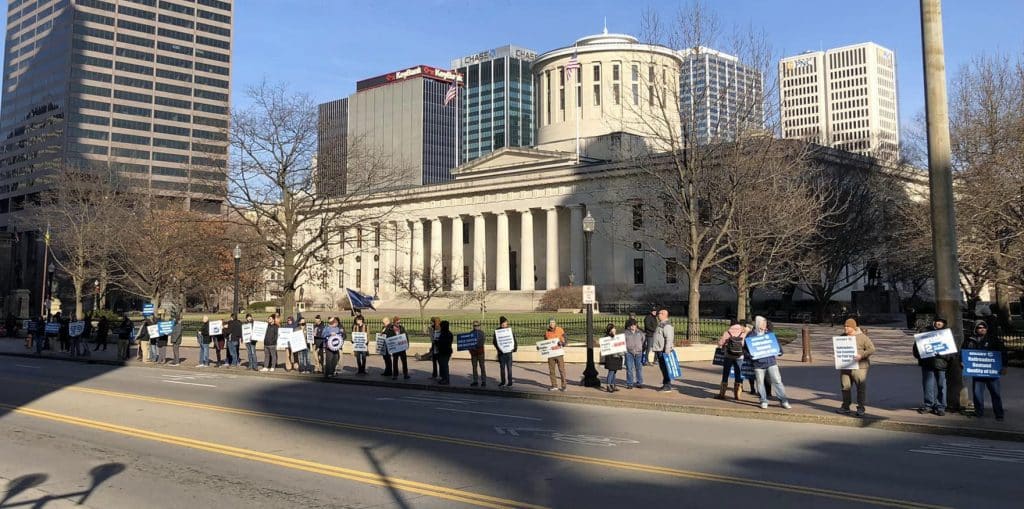 ---
Wyoming