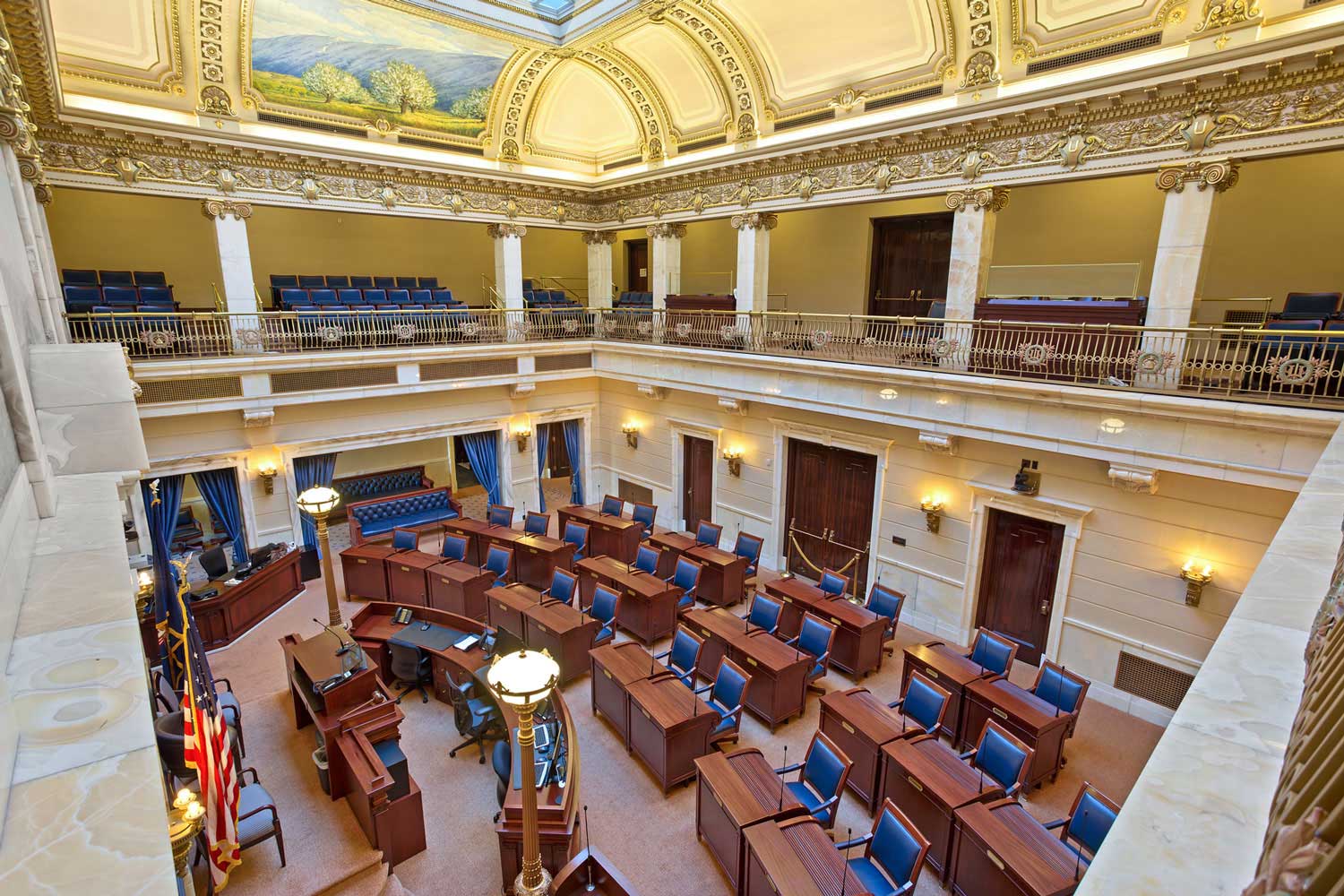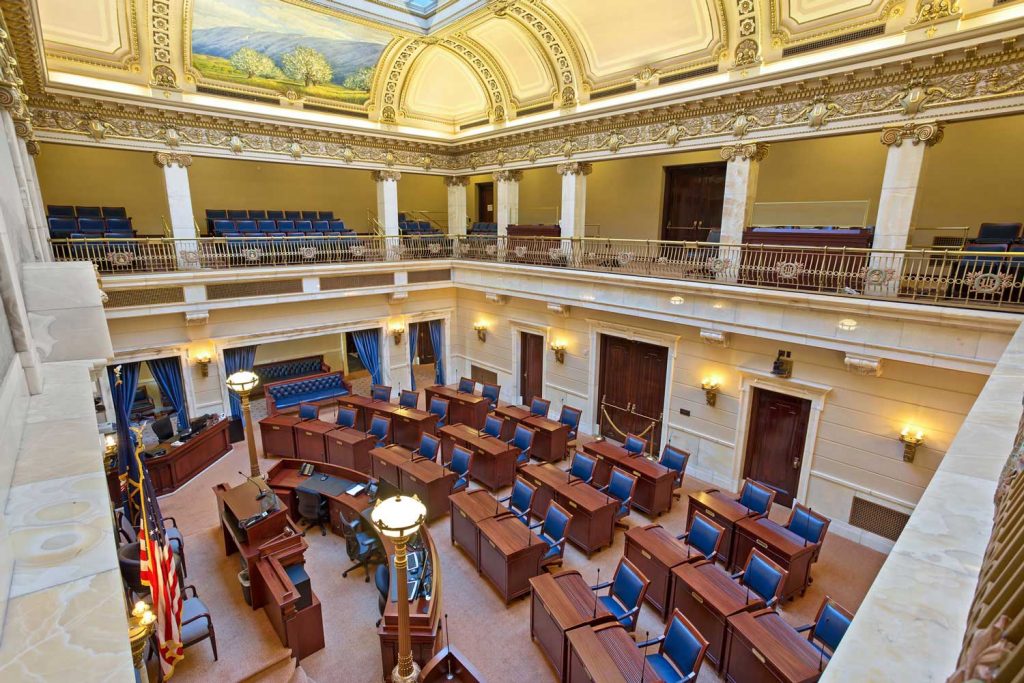 As has been documented, we've been pushing quite a few pieces of rail safety legislation in many states. Of all the places SMART has legislation, Utah State Legislative Director Dan Brewer may have had the most-ambitious agenda this cycle especially considering his state has one of the hardest climates to create traction for labo- friendly bills.
Against the odds, SLD Brewer seems to have made Utah the first state to get across the finish line in the 2023 legislative year. Utah has passed a slate of bills that combined will bring significantly increased state safety oversight of Class I and commuter railroads that will make the rail crews and communities of Utah safer for years to come.
Brewer is anxiously waiting for Gov. Spencer Cox to sign HB 51, HB 232, SB 61, HB 63, and HJR 16 into law. This final step in these bills' journey will make them the cornerstone of Utah's rail safety culture. Brewer is quick to give credit to the collective efforts of his retired predecessor, Jay Seegmiller, BLET State Legislative Director Scott Weeks, Utah State AFL-CIO President Jeff Worthington and others in the labor community for pushing these measures across the finish line.
"It's taken a lot of hard work and dedication from multiple people to get this done, but it's all worth it when I think about how much better the lives of our crews are going to be going forward." Brewer said.
HB 63, the core bill, creates a "Utah Office of Rail Safety" (UORS) which will be administered by the Utah Department of Transportation (UDOT). Via the FRA's Rail State Safety Participation Program, UDOT will be authorized to enter into a multi-year agreement allowing for the employment, training and certification of 10 to 12 rail safety inspectors who will be able to perform all the same inspections and enforcements of federal railroad safety laws that current federal Inspectors can do.
Beyond federal safety laws, UORS will have authority to monitor and regulate highway-railroad crossings at grade, with the authority to impose fines for blocked crossings (after the federal courts rule on if states have the right to do so) and assess responsibility for maintenance/ improvements of the roadway in those locations.
"UDOT will be able to finally get a bunch of long-overdue crossing projects done," Brewer said.
UORS will be charged with creating rules and standards to provide safe working environments for employees who work adjacent to and on the tracks. This will include walkways adjacent to railroad track, clearances of structures and other obstructions near railroad track; the safety of office personnel conducting inspections in accordance with this part; railroad infrastructure and work spaces for railroad workers; signage related to railroad worker safety; and other safety standards as the department finds necessary.
"By placing regulatory authority into UORS," Brewer said. "We don't have to pass a law through the state Legislature in order to get walkway standards, and we can work with those with direct knowledge of the industry to make the case for specific statutes, such as ballast sizes or lighting at night on the switching leads. UORS will be especially helpful with all the new rail construction projects coming online in Utah in the near future."
With SB 61, UORS will assist the Utah Department of Agriculture with enforcing laws that require railroads to maintain fencing along key sections of the right of way and report livestock collisions and fatalities so that cattle ranchers can be compensated.
"The State Cattle Rancher's Association has become an ally to railroad employees in this, as we both want stronger fences along the tracks," Brewer said.
One of the most outstanding aspects of HB 63 is how it goes about funding the Office of Rail Safety. In an act of poetic justice, the railroads will be picking up the tab. The formula for the funding is based on the number of track miles each railroad carrier owns and operates within Utah. Annual assessments will be made by the state to the rail companies to pay for the office's operating budget. Additionally, the fines and penalties assessed to the railroads by inspectors will also go towards funding and equipping the office.
According to State House Rep. Mike Schultz, sponsor of HB 63 "..hundreds of projects across the state that are being held up because Union Pacific won't approve them or they are forcing the local government to pay for them where they otherwise have not or the state of Utah. It's not fair to place that burden on the taxpayer. Union Pacific needs to step up," Schultz said.
In essence, the railroads have been left largely to their own devices for too long and have taken advantage. Brewer, aided by the scrutiny of the unfortunate events in East Palestine, Ohio, in February, pointed out to legislators how bad the carriers had allowed safety conditions to get in their backyards. Now the state has agreed with SMART-TD and Brewer and have voted to make the rail companies pay for their own traffic cops to monitor them.
SMART-TD would like to congratulate the state of Utah for being proactive and aggressive in their approach to protecting their constituents and our members. We would also like to emphasize again how much we appreciate the work of not only SLD Brewer, but of his entire team. Unlike some states, Utah's SLD is a part-time position. Danny Brewer got this monumental bill over the finish line in the 10-hour increments he got between calls to work. This adds to the already-large amount of credit he deserves.
Railroaders aren't normally in the business of being thanked, but we appreciate what the Utah State Legislative Board has pulled off with this and we hope the member of rail labor in crew rooms all around Utah do too!