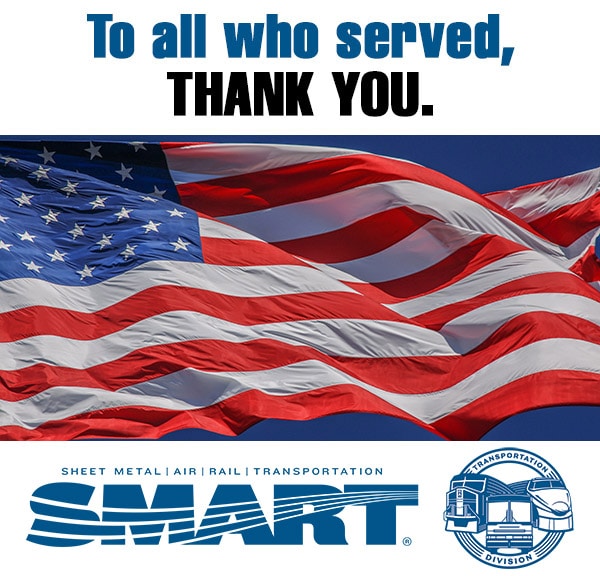 This year, as every year, I wanted to take a moment to give my thanks and to show appreciation to our SMART Transportation Division members who are also veterans of the United State military.
Our veterans are a source of patriotism and pride for what they have done and what they contribute to our organization. As a U.S. Army veteran, I hold a great affinity and an even greater respect for the commitment our veterans made to a higher cause while in the military and to the experiences they have had in their careers after serving (or continue to have if still serving).
One of the key goals of my administration remains to give those members who are military veterans the recognition that they deserve for having answered the high call of defending the freedoms that we enjoy.
We urge all of our SMART-TD military veterans to let us know the details of their military careers via the TD Member Info Update form so that we can continue to enhance our work to recognize and amplify the importance of veterans to our union. We also continue to periodically update our Veteran Services page with resources that may be beneficial to our American heroes.
Each and every veteran deserves to feel a sense of appreciation on Veterans Day. On behalf of SMART Transportation Division, to all U.S. military veterans, we thank you once again for your service.
Fraternally,
Jeremy Ferguson
President — Transportation Division
U.S. Army, 1988-1991
---
Services, discounts and events
As an annual tradition, many businesses provide free services or discounts to veterans and there are a number of events nationwide honoring veterans. Please see the links below to some of those that are available this year.
https://militarybenefits.info/veterans-day-discounts-sales-deals-free-meals/
https://blogs.va.gov/VAntage/96530/veterans-day-2021-discounts/
https://blogs.va.gov/VAntage/96672/organizations-offer-national-level-2021-veterans-day-virtual-events/
https://militarybenefits.info/veterans-day/