The passing of SMART-TD Vice President John "J.D." Whitaker was a loss felt throughout our organization. His contributions to this union are well known and will resonate for years to come. That being said, one of the strengths of this organization is the depth of our roster.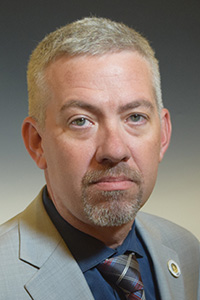 In mid-September, SMART-TD's Board of Directors elevated Alternate Vice President Gary Crest, general chairperson of SMART-TD GO 887 (Union Pacific Western Lines) to vice president of the SMART Transportation Division.
Brother Crest started his railroad career in 1993 with the Copper Basin Railway as a trainman and was promoted to engineer in 1994. He continued to work there as an engineer until December 1997 when he was hired by the Union Pacific Railroad.
Brother Crest has been a general chairperson on the Union Pacific property since January 2015 with an unprecedented level of success, including obtaining paid sick time for the first time for Union Pacific employees. Prior to serving as GC of GO 887, Crest served as a vice local chairperson, local chairperson, delegate, vice general chairperson, chairman of the Western General Chairpersons' Committee and has been a member of the SMART TD Executive Board.
Beyond his service to our union, Gary has also served on the Federal Railroad Administration's Rail Safety Advisory Committee (RSAC).
Crest's new role as vice president was made official during a Sept. 18 Board of Directors meeting, and he began his duties on October 1.
Brother Crest said he'll bring the same level of confidence and intensity as a vice president as he's had as a GC.
"I thoroughly enjoyed the work I did and the progress we were able to make in my time as a general chair at 887," he said. "I look forward to bringing that experience and the same fight to my role as a VP."