General Chairperson Gerald Wallace (GCA-261 — Canadian Pacific, Soo Line), a stalwart leader of our union and the husband of SMART Transportation Division Auxiliary Secretary & Treasurer Denise "Niki" Wallace, died July 16 after a long, courageous fight with cancer. He was 56.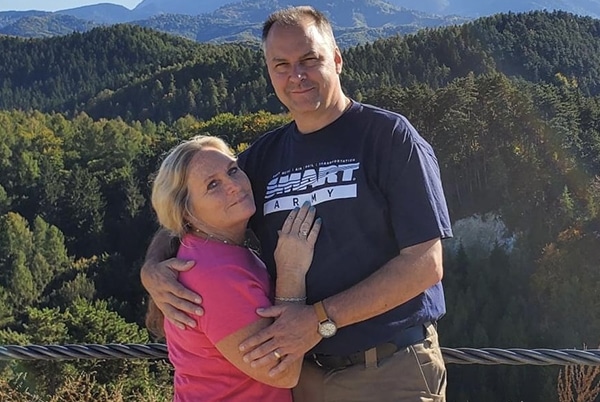 Brother Wallace joined our union in 2005 and after six years of membership began a period of 12 years of leadership, first as a vice local chairperson of LCA-261A (Milwaukee Road). Starting in 2011, he began eight years as a local chairperson.
He served three years as the trustee of Local 590 (Portage, Wis.), once as the local's alternate delegate to the UTU Convention in 2011 and then as delegate to the SMART-TD Conventions in 2014 and 2019.
Concurrently, Brother Wallace worked his way up the leadership ladder in GCA-261 as well, serving as GCA secretary, vice chairperson and acting general chairperson before becoming general chairperson in 2019.
Local 590 Legislative Representative Steve James expressed his sadness at his union brother's passing.
"A great man can now rest and be at peace," James said. "He became one of my best friends ever."
Brother Wallace and Niki frequently attended union functions and were often enthusiastic participants in the regional meetings.
He is survived by his wife, his children, Dustin A. Wallace, Sierra M. Hall and Dylon T. Hall; two grandchildren; his parents; his sister; his in-laws; nieces, nephews, other relatives and many friends
A Celebration of Life will be 11 a.m. to 2 p.m. on Saturday, July 29, 2023, at Big Spring Congregational Church, 373 Golden Ct., Wisconsin Dells, with a sharing of memories at noon with Chaplain Jessica Smith officiating.
SMART Transportation Division is shocked and saddened by this loss and sends our deepest condolences to Sister Wallace, the family and friends of GC Wallace, his brothers and sisters in GCA-261 and Local 590, and all who knew him.