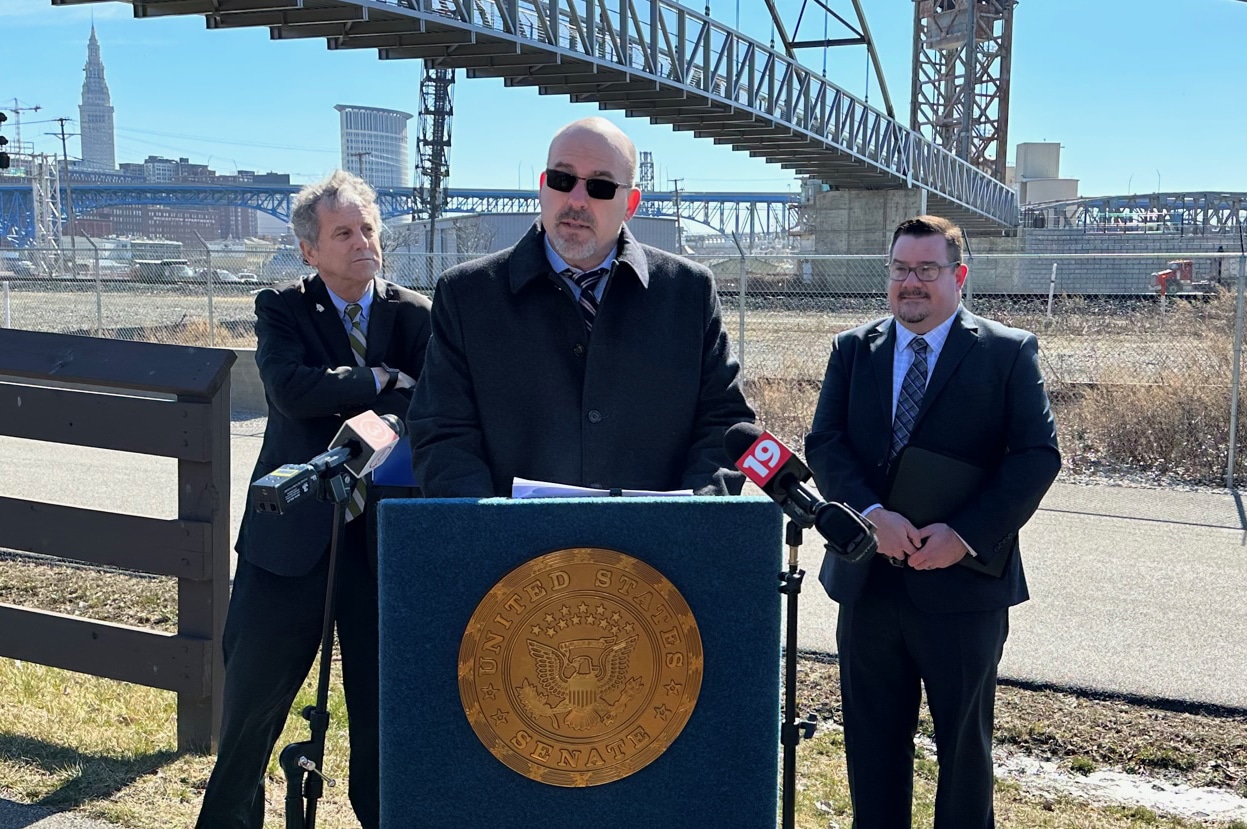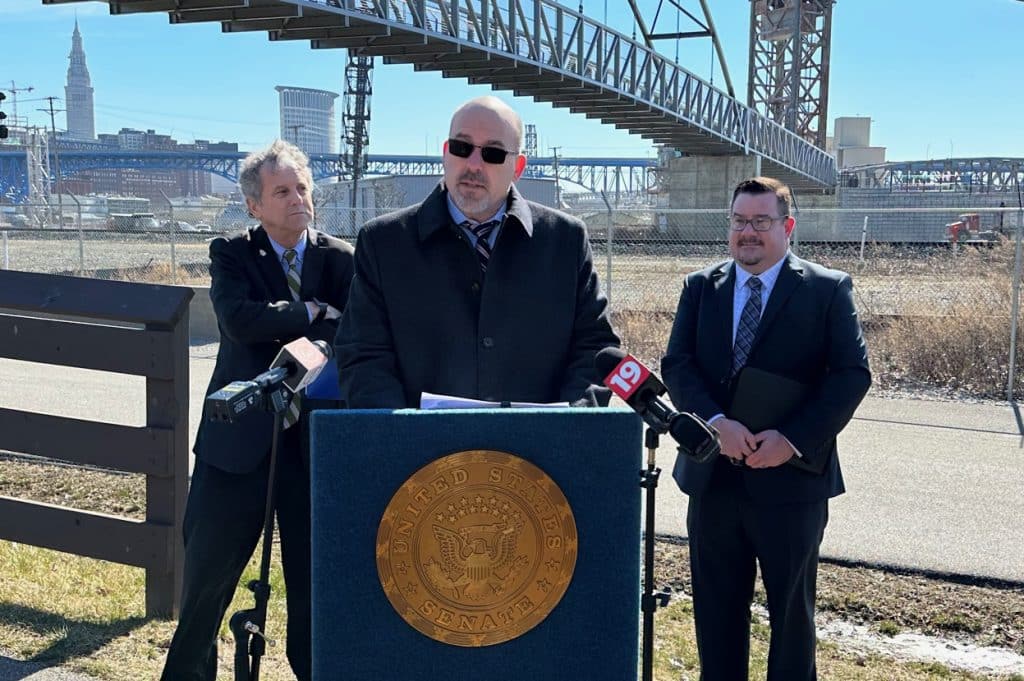 SMART Transportation Division President Jeremy Ferguson appeared with U.S. Sen. Sherrod Brown in Cleveland on Monday morning to discuss the bipartisan Railway Safety Act of 2023 as momentum for legislative action on railroad safety continues to build on Capitol Hill.
Sen. Brown and fellow Sen. J.D. Vance of Ohio, Pennsylvania Sens. Bob Casey and John Fetterman and Sen. Marco Rubio of Florida and Sen. Josh Hawley all are initial sponsors of the bill introduced March 1 intended to counter the negative impact Precision Scheduled Railroading (PSR) has had on public and worker safety.
Sen. Brown started off the press conference by discussing how the rail industry has gotten itself into its current state of disrepair. He came out of the gates dropping uncomfortable realities such as, "Here's the story. The rail lobbyists have fought against rail safety for a hundred years."  
Brown went on to lay out a list of parallels he sees between the current scenarios in the rail and banking industries. "When I first heard about Silicon Valley Bank, the first thing I thought was this is the same story. Corporate lobbyists with banks and railroads for 100 years have fought for weaker rules, weaker safety requirements. That's what Norfolk Southern and the rail companies do. They lobby Congress. They too often get their way with the railroad's regulators, and we see trains that derail much more frequently."
He went on to say, "We know what we need to do. That's why I've introduced bipartisan legislation with my colleague, the new senator from Ohio. (Senator J.D. Vance) We want to address the number of (operators) on this train. The railroads, believe it or not, want a two- or three-mile train with 150 or 200 cars, with only one engineer on that train with no conductor. One engineer to drive a train that's two to two and a half miles long with 150 to 200 cars. That makes no sense for the public interest."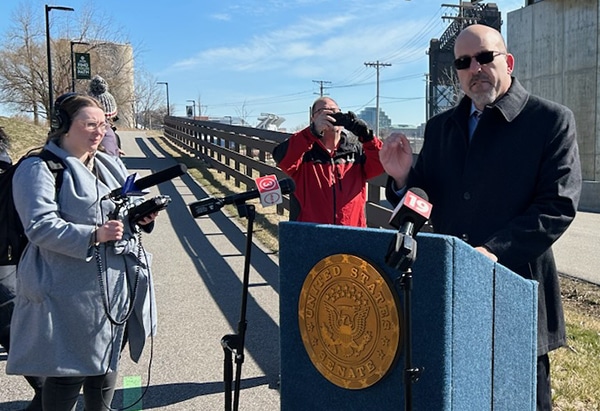 Following Sen. Brown, SMART-TD President Jeremy Ferguson made a statement of support for the bill as well as his vision for the future of the rail industry.
"Sen. Brown has seen firsthand what the devastation looks like when we let profits dictate the safest course of action to take when moving America's freight by rail," President Ferguson said. "We look forward to working tirelessly with Sen. Brown and his team to realize his vision for a safer and stronger rail industry. This bill offers a chance for the nation to require the highly profitable rail corporations to take rational measures to get the industry to do what it's designated to do. Which is move freight through our nation safely and efficiently."
Ferguson then spoke directly to those in power, saying, "We owe it to the people of East Palestine, Ohio, and to all the communities that have railroad tracks running through them to have the members of Congress do the right thing. Take back control of our nation's supply chain from Wall Street's profit-at-any-cost mentality."
President Ferguson rounded out his public statement offering this endorsement for the Railway Safety Act of 2023. "This bill has the potential to put safe operations into its rightful place as the gold standard for railroading, and not what the next quarterly report can bring."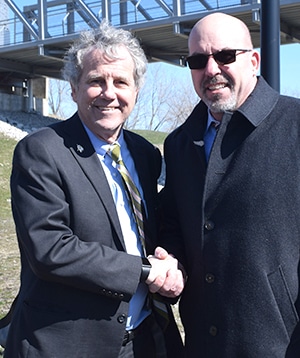 This statement summed up what rail labor has been saying since Hunter Harrison brought PSR to CSX in 2017. Our safety and our ability to provide a reasonable work-life balance for our loved ones does matter. The time is now to end the industry's experiment with PSR and get back to safe, sensible and efficient railroading that preserves the safety of general public and of worker alike.
SMART-TD is very grateful to Sens. Brown, Vance and their colleagues who have sponsored this legislation for their leadership. We also are appreciative for the opportunity to make SMART-TD part of the discussion. The light they have shed on our issues and the amplification of our concerns has been incredibly helpful in our fight against PSR. 
Brown plans additional appearances around the state this week to discuss the legislation. The U.S. Senate Commerce Committee will be holding a hearing March 22 on "Improving Rail Safety in Response to the East Palestine Derailment."  The hearing will start at approximately 10:45 am ET, following a 10 a.m. mark-up.
SMART-TD Ohio State Legislative Director Clyde Whitaker will be among those testifying at the hearing along with Jennifer Homendy, chair of the National Transportation Safety Board, a local first-responder from East Palestine and two carrier representatives.